With each day passing the number of bloggers and the email senders are increasing at quite a fast pace. Our lives are as it is hectic, and the continuous stream of emails makes it unbearable. At times like this, what is essential is a good email client, which will take care of all the email requirements of our life and organize them so that we can have a less hectic life to lead. In this post, we are talking about Best Email Clients for Windows 10.
When it comes to Windows 10, you will find an innumerable amount of email clients, which boasts of providing you with the best available services. However, choosing the best of the best Windows 10 email clients becomes difficult from the long list. To make your choice simple, we have brought to you some of the best email clients for Windows 10 so that you can easily take care of all your email tasks and have it less cluttered.
Best Email Clients for Windows 10
Mailbird
Outlook
eM Client
Inky
Claws Mail
Zimbra Desktop
Touch Mail
Thunderbird
Opera Mail
Metromail
These are some of the prominent email clients for Windows 10, which you can use daily. In the end, it will be your personal choice and experience.
1] Mailbird
If you are on the lookout for an email client, which will not take up a lot of your Windows 10 PC space, then Mailbird is your perfect choice.
Mailbird is a beautifully designed app which allows you to customize everything in it so that you can use it as you like it. What Mailbird does is reduce your load when it comes to mailing. You can store some customized replies which can be sent instantly. You can find essential emails by just clicking on the display picture of the sender.
Mailbird integrates various social media sites like LinkedIn, Facebook, Twitter, and WhatsApp so that you can look up an unknown sender in just a few clicks. You can also import your mailbox via Mailbird. It comes in a free and a paid version. The paid version will cost $1 per month or $45 for a lifetime subscription.
More on Mailbird
2] Outlook
One of the best email apps in the present and comes as an integrated email client of Windows 10. Outlook helps you to bring all your email accounts in one place and keep things organized. One of the best things about Outlook is that you can access any email account via this client.
Outlook allows you to customize notifications for various email sender so that you know which emails to pay attention to and which not. Microsoft Outlook comes with a host of multiple tools which can be applied to customize the client fully.
You can also segregate the emails according to the specific senders in the app automatically. With the further familiarity of Outlook, you can even try to develop macros for the app with VBA.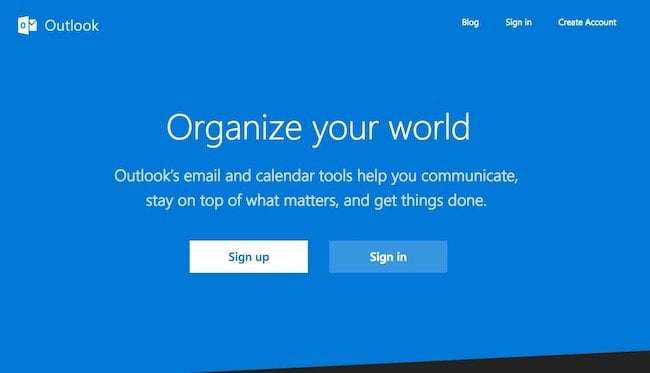 More on Outlook
3] eM Client
Looking for something fundamental? Try using your hands on eM Client. It is one of the simplest email clients of Windows 10, which has all the vital tools to provide you with the major facilities of email clients. Calendar, contacts, task reminders, you name it, and eM Client has it present for you.
You can also import the settings of other email clients to eM Client if required. eM Client allows you to customize your contact list so that you can give preference to the required senders.
The free version of eM Client will allow you to import the settings of only one email client, whereas for just $50 you get the pro version of the app which allows unlimited imports. eM Client also will enable you to share your calendars and tasks with other people.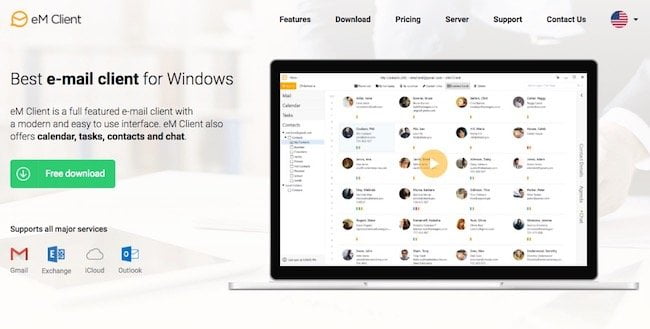 More on eM Client
4] Inky
Mails are one of the top sources of communication in today's' world. We share an innumerable amount of personal information via emails. But have you ever thought of how safe your data is?
With Inky you can be relaxed as it provides its clients with end to end encryption for all the emails sent via this email client of Windows 10. Inky is one of those clients which claims that they can fix the broken emails
Inky has a very simple user interface in-spite of having all the security features. It allows you to import emails from other clients and keep them organized with the help of tags or messages. It also helps in the automatic organization of the mails and has a powerful search engine.
Inky comes free for people with Gmail, Outlook or iCloud account holders; rest have to pay $5 after 14 day trial period.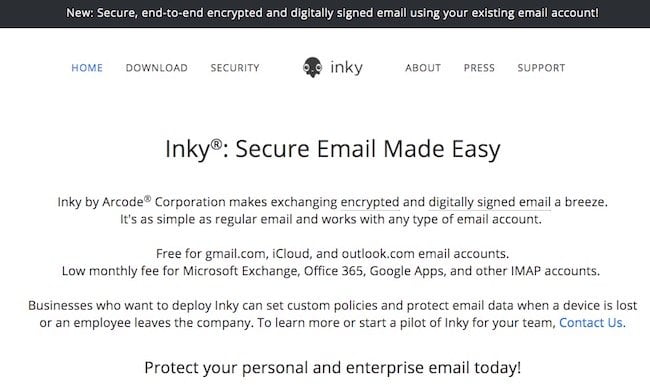 More on Inky
5] Claws Mail
Remember like how those old days felt? Claws Mail will import you to a bygone era with its layout. However, there's nothing to be scared. Claws Mail is just like any modern email client for Windows 10.
Claws Mail is perfect for people who love getting things on their own. It allows you to import as many email accounts as you want to, but you have to do on your own. The best part about Claws Mail is that it takes up minimal space and has an active bug ticker. It fixes bugs as soon as they are detected. It also gets updated on its own, reducing the hassle for its users. You also get a host of plug-ins to use.
More on Claws Mail
6] Zimbra Desktop
Looking for an email client for your Windows 10 PC which comes for no cost at all? Try out Zimbra Desktop! Zimbra Desktop has been around for quite some time now, and it is one of the best email clients for the system.
It prevents cluttering your desktop by providing a top bar which keeps track of all the emails that are coming in. Calendar, task integrator, you name it, and Zimbra Desktop has it present for you. Zimbra Desktop also allows you to work in an offline mode with all your work saved on a local disk.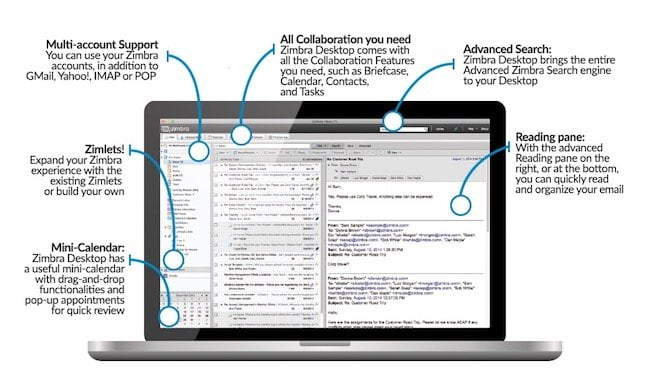 More Zimbra Desktop
7] TouchMail
With a bright layout, TouchMail is one of the most vibrant email clients on Windows 10. It allows you to import all your email accounts and messages (except the ones which belong to POP3). All the required email tools are available at the user's disposal in TouchMail. Although TouchMail contains individual in-app purchases, it comes for free to all the users.
TouchMail not only allows you to add as many email accounts as you require but also will enable you to segregate each of those accounts in separate folders so that you can search an email whenever you need it.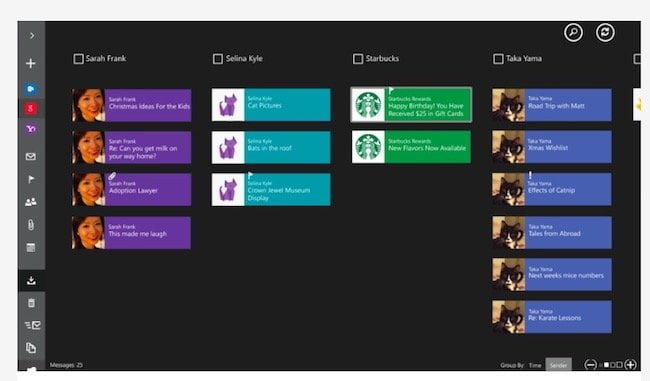 More on TouchMail
8] Thunderbird
If you are bored of all the regular email clients available for Windows 10, then it's time you try Thunderbird. Thunderbird is brought to you by Mozilla and has a host of tools which allows you to take care of all the problems encountered in using an email service.
The extensions can be applied as and when you want to solve the problems encountered. Thunderbird allows you to segregate the emails from various accounts in folders and also maintains a log which will help you find in which folder you have transported your mail.
If you feel the need to write multiple emails at a go, Thunderbird will keep all of them open under separate tabs in the same window so that your system doesn't get cluttered.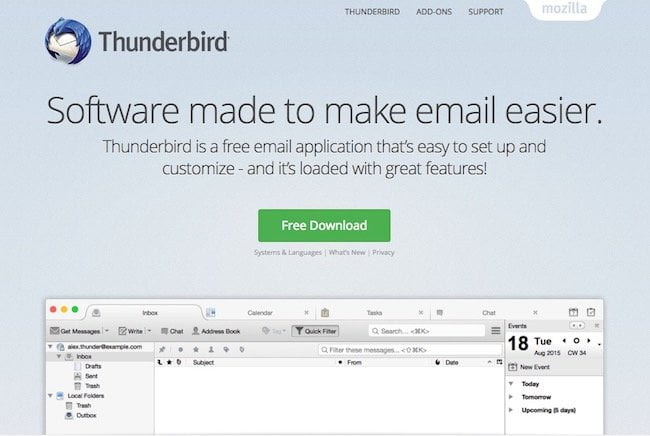 More on Thunderbird
9] Opera Mail
When you need something which is lightweight yet has all the significant functionality in place, Opera Mail is one of the best. Be it IMAP or POP, Opera Mail supports all, and it also helps in organizing your emails so that you can find them as and when required. Opera Mail maintains a tab for all of your emails, which makes finding them a lot easier than you think.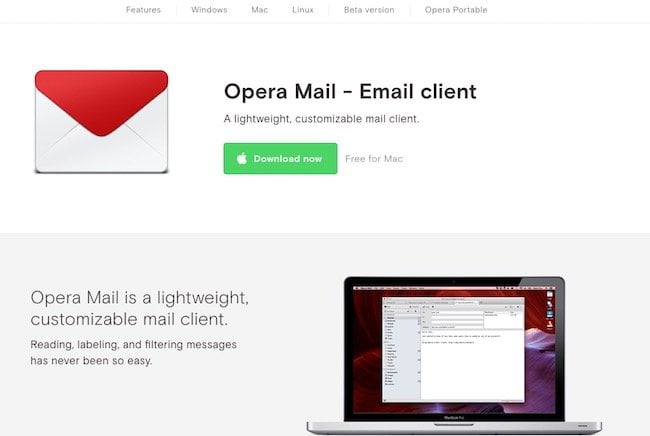 More on Opera Mail
10] Metromail
When seeking something exclusively for Windows 10, Metromail is something everyone should check out. One of the best things about Metromail is that it allows you to customize the app and how you want to fully. It allows importing of mail from other clients.
Metromail allows you to save your messages on your PC, which is a massive benefit as you can work in an offline mode with the help of it. You can integrate all your email accounts and segregate them according to your convenience. Metromail also allows you to sync your PC with your Windows phone.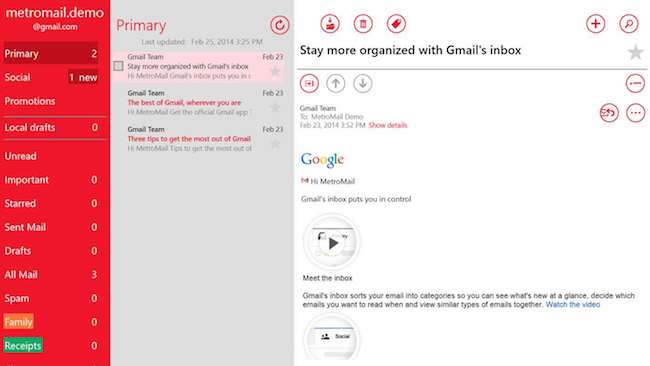 More on Metromail
These are some of the best Windows 10 email clients which you can use to take care of your emails.  Choose the one which is best as per your choice and begin working now so that your life becomes less hectic.