If you want to download a file faster, Torrents are the best way to download them. Many a time you and your friends are on the same network, and even then Direct link to download files take time. However, if you share the same file using torrent client, you download it faster, especially when it is shared with others as well. Here is the list of Best Torrent Clients for Windows 10.
While downloading files through torrent is considered as illegal, but it completely depends on what you are downloading. if the file you are downloading is not an illegal, its perfectly fine to use the torrent client as you are invading anybody's copyright work.
10 Best Torrent Clients for Windows 10
We have collated some of the best Windows 10 torrent clients for you so that you can download your choicest files in a simple as well as fast manner.
uTorrent
Vuze
Deluge
Tixati
Transmission-Qt Win
BitTorrent
Vuze Leap
BitComet
BitLord
Torch Browser
1. uTorrent
What makes uTorrent this popular is the fact that it is available for almost all platforms and runs smoothly on all operating systems. It is one of the biggest torrent clients and is practically the lifeblood of avid downloaders around the world. What makes uTorrent standout among the various other torrent clients is the fact that it is super light in weight and hence doesn't congest your system. You can download via magnet URL or torrent links on this torrent client.
Download uTorrent
2. Vuze
If you are looking for something more than just a mere torrent client, then you should go for Vuze. It is more of an all in one thing which provides you with its search engine along with a media player and a torrent subscription engine among others. Vuze also provides you with file management systems. It does a lot more than merely downloading your files on your system. Vuze is available online in both paid as well as free versions. The paid version has a lot more functionality than you can use, and the free version is too good too.
Download Vuze
3. Deluge
Looking for a torrent client who is open source in nature and goes perfectly well with your Windows 10 device? Deluge is your choice for sure. You ask for it, and the deluge has it all. Be it DHT or encryption or a dedicated search engine; Deluge will provide you with every facility. You can even add various plug-ins to increase the multiple features of Deluge. The interface of Deluge is super easy to use, which makes it a favorite among many. V is one of the most capable software that you will get online for downloading the torrent files.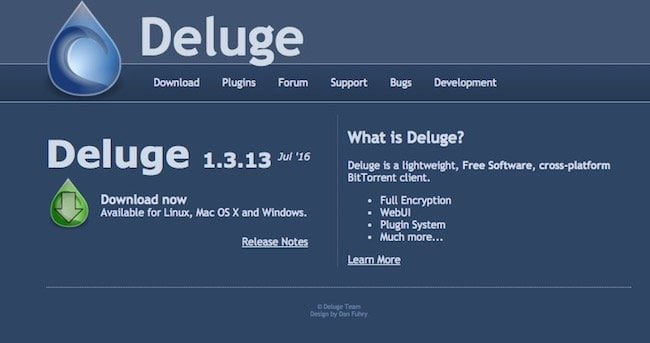 Download Deluge
4.Tixati
If you want something light on resource, but high on features, then you should look out for Tixati. One of the smallest torrent clients, Tixati, takes up very little space on your disk and is not at all tough to use. It is coded in C++ and has encryption, DHT, torrent swarming, file management, magnet links and port management as just some of its features. Tixati takes only a few seconds to download the torrent files and runs them immediately. The operation of Tixati is fundamental and bears zero fuss.
Download Tixati
5.
Transmission-Qt Win
Transmission-Qt Win has probably been a torrent client for the most extended period among all the ones listed here. Although it was initially made for the Mac OS, it is now also available for Windows 10 and works beautifully in the latter. Although a port, Transmission-Qt Win provides you with all possible facilities which include DHT, downloading from magnet links, management of the files you have downloaded. One of the negatives is that it has a memory issue which makes it hog resources of large files, hence you have to be a bit careful when dealing with the download of larger files.
6. BitTorrent
Free BitTorrent is blessed with one of the most straightforward interfaces that are possible. Although it comes from the same company as uTorrent, it is entirely different and offers you with various features to exploit. If you are on the lookout for a device which will not overburden your system with a lot of adware, then Free BitTorrent is the torrent client to look out. It allows fast download and processing of magnetic links and is very efficient in terms of usage.
Download BitTorrent
7. Vuze Leap
Loved using Vuze? No? Didn't like all the extra baggage? Try Vuze Leap instead. It hails from the same company as Vuze but doesn't have the bells and whistles which at times may seem excessive. It has fewer features which are just right for downloading your torrent files. The simple interface makes it a favorite among the various users. Although a much smaller app than Vuze, Vuze Leap provides you with the necessary features like magnetic link downloads, management of bandwidth and the usual functionality which appears in three different, yet easy to use tabs for user convenience.
Download Vuze Leap
8. BitComet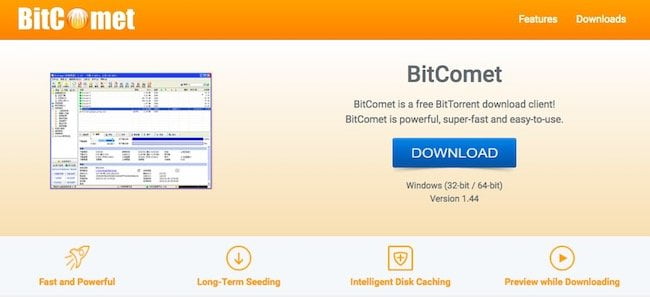 In your Windows 10 device, BitComet may appear to be a handy resource when you are working with torrent clients. BitComet doesn't only deal with downloading of torrent files, but also helps in case of downloading FTP and HTTP files, as and when required. People who use various kinds of protocols and want a single device to handle all of them may find BitComet beneficial for their purpose. Although the interface looks a bit bland compared to the other listed items, BitComet gains credibility when it comes to managing the various downloads.
Download BitComet
9. BitLord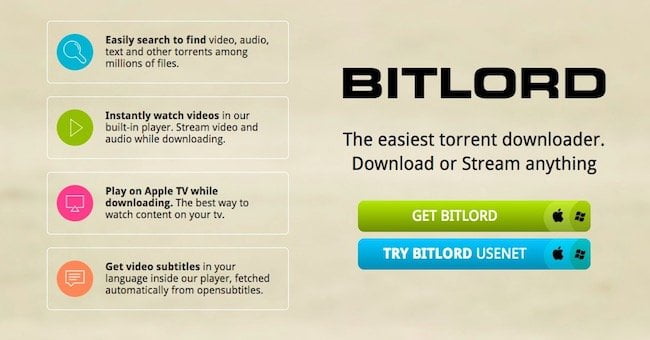 Are you a novice in the downloading business? Looking for something that you can handle with ease? Try using BitLord. BitLord is simplicity at its best. BitLord provides users with some of the best performance experiences ever, despite its simple interface. Be it usual swarms or DHT or magnetic links, BitLord handles all of it with ease. BitLord is also a pro when it comes to the management of files and bandwidth. It doesn't hog the memory of the system; it is used on which makes it an excellent choice as a torrent client.
Download BitLord
10. Torch Browser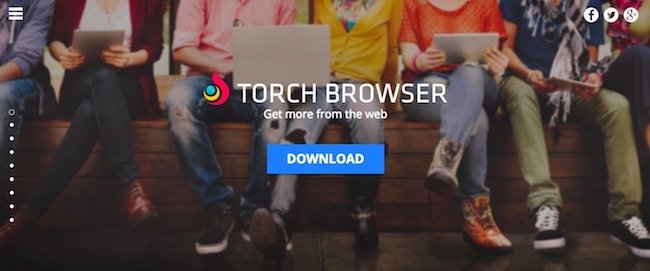 Last but not the least comes Torch Browser on our list of the best torrent clients for Windows 10. Although it is a web browser, it has one of the easiest to use built-in torrent clients ever. All you need to do is drag and drop down the torrent files into it, and it will automatically begin the downloading of the data. Torch Browser also allows easy sharing of various files with other people. It can handle almost all kinds of media files, which makes it very friendly for the users. The best fact about Torch Browser is the fact that it is fully customizable.
Download Torch Browser
We have tried our level best to provide you with some of the best torrent clients that are present online for your Windows 10 device. These clients are both simple but easy to use and which are rich in feature for people who are not satisfied with just another torrent client. I am sure they will help you achieve much more from a single piece of software. So, choose the client of your choice and start downloading your files!