Windows Phone 8.1 is coming with tons of features that you would love to use when it finally rolls out to you in coming months. We have talked a lot about them but we handpicked a few which are more related to consumer and thought you should jus know it. So here is out list!!!
Quiet Hours:
Many a times you would not like to get disturbed, unless it's an emergency. You could be sleeping or in a meeting. All you want is silence for sometimes. Windows Phone 8.1 has introduced a smart solution for this–Quiet Hours–which automatically sends a call to voice mail. Here are few features:
You can add few people to inner circle which can make calls to you even in Quiet Hours.
Support Rules e.g. Anybody calling more than twice or from inner circle gets a break through.
It is possible for anybody to break this rule if they know the password. It's like get a text message that you are busy and they reply with secret word "Let me in", they can ring you up.
You can instantly turn this on or based on timing.
Phone Dialer Features:
Hook Any VOIP App not just Skype:  A new option "Video" shows up when you are making a call or in a call. This option can hook any VOIP app which users use often. So if you think Viber works for you better, you can add that instead of Skype.
As a matter of fact, first time users, when someone taps that button, it will launch the store and list the VOIP apps. It's possible that store many show only Skype right now, but once VOIP apps follow up the guidelines to WP 8.1, more should show up.
Speed Dial: You can now add any number to speed dial by making a long press to it. Numbers in speed dial can be rearranged and removed. It is also possible to add numbers directly to the speed dial pad by picking from a contact.
Call Duration:  Tap on an already made call and you get to see the complete call history along with duration of each call
Messaging HUB:
We heard about similar thing before. Starting with Windows Phone 8.1, Facebook is not integrated any more with Messenger. In fact the core integration is also gone now. So when you open a contact, if it's the same contact in FB, you will see a FB App connection there. Tap and you can write on that persons wall.  Welcome to App based experience now!!
So with no FB messenger integration but you can use Cortana to read and reply. Also the messaging hub API's are not yet open for third party developers, may come in Windows Phone 8.2 or later.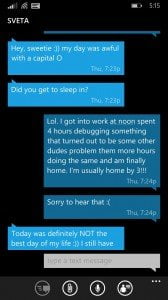 Note: In the image above, there is no switch button ( two arrows pointing to opposite direction) which allowed you to switch to Facebook Chat.
No Online SMS Viewer: You still cannot see your old backed up SMS anywhere online. However its coming which should get exposed via the web interface which allows you to manage all of them. Also when restored, you get texts from 10 months ago, no more.
Apps on SD Card:
While this is known that Windows Phone 8.1 can run off apps from the SD card, the apps which are stored or installed on them will be encrypted. This makes sure piracy stays low unlike Android where you can copy the app and use it anywhere.
There are two ways of getting the apps to SD card. One install them on phone memory and later move them into SD card. This is suitable for those who have enough memory in the phone. Those who don't, change the default installation from phone to SD. Like Videos & Photos, you can set in phone storage to save apps to SD card.
Improved App Performance:
In Windows Phone, specially on the low end, most of the apps were tombstoned i.e. put to sleep. However in Windows Phone 8.1, all the apps will have fast resume by default which brings back the app instantly. None of the apps will go to sleep or exit, unless you close by hitting the cross button. This is possible because of the Dynamic Memory Allocation in Windows Phone which adjust to need of the apps.
Unlike Windows Phone 8.0, in 8.1 Apps will be loaded first because toast notifications are sent out. This means you will not see apps loading and messages missing.
WordFlow Keyboard:
It supports mixed languages e.g. Hinglish. The Indian Keyboard understands when you type hindi in English and pass on the suggestion the same way.
Its contextual i.e. When you want to type a Celebrity name, say Kapil, it can figure out all the surnames of the celebrities or any famous person name after that.
Backup and Restore:
Start screen backup & restore across devices which includes restoration of every tile. icon/images are maintained, tiles are grayed out until apps are restored and launch context is preserved.
OS will sync up Local or the IsoStore to OneDrive once per day. This is a great opportunity for developers and gamers to restore their apps when installed again or when users switch to another phone. However this is limited to only 100KB, anything more that, the sync will stop.
Apps built using Silverlight 8.0 or XNA or Enterprise or Sideloaded will not be restored.
Dual SIM Support:
It is possible to insert a new SIM and start using it after a small setup process without restarting the Phone.
SIM manager is smart enough to figure out which SIM you use often to make a call to a particular number or contact. Next time you make a call, it will have it ready.
No File Manager:
There is no file manager in Windows Phone 8.1. It may come in next version but who knows.
Sources: Via AMA on WP 8.1 at Reddit | Justin Angel on Twitter | WPD