There are many countries in the world where the weather is totally unpredictable. Most of us use our smartphones to check the weather and get a quick update. If you are a frequent traveler, then you need to keep updated with the latest weather details of the city you are traveling to. Weather apps on your phone will be the best way to keep you updated on the weather.
So here is the list of best weather apps if you are using Windows Phone. We have covered quite a lot of them on this blog.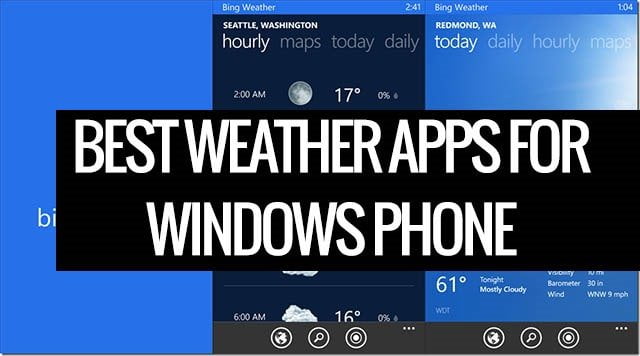 1. WeatherBug:
WeatherBug has access to the world's largest network of real-time weather and lightning sensors for the best forecasts and the fastest alerts. The app comes with real-time data, which allows us to see whether threats first, provide better forecasts, and give the fastest alerts to severe weather. You can also get a 10-day forecast with the app. The app is available free from the store.

2. Vleather:
Vieather is a beautiful app that brings a Modern UI weather experience to Windows Phone. With the app, you can personalize features like accent color, languages, metric, date-time format. Weather.com and Accuweather.com provide the data – weather lives in various provinces and cities all over the world.
You can pin tiles to the start and get 12 hours forecasts, 7 days forecasts, and add 4 locations in the app.

3. Amazing Weather HD:
Amazing Weather HD is one of the most popular paid weather apps on the Windows store. The app comes with live HD animations or a sleek modern look. It gets the most weather details in addition to a quick 7 days overview, hourly data, charts, warnings, satellite images, detailed forecasts, GPS live tiles, lock screens, and much much more.
You can also customize the phone with Lock screens, a collection of background images specifically hand-picked and styled in two themes with various options to display weather info in your own unique taste.

4. Blue Skies:
Unlike the other apps in this list, Blue Skies has a minimalistic interface. This app is basically a Windows Phone version of the Dark Sky app on iPhone. Blue Skies can tell you precisely if it will rain or snow in the next hour.  Now you can know if it's a good idea to take that umbrella with you as you leave your house. It also allows you to add beautiful tiles to the Start screen.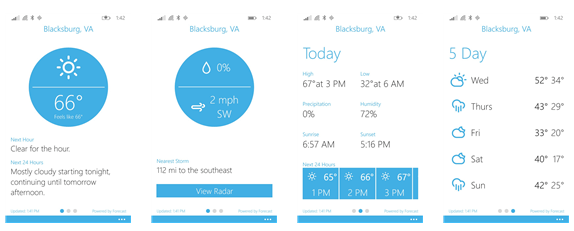 5. AccuWeather:
AccuWeather needs no intro, and it is one of the most popular weather apps. AccuWeather is designed for Windows Phone users has the very latest in weather news and information, including MinuteCast, the leading minute-by-minute weather forecast that is hyper-localized to your exact street address. The forecasts are also easily seen from your Windows Phone 8 lock screen.
Severe weather notices for all locations and visible from anywhere within the app.

These are some of the popular weather apps available. If you use any other and found it very useful, do share it in the comments.