Smartphones have become extremely popular today and with the availability of high speed Internet in the form of 3G and 4G LTE, it has become even better. Smartphones have redefined the way we listen to music and today we don't need copies of music files in our phone as it can be streamed online using a good Internet connection.
There are quite a lot of services available which provides you with free music and many of these services have official apps for Windows Phone. We have picked few of the best music streaming apps available for Windows Phone 8. Please note, some of these services might require you to create a account or buy a subscription plan to stream music.
1. Spotify:
Spotify needs no introduction as it is one of the popular music streaming services, but available only in few countries. To access Spotify on your mobile phone, you need to have a premium subscription. You can search, browse & play millions of tracks right inside your Windows Phone. You can also play your music without an internet connection with offline support.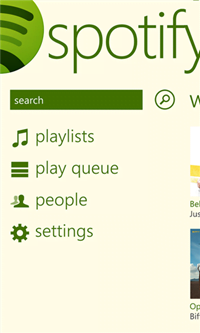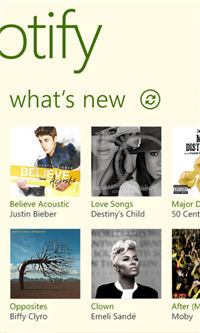 Download Spotify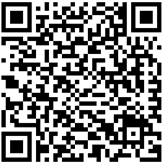 2. TuneIn Radio:
TuneIn is a new way to listen to the world through local and global live radio from wherever you are. TuneIn offers over 70,000 stations and 2 million on-demand streams for you to choose from. The TuneIn Radio app lets you take this entire experience with you on your Windows Phone. With TuneIn, you can play your stations in the background while you use other apps. There is also support for pinning stations to start screen.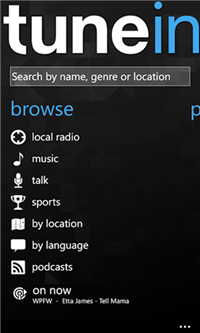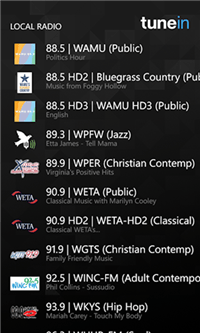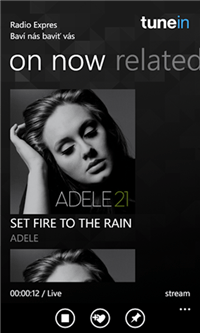 Download TuneIn
3. AudioCloud:
Audiocloud enables you to listen to streaming audio from SoundCloud and connect with the world's largest community of music and sound creators. This is not an official app, but since Sound Cloud is not having an app for Windows Phone, Audio Cloud is useful if you prefer Sound Cloud. You can explore and search sounds, people, and groups on SoundCloud; fine-tune search using advanced filters.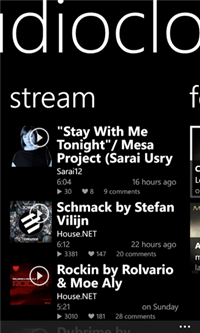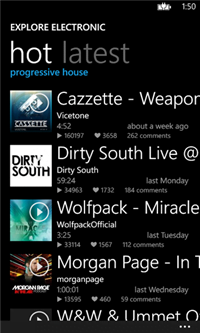 Download AudioCloud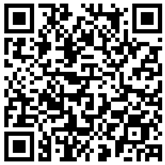 4. Pandora:
Pandora is a popular online music streaming service and the official app was recently released for Windows Phone. The Windows Phone all provides you with ad-free experience of Pandora for entire 2013 when you listen on your Windows Phone. You can also pin your favorite stations to the start screen for one-touch access.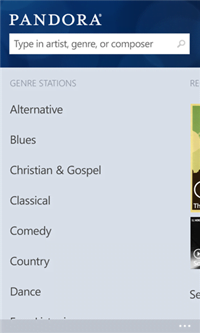 Download Pandora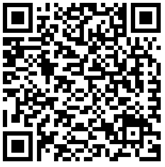 5. Rdio:
With over 18 million tracks available and more added every week, Rdio is one of the popular services to listen to your favorite songs, popular hits, new releases and old favorites. Rdio is a subscription based service, you need to first sign up on your Windows Phone or on the web at rdio.com.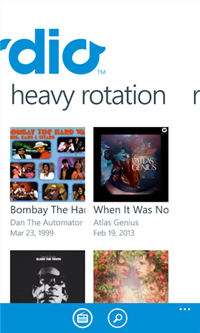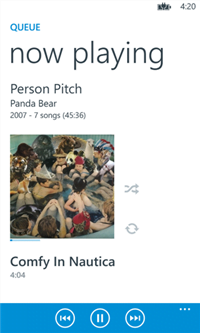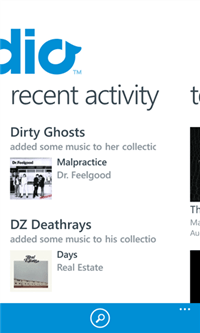 Download Rdio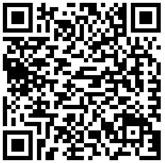 6. AUPEO! Radio:
AUPEO! Radio is a simple and easy to use music streaming service. You can start your personal Internet Radio by selecting an artist, a genre or a musical topic and you can skip to the next song at any time and customize your experience with the "Love" and "Ban" buttons. This is how you hear only the music you really like while discovering new songs and artists.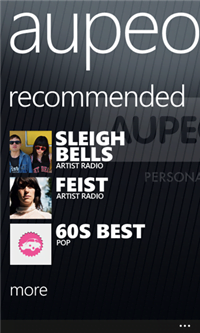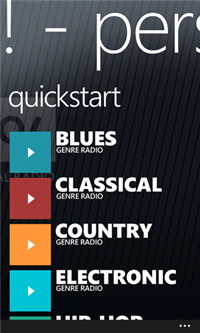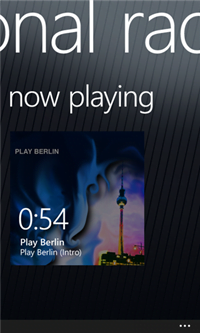 Download AUPEO! Radio
7. Slacker Radio:
Slacker is a free, personal radio service combining the knowledge of leading music experts from every genre along with your own personal tastes to create perfect radio stations. With millions of songs from thousands of artists, Slacker Radio is one of the best ways to discover new artists and listen to your favorite songs.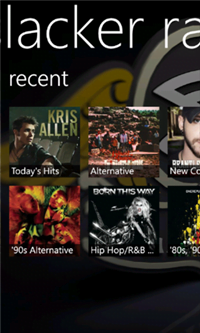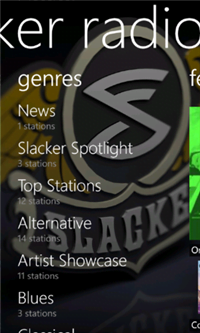 Download Slacker Radio
Please note, some of these services might not be available in all countries, so you might not be able to use the app. Please check the country wise restrictions on the respective websites.