Windows Store includes a wide range of apps that fulfill all the requirements of sports lovers. Plenty of apps let you keep up with all the events of the sports world and update you with live scores, provides statistics, and show breaking news so that you never stay behind anyone and never miss any important event while doing your routine work. So here is our list of Best Sports Apps for Windows 10.
These sports apps are for desktop computers, tablets, and mobile phones that run the latest Windows operating systems. Some of them are developed specifically for a particular game like football, but rest provides coverage for all major sports tournaments of every sport. These Windows 10 sports apps also increase your knowledge through their articles and let you watch any classic match on their videos.
Here in this article, we have listed some of the most popular and best Windows 10 sports apps that we are sure you'll love to try if you are a sports fanatic.
Eight Best Sports Apps for Windows 10
These sports apps are available on the Windows Store, and you can download them for free. Right from All sports category to Only Football.
ESPN
Eurosport
WatchESPN
MSN Sports
NFL on Windows
CBS Sports
OneFootball
USA TODAY Sports
1. ESPN
ESPN app requires Windows 8.1 or later operating systems on both 32-bit and 64-bit architecture, so it is suitable for your Windows 10 desktop or tablet PC. The app provides all information about your support, such as coverage of minute-to-minute scores, analysis, and breaking news from sports leagues like MLB, NBA, NFL, etc. in one place. Users get a personalized experience as it provides support to myESPN account, real-time updates, and alter via live tiles and can listen to their favorite podcast. Apart from that, it also integrates diversified editorial content from the ESPN magazine.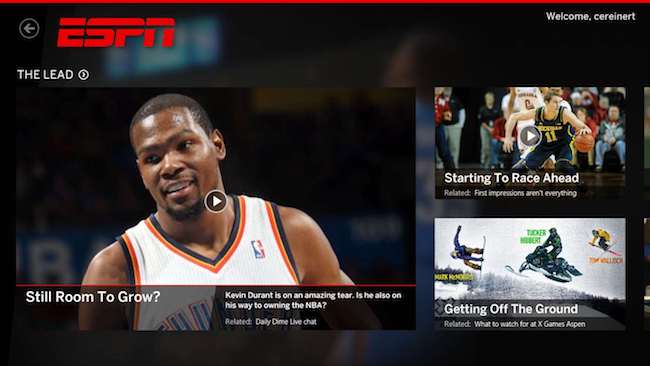 Download from here
2. Eurosport
Those who are more interested in European sports leagues rather then the rest of the world can go for Eurosport as it doesn't have any regional restriction like some other apps and works fine with Windows 10 computers and mobile. It is one of the best options available to get information about the most significant sports events, latest scores, and calendars from your favorite games. The journalists write every day over 150 sports articles, and the app also provides the facility for a webchat with the sports reporters. The app provides coverage of famous tournaments like the Premier League, Formula One racing,  ATP tennis tour, etc. For news and analysis, you can watch the videos as well.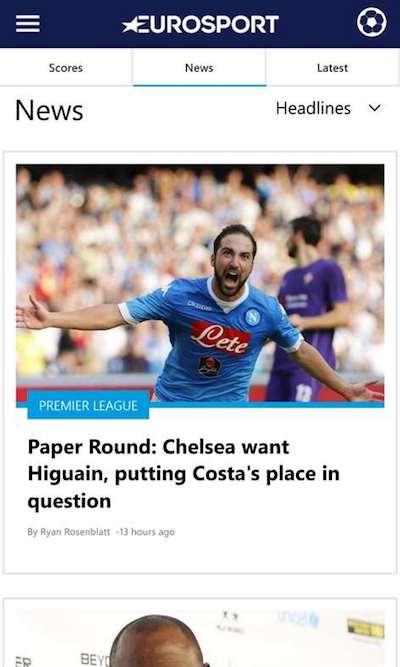 Download from here.
3. WatchESPN
WatchESPN is a free app that helps you keep up with your favorite sport all the time via your Windows 10 computer or mobile. It is a perfect source to get real-time information about sports events, scores, news, and statistics. The app provides 24/7 access to live shows and games broadcasted on various networks such as ESPN, ESPN2, ESPN3, ESPNews, ESPNU, ESPN Deports, Longhorn Network, SEC Network, SEC Network +, ESPN Goal Line, ACC Network Extra, etc. Users can also watch on-demand clips, latest news, and highlights through this app.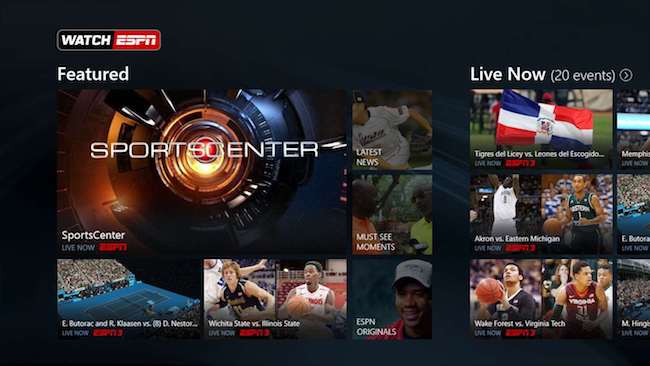 Download from here.
4. MSN Sports
MSN Sports is a mighty app that provides live coverage of over 150 sports leagues and includes a dark theme option in the latest version too. The app allows users to customize and keep up with their favorite sports teams and leagues all the time so that you not just get the latest news and scores but also come to know about upcoming tournaments quickly. The app provides statistics of an individual and a team, and lets users compare team records to figure out which one is doing better. You can click on rotating headlines to get an overview or access the website and explore around 100 sports websites to enhance your knowledge.
Download from here.
5. NFL on Windows
NFL on Windows is the best option to access full content about National Football League (NFL) on your Windows 10 computer. The app lets you get personalized notifications and track teams and individual players of your choice. In-game highlights help you to keep up with live scores and game statistics throughout the tournament on demand. You can also get an in-depth analysis of the performance of your favorite teams. The app requires Windows 10 (32 bit) to function so suitably for your device too.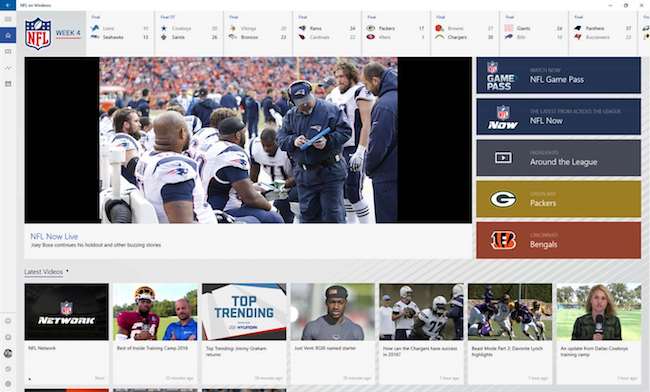 Download from here.
6. CBS Sports
CBS Sports is another useful app that allows users to watch on-demand videos from CBS Sports and provides multiple categories to stream live games, live shows, watch breaking news and highlights. The app also offers live scores and other statistics for NFL games. The app is free to download, is available for the mobile device and desktop computers, and works fine with Windows 8, 8.1, and 10 on both 32-bit and 63-bit architectures.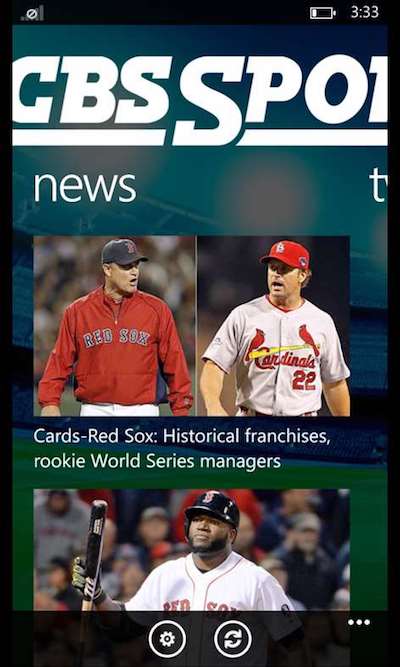 Download from here.
7. OneFootball
It is another great app for football lovers as it provides all information related to this sport directly on your mobile. The app lets you track your favorite teams and covers all international events such as the Premier League and champion league.
It offers live scores, live statistics, results and highlights of football matches, and 100 news about football tournaments. Users also get access to the video channel, fixtures, and inside stories of their favorite sports teams. The app is free to download and works fine with Windows 8 and later versions.
Download from here.
8. USA TODAY Sports
Although this app isn't free, you won't mind paying for it because it includes extensive lively content and lets you keep up with games and players of your choice. You get the latest news formatted according to your on-the-go lifestyle and stay updated about everything in the sports world. Live event notification never lets you miss any important event that occurred during the game. Trending topic streams provides a quick but diversified overview of current popular events. Users can share a memorable quote or a photo of their favorite sports player with friends. The app is compatible with Windows 10 computers as well as mobiles.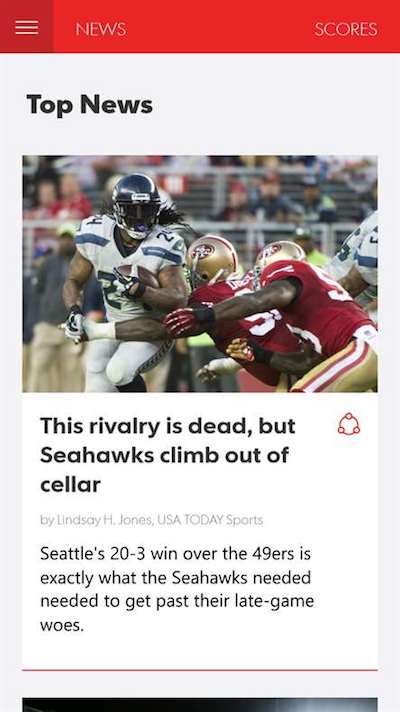 Download from here.
In today's world, almost everyone is busy. Most of us hardly get time to watch TV or live sports events in the stadium but still, we don't want to miss anything. That's why we need something that helps us to follow our favorite sport and provide information about current as well as upcoming events regularly without fail. These Windows 10 sports apps make that possible for us and always meet our expectations.