Microsoft's Windows Phone Summit just kicked off and the company has announced some interesting stuff. The Redmond company's first major announcement was the 'Shared Windows Core'. This means that the file system, kernel, graphics and many other low-level stuff will be shared among Windows Phone 8, Windows 8, and Windows RT, thus making the life of developers easier. It will make developers work incredibly easy to shift from Windows 8 to WP8 or vice-versa. The shared core will benefit consumers by providing them with a varying amount of hardware variations.
The Shared Windows Core is the base of 8 New Platforms, which are as below -:
Better Hardware – The Shared Core will allow Windows Phone 8 to support multi-core processors and much faster GPUs. This should not come as a surprise as this was very much needed.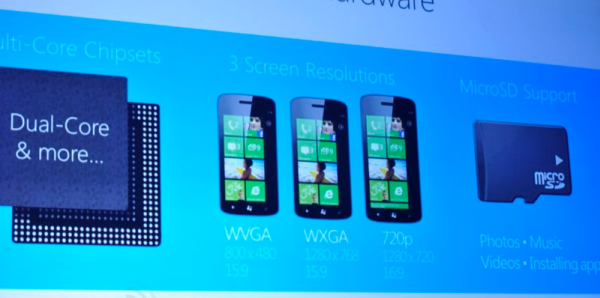 Windows Phone 8 will also support 3 different resolutions including WVGA (800*480), 720p HD and WXGA. All existing apps will run without any issues and changes on upcoming WP8 phones with higher resolution screens. Removable microSD card store support has also been added. Up until now, it was only possible to add an extra microSD card slot but not remove it. Removing the microSD card would render the card useless.
IE10 – IE10 for WP8 will share the same core-rendering engine as its desktop counterpart. It will also include Smart Screen filtering, along with HTML5 support and improved JavaScript performance. Microsoft showed an IE10 Sunspider benchmark, where a similar dual-core WP8 handset absolutely smoked its Android and iOS competition.
Native Code Support – Windows Phone 8 will finally allow developers to write apps in native code. This will not only developers to create better quality apps, much better quality games and much more powerful apps.
NFC – The Shared core allows WP8 to support NFC. NFC will allow WP8 to have the "most complete" Wallet experience including Debit/Credit card support, loyalty and membership support along with the ability to directly pay using "Tap to Pay". Unlike Google Wallet, Microsoft has made sure that the WP8's Wallet will work with third party and will be supported by all network operators that have secure SIM card support. Microsoft is also working with ISIS (A joint wallet venture with AT&T, Verizon and T-Mobile) so that WP8's wallet service works with these operators as well.
Nokia Maps – This one was a given. All future Windows Phone 8 handsets will come with Nokia Maps integrated. This means Offline maps support, NAVTEQ support, turn-by-turn directions and much more detailed maps.
Better Enterprise Support – Windows Phone 8 will support encryption and secure boot, LOB App deployment, device management and more.
New Start Screen – Last but not the least, Windows Phone 8 will come with a new Start screen. While Live Tiles will still be present, they will come in much more varying sizes. Users can also manually resize the live tiles according to their taste and wish. The Live Tile will automatically expand or contract and show more information according to the space available. There will also be more colors for WP8 users to choose from.
Image Credits – Engadget