Although the job of website maintenance is quite easy to deal with, yet you need to use an FTP client from time to time to make sure that the process is done in a time saving and efficient manner. When it comes to the uploading of a massive inventory of files from the physical to the remote server, FTP becomes excessively handy. However, finding the best free Windows FTP Clients is a daunting task, and this is the reason, we have researched for you.
This whole post is dedicated to the Windows FTP clients that we have used and liked in terms of functionality, usability, and features. So, without wasting too much time, have a look at the list which allows you to complete your file transferring job with ease and for free.
Nine Best Free Windows FTP Clients
These are the list of free and best Windows FTP clients which work on Windows and other versions as well.
WinSCP
Cyberduck
FileZilla
FireFTP
Core FTP LE
CoffeeCup Free FTP
Free Open FTP Face
Classic FTP
OneButton FTP
Some of them offer a pro version for added features.
1. WinSCP
WinSCP is one of the best free FTP clients available for the Windows OS. Although it might seem a bit complex on the first look, it is pretty easy to use. The WinSCP window is divided into two parts; the right division shows all the files that are present on your system while the left side shows the files which are available on the cloud server.
You can easily transfer files from one storage to the other by uploading or downloading the same. It also provides advanced options for pro users. WinSCP provides various advanced tools for the users to take advantage of and supports SSH and SFTP along with the normal FTP.
2. Cyberduck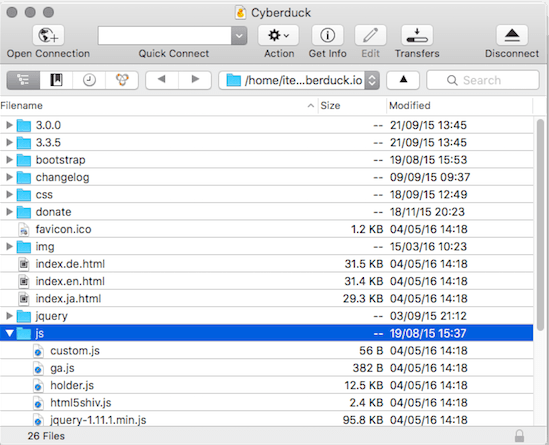 If you are starting with an FTP client, then Cyberduck is one of the best free Windows FTP clients. Cyberduck is straightforward to use and integrates your Windows system beautifully. It helps you to connect to every possible server and has a beautiful cross-platform integration feature which will help you to work on multiple platforms without the process is very hectic.
Cyberduck also comes with a free code editor whereby you can access and edit the codes with ease by clicking just one button. It also allows you to encrypt files and file names individually which takes care of the security issues. It supports SFTP and has an array of tools for advanced users. Check out Cyberduck
3. FileZilla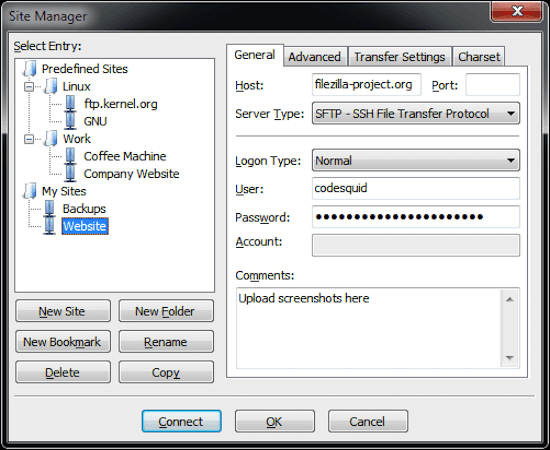 If you are on the lookout for the easiest to use FTP client available for Windows OS and that too for free, then you have to try out FileZilla. The only downside of FileZilla is the adware and spyware that come with the installation of the system. But you can always uncheck a box during installation to prevent this adware from getting installed.
It is a cross-platform client and integrates beautifully with all the platforms. One of the best things about FileZilla is the fact that it gets updated regularly, which means that the bugs will be routinely fixed and it also enhances the users experience to give you a better feel. Check out FileZilla
4. FireFTP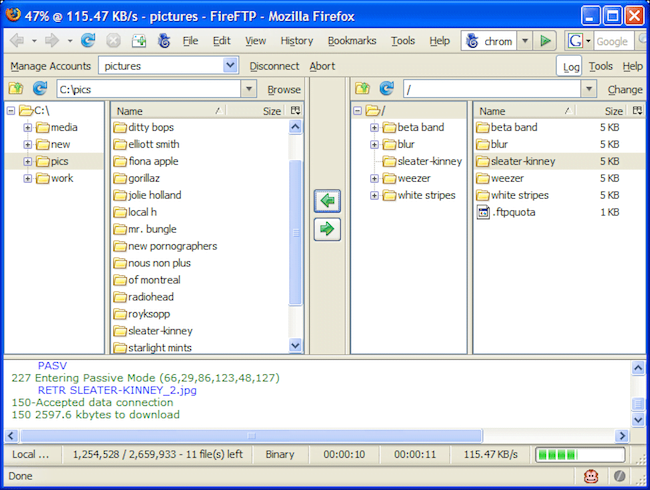 FireFTP is not specific to any OS as such but will work on any device that has Firefox installed. The best benefit of FireFTP is that fact that you don't have to shut down your browser while working on this FTP client. It opens as a new tab in the browser which essentially means that you can keep your browser window open while working on FireFTP.
FireFTP is pretty easy to use and provides users with almost all kinds of protocol support which include SFTP. It allows you to quickly transfer files by drag and drop and also enables you to utilize a host of tools that make the FTP interaction very easy. FireFTP is available in various languages. Check out FireFTP
5. Core FTP LE
If you go by the looks of Core FTP LE, you will find it a bit dated, but that's about it. Core FTP LE has much to offer to the users of the FTP client. It is a run-down version of Core FTP Pro. Core FTP LE has multiple views with which you can work, and it allows you to work with the client as per your preferences. The only problem with Core FTP LE is the fact that the "not for commercial use" message appears every time you launch the program which might seem a bit nagging at times. Core FTP LE allows browser integration along with pausing of file upload and download as per need. Check out Core FTP LE
6. CoffeeCup Free FTP
If you are a power user and need a pro-grade FTP client then you have to use CoffeeCup Free FTP.
It is one of the best free FTP clients for Windows made by CoffeeCup which is known for its free HTML editor. CoffeeCup Free FTP allows you to customize the whole experience. You can configure how you need to so that it eases the use of the client and will enable you to transfer the files from one storage to another quickly. It allows you to use a host of features, but the problem with this free version is that it is presented with a lot of ads which can be tiring. Check out CoffeeCup Free FTP
7. Free Open FTP Face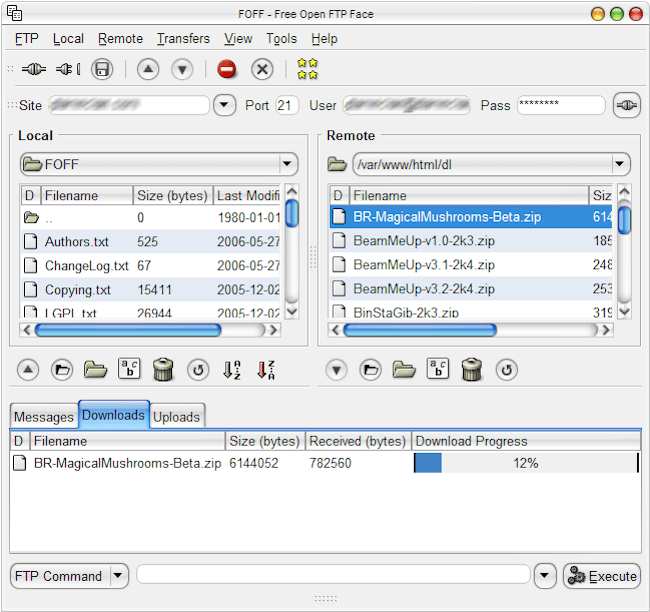 FOFF is essentially the short form of Free Open FTP Face. It is a multi-platform FTP client which essentially allows you to integrate with your Windows OS with ease and finesse. It has a straightforward user interface which is very easy to use by the beginners too.
But at the same time, it also allows you to achieve all the tasks of an FTP client. The coordination between the physical and the remote server is exceptionally well done. It will enable you to upload or download files easily. FOFF is minimalistic when it comes to design and features. But given the various tools that it offers to the users, it can be said that it does a decent job. Check out Free Open FTP Face
8. Classic FTP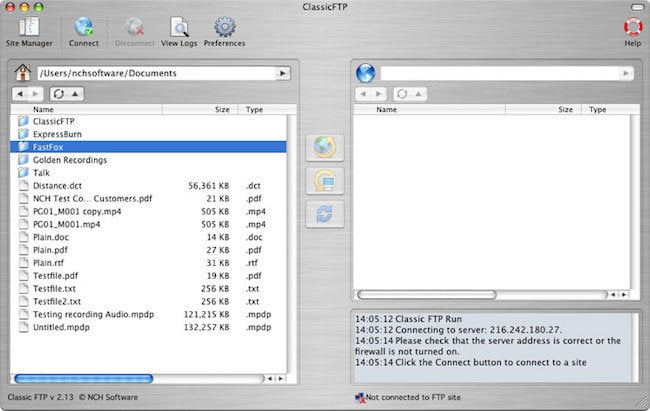 It is one of the simplest to use FTP client which is majorly used in the development or maintenance of websites. Classic FTP is compatible with almost all servers. The best part about this client is the fact that it allows you to transfer your files in a very secure manner which doesn't put your data in any risks.
One of the best things about this FTP is the fact that you can customize it for the way you want to use it. It allows you to drag and drop files and also will enable you to synchronize relevant data automatically. CLASSIC FTP is a good start for people who are beginners. Check out Classic FTP
9. OneButton FTP
If you own a relatively small website, then your FTP activities can be beautifully taken care of by OneButton FTP. All you have to do is configure your browser with OneButton FTP, and you are set to work on it.
It has one of the simplest of all user interfaces. All you need to do is drag and drop the files into the OneButton FTP window to transfer them from the physical to the remote storage and vice versa.
You can also put your files in a queue in case you want to download them later at your convenience. It makes it perfect for users with an internet connection which are very slow. Check out OneButton FTP
Did you find the best free Windows FTP clients according to your needs in the above list? Are you using any other best Windows FTP clients? If yes, do let us know and we can include in our list of best free Windows FTP clients.