Are you a music lover and cannot go a day without listening to music? Are you always in search of music players that will enhance the quality of your music collection? But the fact is there are a wide of music players scattered in the market, and you get confused, which will be the best. So here is our curated list of Best Music Players for Windows 10.
Best Music Players for Windows 10
We have tried to list some of the best music players if you own a Windows 10 device. We selected these music players because of their popularity, ease of use, features, and cross-platform compatibility.
Groove Music
Windows Media Player 12
5K Player
Music Bee
Media Monkey
AIMP
Elmedia Player
VLC
Foobar
Spotify
Winamp
Clementine
Audacious
So, have a look at all the best Windows 10 music players and choose according to your preference.
1] Groove Music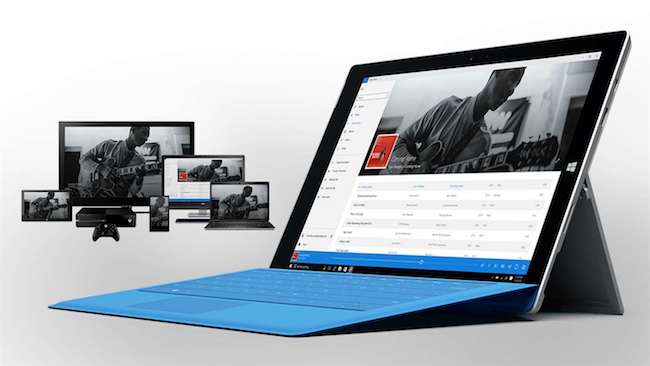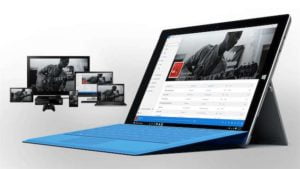 Groove Music is the by default Microsoft music player for Windows 10. Restoring from the world of Xbox Music and Zune music, this subscription-based music player is the default music player on Windows.
The music tracks can be nicely organized and, in common, has good UI. But still, it fails to replace with the WMP as it lacks many functions. The radio segment of this player needs improvement. It is one of the oldest music players for Windows 10.
2] Windows Media Player 12
Windows Media Player 12 is called the can-do classic music player for windows 10. It's a classic and a primary music player for windows 10/8.1 that enables you to play local music. In comparison with groove music, it includes more music playback functions.
You can shop for music online, burn music to CDs, sharing & synchronizing music. It has optional add-ons for skins, audio effects, DVD playback, and visualizations and can also optimize WMP.
You can install it from Windows 10 itself by going to Programs & Feature and install it.
3] 5K Player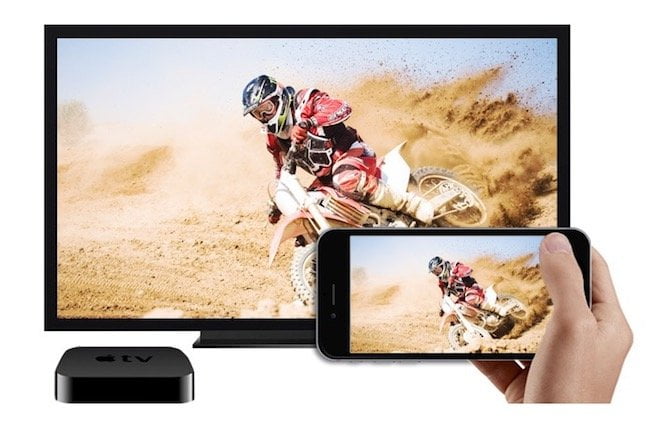 The 5K player is a unique music player for windows 10 with high fidelity. This player plays almost all audio formats such as WMA, Mp3, MKA, M4A, DTS, FLAC, AAC, ALAC, etc. Its six features are worth praising that include a surround sound effect, online free music playlist download, Conversion from YouTube to Mp3, CD/DVD playback support, fast internet music radio, and Airplay. So if the groove music fails to fancy you, the 5K player will not disappoint you at all. It is a free music streaming actively recommendable player.
4] Music Bee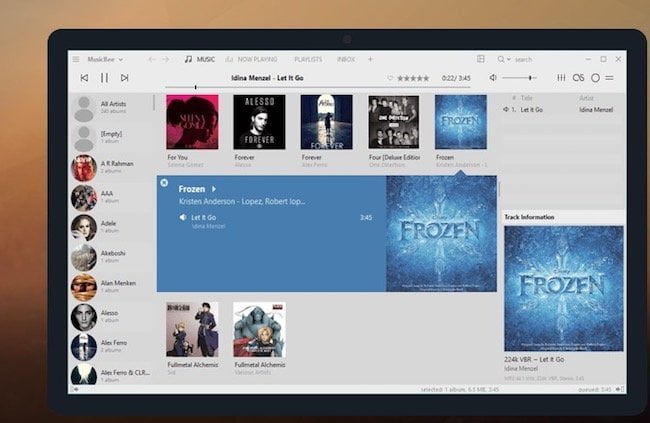 It is generally known as the "organizer's choice of music player." This music player app for Windows 10 can import WMP and iTunes libraries. Music receives podcasting and HTTP streaming protocols. For those users who like to keep their playlist organized, good news for them. It lets you organize music library automatically, audiobooks, and podcasts and organize scattered radio stations. Along with the ability to play mu5sic from the CD, it also makes up the missing function. Except Real Audio Music Bee supports all formats of audio on Windows 10.
Download  Music Bee
5] Media Monkey
It's a new music player for Windows 10, and it is known to be the "Music sharer's choice of music player." It can run from a USB device. It has additional support for UPnP sharing. Its features also include DLNA sharing and its iOS sync. It enables you to erase music from your audio CDs and burn music to DVD/CDs on your windows 10.
Media Monkey has rich support of plugin and can stream and import last.fm and show lyrics. It is a very active music player and can use add-ons such as DSP, visualization plugins created by Winamp, input, and output. The standard version of Music Monkey is free of cost, and its music free music is provided by Music bee, but for more features, you will have to pay for it.
Download Media Monkey 4
6] AIMP3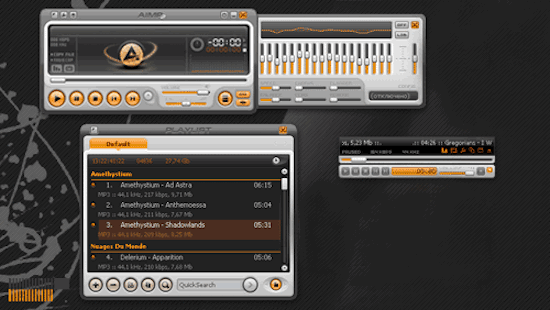 This music player is an exclusive music player for Windows 10. Both CNET and Softpedia highly appreciate it. This player features 18 band equalizers with default sound effects. Its version 3 is last.fm compatible. It can continue recording from internet radio to WAV, AAC, Vorbis, or Mp3. It can directly play media files up to 250 MB and can also play from ordinary CDs. It has additional support for ReplayGain.
Download AIMP
7] Elmedia Player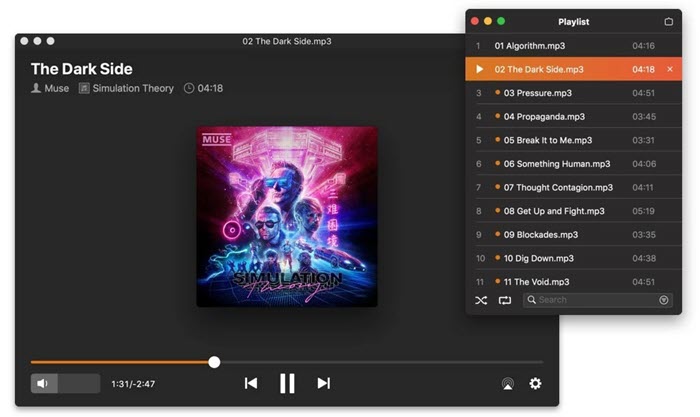 If you are looking for music players for Macs, here is the best solution. While it may come as a surprise, but Elmedia Player is a Mac exclusive. That doesn't stop it from fiercely competing with Windows software. The features combine power and subtlety: bookmarking, playlist search, and the 10-band equalizer are placed discreetly, intuitively. With a single look, you'll know what you want to do in this app and how to do it. The program supports a stunning variety of formats such as MP3, FLAC, OGG, etc., which can be played or streamed on Chromecast, DLNA, or AirPlay devices.
8] VLC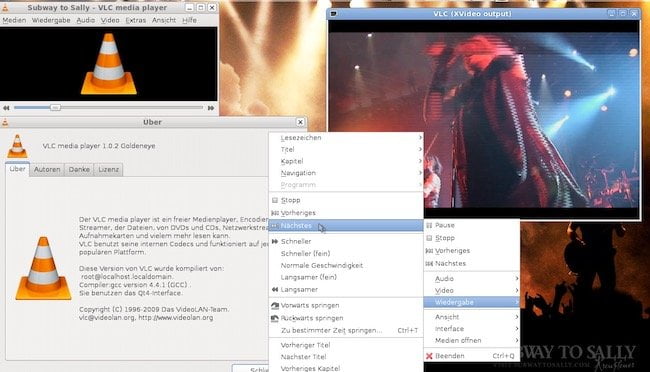 VLC is a favorite and overall powerful music and video player for Windows 10. With a vibrant playback option, the VLC music player is massively customizable. Almost all types of music formats can be played via VLC, such as; DV Audio, XM, FLAC, DTS, AMR, AAC, AC3, ALAC, etc. It is an open-source music player and is an excellent option for music lovers.
Download VLC
9] Foobar 2000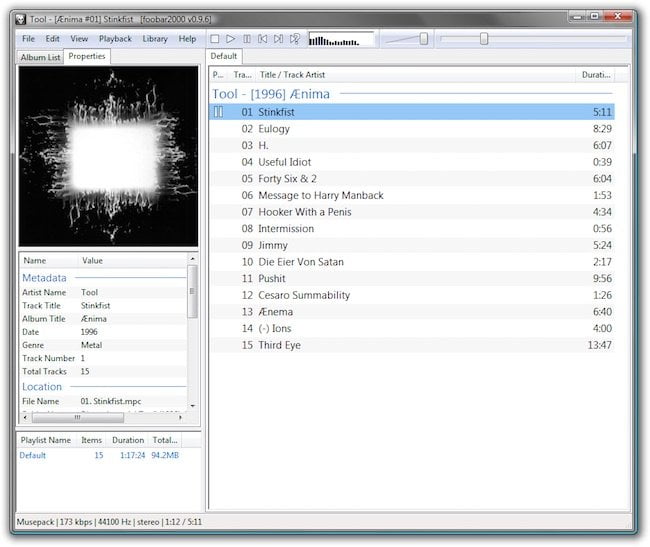 Foobar is a fantastic CD music player for Windows 10 platform. It supports all types of audio formats, including OGG. Foobar is highly customizable and outstandingly lightweight. Foobar, with its plugins, highlights in playing optical discs of CD as well as HDCD and DVD-audio. Thus Windows 10 users can explore the world of music. It understands both MMS and HTTP streaming protocols. You get support for MP4, Matroska, etc., and it's user-friendly.
Download Foobar 2000
10] Spotify
Spotify is one of the streaming music players for windows 10. It became so popular in recent days that it's giving Pandora a neck to neck competition. It is also a familiar music player on Android and iOS that is known for streaming music. For its Spotify listeners, Spotify also supports Windows 10 OS. It has access to the immense music collection, streaming of music videos, radio, and super download ability. You can play Spotify on your laptop and desktop as well. The only drawback you may face is it can't support local music.
Download Spotify
11] Winamp
If you are a veteran, I am sure you know what this player means to us. While Winamp development stopped sometimes ago, Version 5.8 is still available, and it works fine.
Download WinAmp
12] Clementine
When looking for the best free Windows 10 music player that is entirely effortless to use, you have to check Clementine. It is a versatile music player for Windows 10 devices, which will allow you to add your entire collection to it with minimal effort, and you can even organize the same as and how you like it. If you have songs uploaded in various cloud storage, Clementine helps search them and play them directly. All you need to do is log into the cloud storage service by getting into the preference.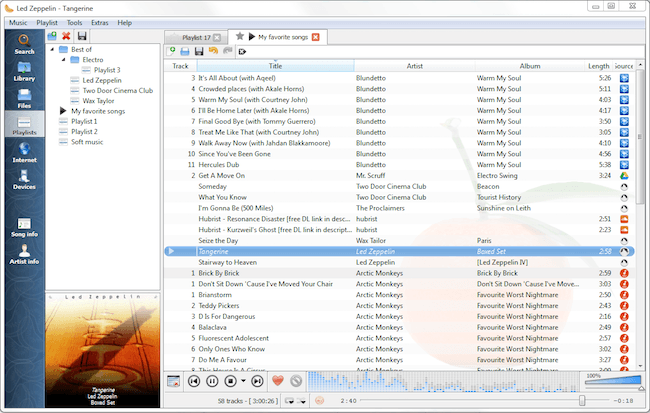 Download Clementine
13] Audacious
Audacious is probably the simplest when we talk about the best free Windows 10 music players present. Working with Audacious is very easy; all you need to do is add your existing music files. All the details will be shown to you in separate columns. The currently playing music will be available at the bottom of the app in a horizontal bar. Most of the general features are available in the app, and plugins can be applied to enhance the app's workability. Audacious will allow you to play all the relevant media files.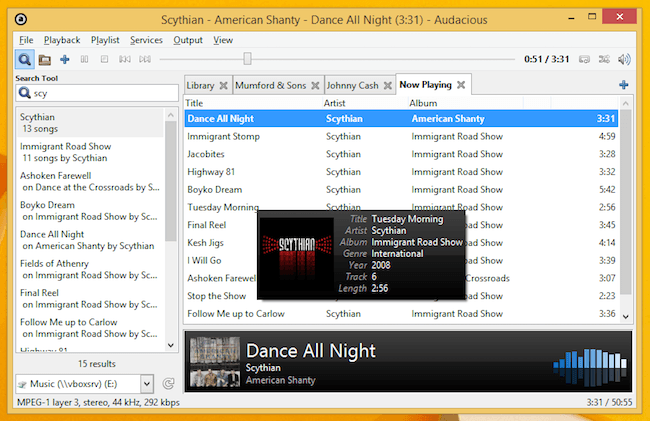 Download Audacious
These above-listed Music Players for Windows 10 lets you enjoy regular music, and they are all available for free except for few added features you may have to pay. So grab them today and make your Windows 10 music-friendly, along with you. If you any other Windows 10 music player you feel is the best, let us know in the comments section below, and we will include it in our article.