Thanks to Jio, India's internet speed makes it possible to stream movies, shows, and cricket on the move. While we have tons of streaming services, in this post, we are looking at Amazon Prime Video vs. Netflix. If you are confused about which service to pick? Confused as to who will deliver more shows of your choice? While both Netflix and Amazon Prime Video have their own advantages, people of varying choices will find their tastes satiated in Netflix or Amazon Prime Video. We have brought you a complete analysis of both the services so that you can pick the one which will cater to your taste more.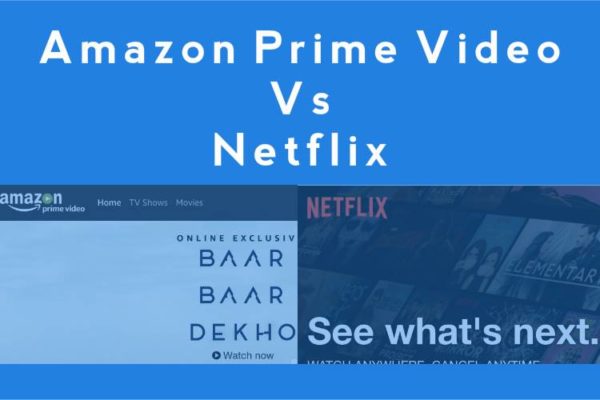 Amazon Prime Video vs Netflix: Which one to choose?
Subscription
TV Shows
Movies
Indian Content
1] Subscription
Netflix offers its viewers three different kinds of subscriptions to choose from. Basic, Standard, and Prime. All three subscriptions come with various options that will cater to the needs of various people.
The Basic comes for 500 INR per month and allows you to watch an unlimited number of movies and television shows. However, it doesn't allow you to share the screen with other members and also doesn't support HD or Ultra HD features while playing the video.
The Standard option is available for 650 INR per month and allows you to play videos in HD mode. It also allows you to share the screen with one more member of your family or friends without paying any additional charge for the same.
The Premium is the best plan offered by Netflix, as the name states. It comes for 800 INR per month, provides Ultra HD along with HD features, and allows five other people to share the screen along with you. That's four people sharing the screen at the cost of one subscription.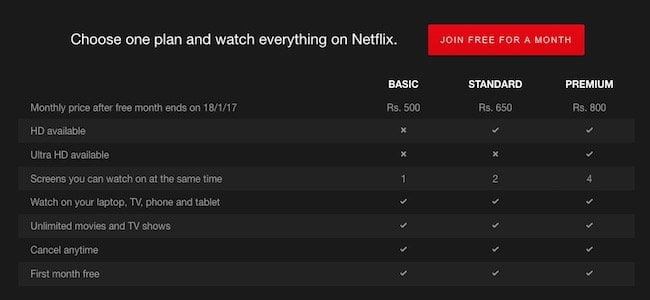 On the contrary, Amazon Prime Video comes for just 999 INR per year, which comes down to about 84 INR per month. Yes, it is just that, cheap. In this charge, you get to share your screen with three other members and view HD and Ultra HD video qualities or download high-quality video offline. It doesn't end here. You will be getting a free membership of Amazon Prime on the e-commerce channel by which you get half an hour prior access to the lightning deals and avail of the Prime delivery systems.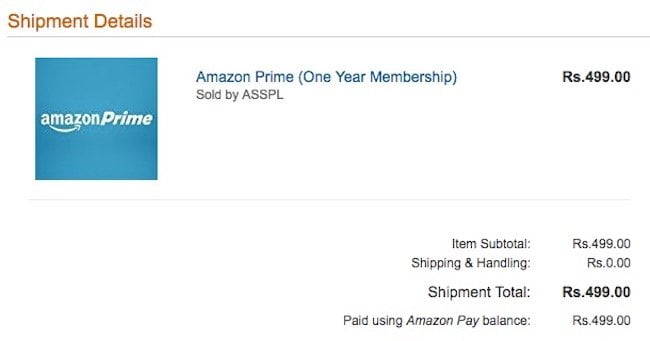 Winner – Amazon Prime Video: 1, Netflix: 0
2] TV Shows
Although Netflix is charging way too much money for its subscriptions. It has a good reason to do so. Netflix has some really cool originals which have been globally acclaimed for their presentation and theme. These include the likes of Orange Is The New Black, Stranger Things, Narcos, House of Cards, The Crown, and Black Mirror, along with the newbies like Brooklyn Nine-Nine, Better Call Saul, Spotless, Blacklist, and much more.
These shows have been fairing quite well with the audience of Netflix in general and their Indian counterparts. These shows are also classified in Netflix pretty well, and you will get all your favorite shows clearly stacked in the list for your convenience so that you can find them with ease. Netflix has also bagged some of the best comedians to do stand-ups for Netflix viewers.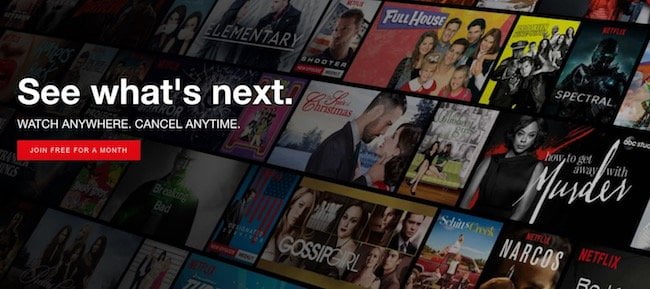 Related: How to find new and upcoming shows on Netflix.
On the other hand, Amazon Prime Video also has some pretty cool shows in its bag for the viewers. It also has originals like Mozart in the Jungle, Red Oaks, High Castle, The man, and Bosch. These shows have some astounding ratings along with a huge fan following. Among the TV shows, Anger Management, Smallville, 2  Broke Girls, Supernatural, Two and a Half Men are some of the star performers of Amazon Prime Video.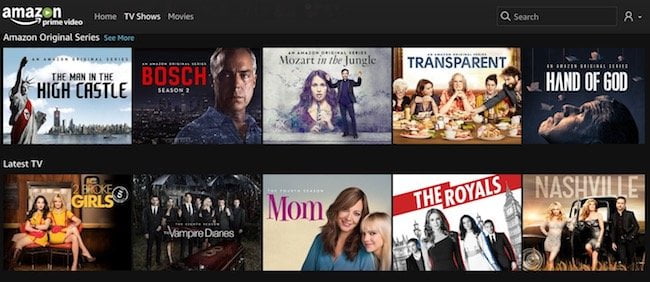 Winner – Amazon Prime Video: 0, Netflix: 1
3] Movies
Netflix is a clear winner when it comes to English movies. It has a host of Hollywood movies for you to pick and choose from, which have the likes of both classic movies and contemporary ones, which will satiate all your tastes along with the moods you are in. This gives a huge advantage for the subscribers of Netflix as Amazon Prime Video only offers Godfather and Chinatown, which are worth mentioning.
Yes! It is a real disappointment. It clearly shows that Amazon Prime Video has a long way to go when it comes to movies, especially for Indian viewers. If you have a taste for western movies as a whole, then Amazon Prime Video would be a huge no-no for your subscription. Netflix's content is richer and far more praiseworthy in every sense.
Winner –  Amazon Prime Video: 0, Netflix: 1
4] Indian Content
When it comes to English content, Netflix is the champion all in all. However, when it is time for some Desi masala, Amazon Prime Video is a clear winner. Be it in movies or in the case of originals developed specifically for Indian viewers. Although Netflix has some originals based on simple classical novels of Indian origin, Amazon Prime Video has gone a step ahead to sign some biggies like Farhan Akhtar and Anurag Kashyap to develop content for them.
Even in the case of movies, all Netflix offers under the latest movies are the likes of Raman Raghav 2.0, BA Pass, Talvar, and Udaan, among others. The list has some of the best titles of 2016 missing from it. On the other hand, Amazon Prime Video includes some super hits like Dil Dharak Ne Do, Kabali, Prem Ratan Dhan Payo, Sultan, and critically acclaimed films like Sarabjit under its list.
Winner – Amazon Prime Video: 1, Netflix: 0
So, if you see, all in all, there is no clear winner when it comes to Netflix vs. Amazon Prime Video. It all depends on your choice of shows and the amount of money you are willing to pay for a video streaming service. In monetary terms, Amazon Prime Video is a clear winner as it also gives much more to offer rather than just video streaming services. But if you are more bent towards English content, you should chuck Amazon Prime Video and go for Netflix.
As Amazon Prime Video costs practically nothing, we suggest you subscribe to Netflix and Prime both for a month and check out to better suit your taste.