There are tons of launchers available for Android Phones. With Microsoft's increasing interest in the ecosystem, I will compare one of the most popular Launchers in Android vs. Microsoft launcher. Arrow launcher from Microsoft Corp. and the Hola Launcher by Holaverse.
Both Launchers being the award winners (Arrow-The Winner of the 10 Best Android Launchers and Hola- Google play's best of 2015 winner), this is going to be an interesting comparison. Previously I had already written about the Arrow launcher and its features. Now, let's compare it with the other launchers that are out there in the Google play store exclusively for Android smart phones.
Arrow launcher vs. Hola launcher

 
The UI experience.  
Both the launchers have simple UI, which makes it easy to customize according to our interests. But in real comparison, I was very comfortable with the Arrow launcher from the get-go. In contrast, the Hola launcher was perfect, except that initial customization and personalization takes time. 
The apps are automatically arranged according to your using habits in the Arrow launcher, but in the Hola launcher, you only get to see the app you have chosen to appear on the main screen.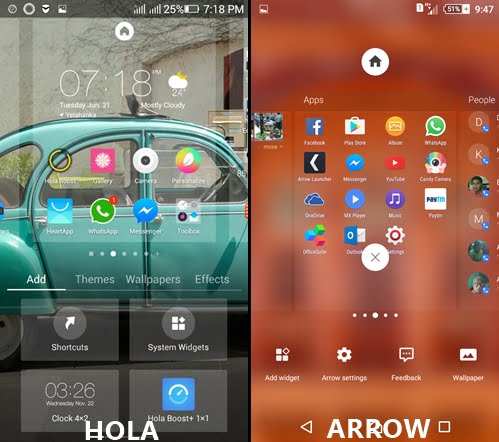 The Decor
In Hola launcher, you get a chance to see this amazing design, which they call it Hola shine. When you swipe the main screen from the bottom left or right, two rotatable quarter disks will appear where it contains your frequent apps and recent apps. I guess both are the same, but you also get to see the toolbox along with these two sections.
While in Arrow launcher, you do not get this fancy design, but you get most of the things, including your recent photos and calls, when you swipe left or right from your main screen. It offers you to experience the dock screen like iPhone, but with the Hola launcher, you can only stick to swiping your screen from upwards.
Both launchers give you great wallpapers, which are updated regularly, but I mostly like those wallpapers from Bing. I don't know; I love them, but I have noticed that in the Hola launcher, the wallpapers are only updated on Fridays!.
Both the launcher will give you the freedom to place your widgets on one particular screen. I mostly added news flip boards on my widgets screen when I was using Arrow launcher, but Hola's launcher will surprise you with the Holazine, a personalized flip board for news.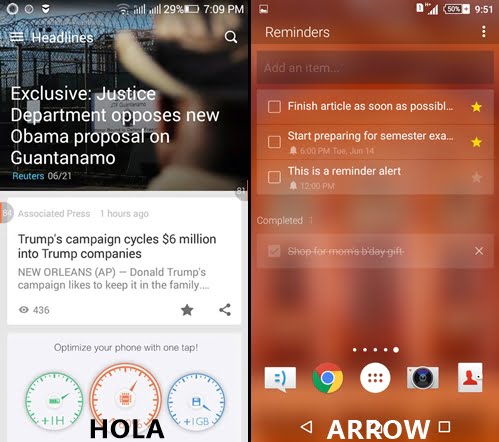 Hola offers you different folders for your themes, Games, Social media, Lifestyle, Tools, etc.… with Hola, you can customize your device with 3D special effects, which is quite fun. Arrow is simple in this matter.
Arrow supports a third-party icon pack, but Hola has its own icon pack lying in the play store for download. I absolutely love this feature where you can give replays and responses to your social media apps like Whatsapp, Facebook, and Instagram from your home screen without actually entering into the app. In this scenario, the Arrow launcher is good. Still, in the Hola launcher, only notification can be seen.
You can manually approve as to which apps appear in the Hola launcher so you can keep your desktop clean and clutter-free. You can also protect your privacy by swiping the apps upwards using two fingers, which I couldn't perform. Arrow launcher is a little less efficient in this matter.
You can peep into the weather forecast by swiping downwards from your home screen, which gives you the complete forecast for the next 6 days, which is quite cool from the Hola launcher.
As I said earlier, both launchers are simple to use and personalized, but I have to say that Hola is a bit faster compared to Arrow, and Arrow is a bit light compared to Hola.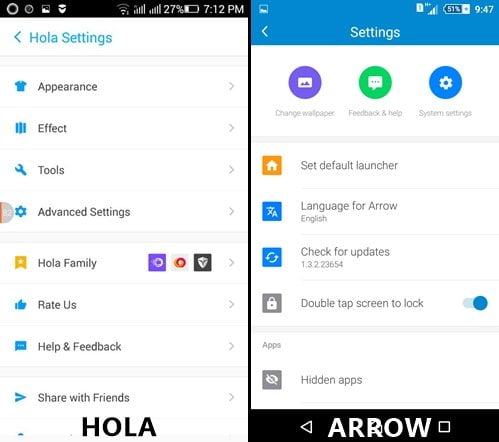 The Stumble.
Before winding up, I would like to share that when I was using Arrow launcher, my phone got a bit slow, and also there were some problems with the Music player like the music wouldn't pause even after the removal of earphones from the jack. After changing the track, the two Music would overlap with each other. I am using the Hola launcher for two days now, and I haven't found any such problems yet.
Mark-sheet.
To round off, Hola still has the edge over the Arrow launcher just because of the above-mentioned reason. But on the contrary, both launchers are excellent and cool, and nothing harm in choosing either of the two.