A much-needed solution which I have always loved in iOS is finally coming to Windows Phone and its called as Folders and you don't have to wait for next update to get as it is coming via an App which will be released soon but if you have a developer unlocked phone you can give it a try right now, Grab the downloads from the XDA Forums. The whole thing here needs you to use Desktop and Phone both to get the total effect.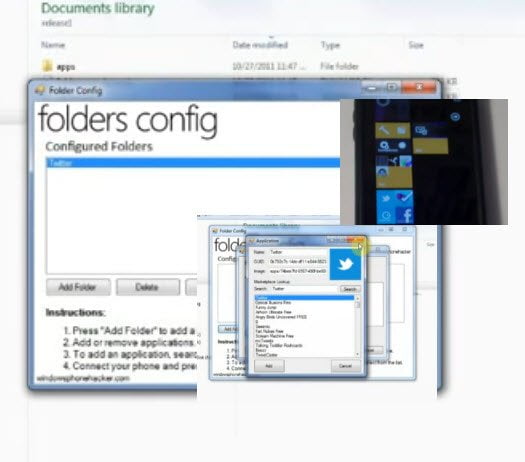 If you are wondering why you need a Folder on Windows Phone then you can think of a case where you have hundreds of  apps installed and either you need to scroll or end or use the quick switch using the Alphabet dialer, both aren't very optimal solution. I would rather have categorized folders i.e Games, Notes, Tools etc.

How it works :
As of now you need to configure your folders from the Desktop Tool because of limitations. So every time you want to change folder settings or apps inside, you need to run to your desktop.
Also to add apps to a folder you need to use the same interface and add it by searching from the market place. Kind of odd.
The folders are like Live Tiles which keep on displaying the list of apps on it. When you have more than what tiles can support, the apps are displayed on back of the tile.
The folders can be placed as tiles by pinning them.
Check out more on Windows Phone Hacker Via XDA Forums