In Windows Phone since there is no direct way to do a file transfer, getting new ringtone is not straight either like in other phones where you could have dropped in some music file and set it as your caller tune or ringtone.  Even then it is possible to get some new ringtone for your Windows Phone using the methods below :
Using the Official Insider App :
This app gets updated every month with new ringtone and wallpapers which you can download and save to your Windows Phone. You can play to listen to the preview. Check out our in depth review of  Insider App
Free Ringtones App
This app lets you search Ringtones by Artist and by Title
Listen before downloading.
List of Hot Ringtones
List of already downloaded ringtones
List of Ringtones which are currently downloading.
This app has some serious collection of ringtone which are not only pretty high in level but something which you will love to use. Once downloaded you can save it and you can set it as your ringtone right there. Download from here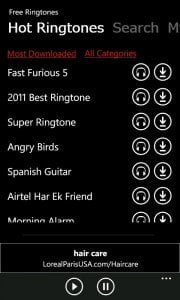 Wp 7 Ringtoner :
It is possible that using Zune or iTunes you can add new ringtone but there are certain limitation on the file type ( MP3 or  WMA ), Length should be not more than 40 seconds and files size should be less than 1MB. So basically you will need a MP3 or WMA cutter to do all this stuff.
WP7 Ringtone Creator makes your job easy in doing this. This tool takes an MP3 or WMA file and then lets you choose length, Bitrate, Volume Loudness etc and then create a ringtone file which can be accepted by the Zune and Windows Phone.
Download WP7 Ringtoner  from here
It uses the ffmpeg encoder so you need to download that also. You can find the download link at the same post.
Once You have downloaded both of them, you need to set the path of FFMPEG to the Ringtoner App which is under File Settings. You can also choose the location where you want to save the ringtone.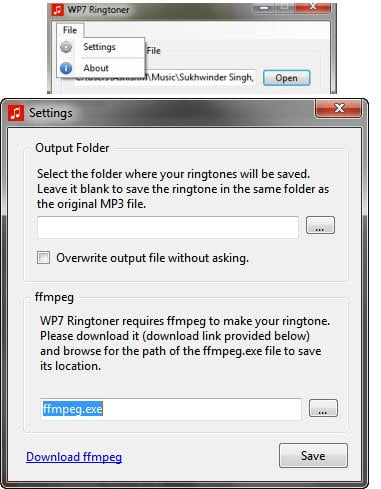 Next You need to select the start and the end point and then click on Make button to make your tone. Catch here is you should select only 30 seconds of length. If you select more you will be warned.
It automatically changes the ID3 tag to Ringtone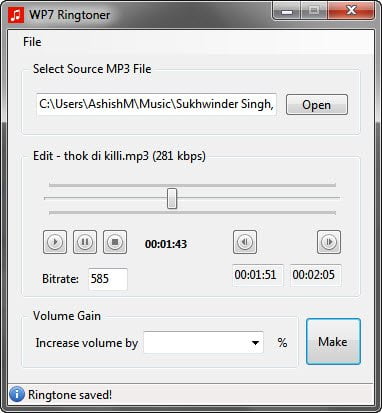 Few Features which I would loved to have here :
It should select the end point automatically when I select a starting point. That would have dropped the confusion.
Option where the Music Genre was automatically changed to ringtone and send to Zune Library where one has decided to sync everything.
Next you need to use Zune or iTunes to add to the Phone. Read it on the detailed and official post.
ChevronWP7 Ringtone Installer :
This needs a developer unlocked phone that you can get it done in $9. What it does is take 5 MP3 File and compile it into a Ringtone XAP file which can be deployed into Windows Phone using the Developer i.e. SDK Tools for Windows Phone.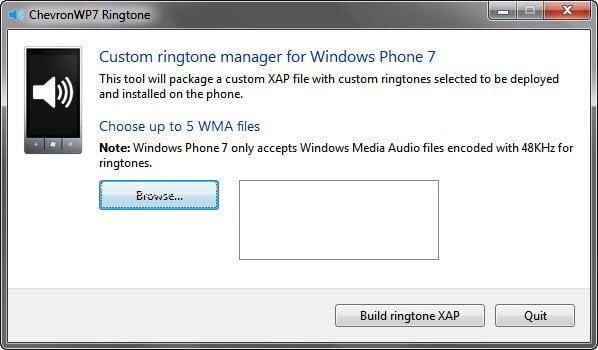 Few limitations using this tool is that it only accepts WMA format and it should be encoded with 48Khz which is one of the basic requirement for Windows Phone. Download the application from here