Battery is still one of the major issues on smartphone, and this is the case with almost all mobile OS. Similar to other OS, Windows 10 Mobile also comes with a built in battery saver to get some more juice out of your battery. It basically gets you longer battery time by disabling background apps, and also restricting certain other options like Email Sync, Location, Live Tile Updates, etc . Today, we take a look at the battery saver option in Windows 10 Mobile and how to use it.
To enable battery saver, open Settings-> System > Battery Saver. Select this, and the battery saver section will show the percentage of battery left,  and estimated time remaining.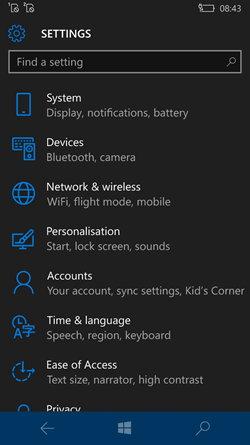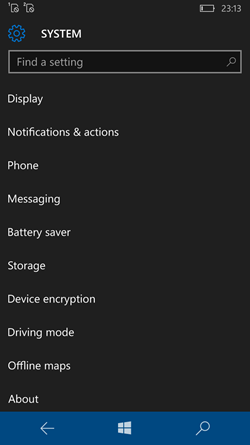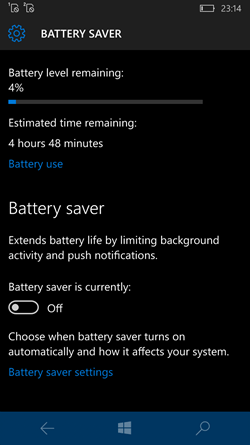 Next, look for a label which says Battery Saver. Here you can toggle to enable the battery saver on the device. As soon as you do that, you should a shield icon on the battery icon in the notification area.
If you want to battery saver to turn on automatically, you can choose at which battery level it should turn on.  Tap on Battery saver settings, and then in the next screen you can use the sliders to certain battery level.
You can also configure app which can run in the background even if the battery saver mode is turned on. You can click the Add an app option and select the app which you want to run in the background. The battery saver option is pretty handy to manage the battery effectively and get better battery life on your phone.
How to find which app or process is consuming more battery ?
On the battery saver main screen, right below the estimated time remaining, you have the link to battery use section. It will show you which all apps, and processes are using the battery the most with option to filter based on 24 hrs, last 48 hrs or one week. In case a particular third party app is a battery hog, you can easily figure it from here.
In the battery saver main screen,  you have another app control option named as "Change Background App Settings". Using this you can control which apps will run in background. There is a toggle for all the apps, and you can choose appropriately.