When it comes to streaming games, there is a huge market. Twitch is probably the first company which was successful capitalising on this opportunity, only to be soon followed by Google's YouTube Gaming. Today Microsoft is putting its sep into this.
Beam (beam.pro) Microsoft's Live Streaming Platform has got  massive update which includes native integration with Windows 10, improved latency, and live communication. All this is just like Twitch, except that Microsoft has advantage of delivering a native experience.
Here is a list of New features coming to Beam 2.0 which took 4 months to build from ground up.
New Design & user Experience:
One of the much-needed improvement, specially when it came to web performance, the UI looks much smoother, new animations for transitions and interactions, and has consistent styling across the site. There is a new Logo as well.
Solid Performance:
Microsoft claims that Beam has now insane performance, not only because the design helped, but Beam can now deliver 60 FPS render performance sitewide, along with improved mobile web support.
Apart from the 60 FPS improvement, Beam now has max bit rate up to 10 Mbps, with 1440 60 FPS support, and super high motion at 1080P
New Broadcasters Features:
If you broadcast your videos on to Beam, you will be delighted to know that beam has some new features you will love. Apart from the new home page design, broadcasters now can
Schedule and feature multiple broadcasters and events
Feature mature streams to authenticated 18+ users
More screen real estate to share info about broadcaster's communities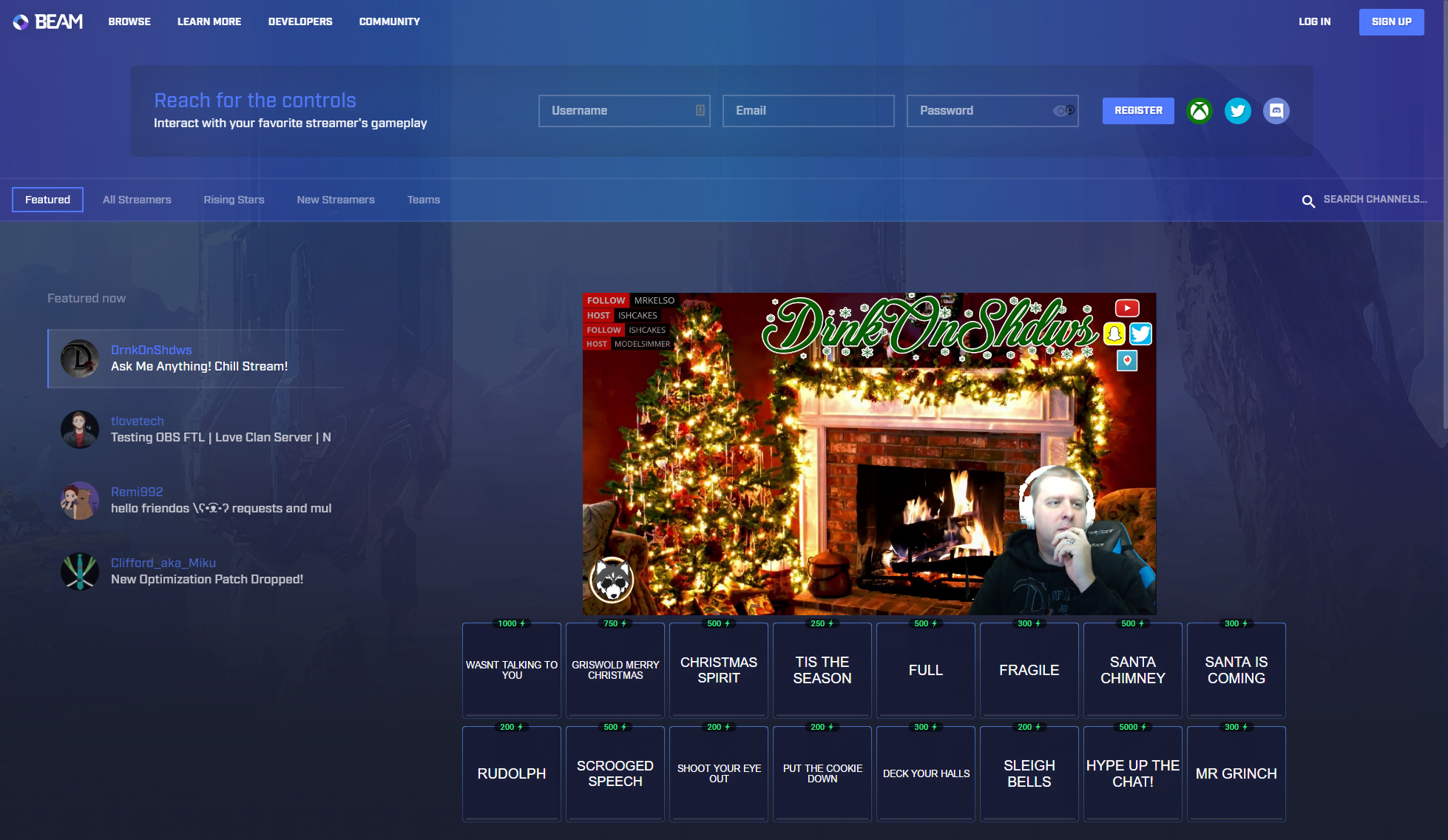 Chat Improvements
Overall chat performance has improved as Beam now deals with network hiccups much better. You can now experience the new and improved polling UI, with option to see what your fiends voted on. If you love emoticons, there is an inline auto completion, with new fancy mod gizmo.
A Brand New Player
Player is the core of any streaming service, and Beam's player has completely ditched HTML5. Flash is gone for good, and its never coming back.  The player performs better when you use scrubbing, chat repost, and direct link to any particle time of the video you want to share.
Xbox Live Login
This is brand new, and this inly means one thing–Gaming is going to get better. It is available as an option now, but it will soon become the default to sign in into Beam, and it only makes sense for Xbox and PC gaming where everything is hooked to Xbox Live. Here is the list of benefits you get:
Helps Beam to leverage Xbox tooling, support, and moderation to scale Beam's community
Enables significant security enhancements with 2FA, suspicious login detection, and more
Brings more viewers to Beam with a universal and easy to use authentication mechanism
Enables deeper social experiences, game integrations, and richer content discovery
Beam is also going to bring in Twitter like username style which will help tagging or even communicating with friends much easier. Also with this you would get option where username and channel name can be different. This is super cool.
Bots, Overlays, and Developers
Microsoft is pushing big on Bots, and Beam has SDK or developers code to develop bots for theirs games, even add Beam integration to games, and so on. This is kind of unexplored section which we will see in form of features soon.
Apps:
Beam has app for iOS, Android, but not Windows 10 Mobile. Yeah, you read it right. As of now if you have Windows 10 Mobile, using Edge is the only option. When it comes to Xbox One, the streaming option is coming next year, with deeper integration into Windows 10 to follow soon. If you are an insider on Xbox One, you can give Beam App for Xbox One a try soon.
More here