Billions of YouTube views or millions of podcast streams, there are always some deciding factors behind a creator's success. Sure it is his humor, gameplay, and even the things he talks about, the visuals the viewer sees, and the audio he hears is undoubtedly the secret ingredients. And today, we are talking about one of them, incredible sound and, in particular, what gives us that great sound. Today we are talking about the TONOR TC-777 microphone.
Best Budget Microphone for Personal Use
The TONOR TC-777 is a driver-free microphone with a plug and play design, making its installation super easy. It is a cardioid microphone, which means it rejects sound from different directions, making it the best at picking up sounds from the front and tempts the users needing a mic for vocals or speech.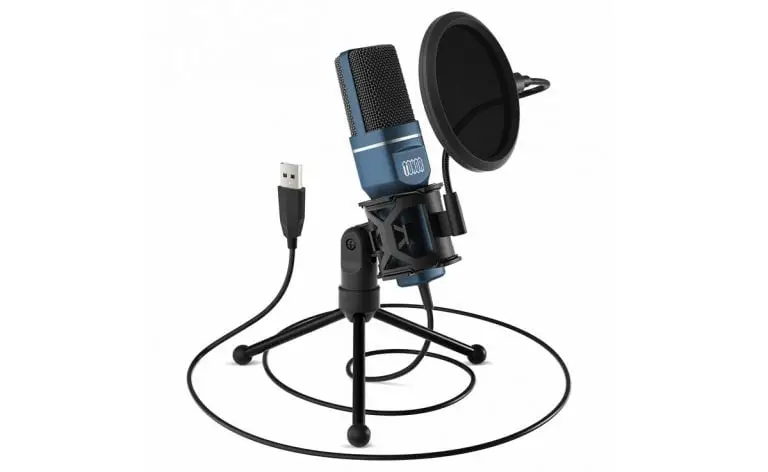 TONOR TC-777 is a perfect fit for streaming games, recording vocals, YouTube, and even video conferencing. One of the best microphones under $50 is compatible with any operating system, be it Apple or Windows, TONOR works with all. It is compatible with Playstation and gives a kickass pickup with good sound quality.
Just for $39, you get a complete microphone kit which includes:
Power cord
A tripod desk stand with folding feet.
A mini shock mount
Pop filter
Manual and a service card
A foam windscreen
The mic is approximately 6" and has a plastic body with matt blue finish. USB cable is about 5feet long. The tripod stand has durable metal legs with rubber feet for stability, and it connects to the mic with a 5/8" thread. The mini shock mount has rubber bands for mic suspension and protection against surface vibrations. The mic holding part is 180* rotatable with a gooseneck to connect the pop filter. The foam windscreen slips over the mic and is used to reduce breath noise and unwanted BG sounds. You can also use the mic on a boom arm to further reduce the surface vibrations that the mic may catch.
PROS
Clear and well-balanced sound with little distortion and very soft closest P, T, and F sounds
Easy to manipulate the raw audio while editing
High-cost performance
Compact size with a reasonably good appearance
CONS
May not pick up sounds without damping it from a distance
Not compatible with phones, IPads, and Xbox
No rich tonal accuracy
Little short USB cable, Could be longer
TONOR TC-777 vs. Blue Yeti – THE BRAWL
| | | |
| --- | --- | --- |
|   | BLUE YETI | TONOR TC-777 |
| Cost | $130 | $39.99( 1/3rd of yeti) |
| Accessories | Just the mic and stand | A complete mic kit |
| Optimisation dials | YES | NO |
| Auxiliary sound reduction | NO | YES |
| Headphone jack | YES | NO |
| Sound quality | Warmer and hard to edit | Easy to edit raw audio |
| Value for money | FAIR | VERY HIGH |
If you are a beginner and need a mic for personal use, i.e., for home, office, and video conferencing, TONOR TC-777 is right for you. Save yourself $70 with this ALMOST PERFECT piece of engineering.
Buy TONOR TC-777 at https://www.amazon.com/dp/B07WLWN2ZT