Every user should keep a separate password for each website or online service so that no one can hack all your accounts by knowing one password, and also your entire work doesn't get affected when you forget the password. Well! We know that people tend to forget the password, especially when they do not use any service regularly. So, without further adieu, please have a look at the Best Windows 10 Free Password Managers that you can use to be worry-free about your passwords.
Best Free Password Managers for Windows 10
Some of them are available as extensions for browsers, while some work offline. So choose wisely.
KeePass
RoboForm
Dateline
Password Padlock
LastPass
Enpass
I am sure there even better password managers for Windows 10, but these are best in my experience.
1] KeePass
KeePass is a portable free, open-source application that gives you the facility to store all your passwords in a single locally stored database. A user-specified master password would protect the database file, and your data would be encrypted due to AES 256 encryption algorithms. The entire file will be secured by a crucial additional file, which could be an existing file chosen by you or a new file created by KeePass.
KeePass is easy to use, and each entry gets saved automatically in an alphabetical directory. You can choose from either the automated categories like Windows, General, etc. or create your group to organise your password more efficiently. You can save multiple types of information such as username, passwords, URL, notes, and expiration dates. The password manager also includes an in-built password generator.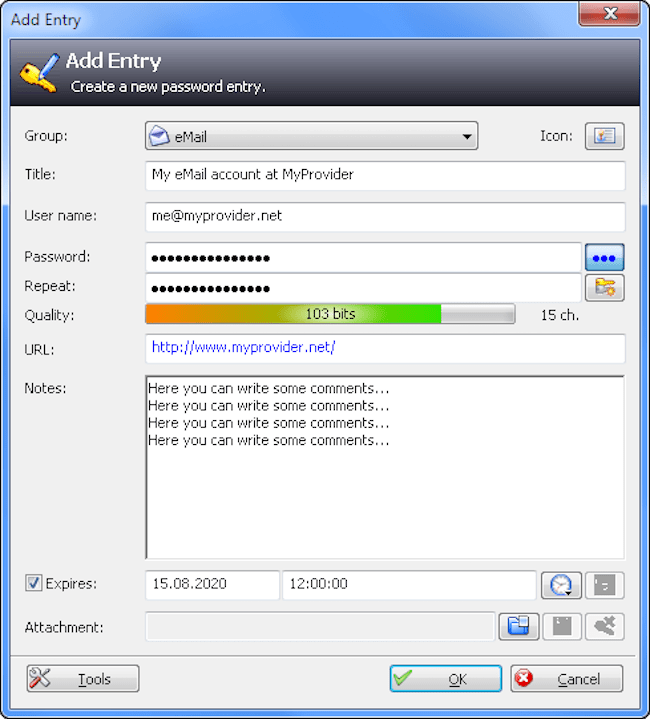 Download KeePass
2] RoboForm Password Manager
RoboForm also requires a master password created by the user to operate. It has a simple and easy to use interface with 15 MB storage capacity.
RoboForm features a robust password manager that can be used to save multiple passwords in a single file and can be accessed using the master password by the user. The RoboForm server does not store the information of the master password, which is essential to open the Safe.
It also includes a secure password generator that can be used if you find it difficult to think of a password. These auto-generated passwords are alphanumeric and cannot be cracked by a hacker.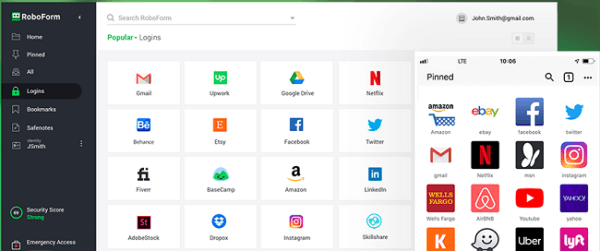 You can fill an online form that requires information like your name, address, and phone number by clicking on 'setup from filling' and save the data in RoboForm; later on, you can click on the identity button on the toolbar and fill the form online.
RoboForm also provides cloud storage where you can sync your data, and in the future, if the application gets corrupted on the system or mobile, you won't lose anything.
Download RoboForm
3] Dateline
Dashlane has an elegant user interface and boasts many useful features. The application allows users to save as many passwords as they can and assign each one of them in a separate category. It stores all your information such as password, usernames, URLs, etc. in a single secure database file. It can enter your login credentials for a particular website in a single click and works well with almost all browsers like IE, Firefox, and Google Chrome.
You can put all your personal information like name, date of birth, phone number, or email ID in Dashlane, and later on, if you fill an online form, it will clone all the information over there as per your demand. The free Dashlane account allows you to sync multiple devices and access your data from them. The application is highly useful for electronic payment, as well.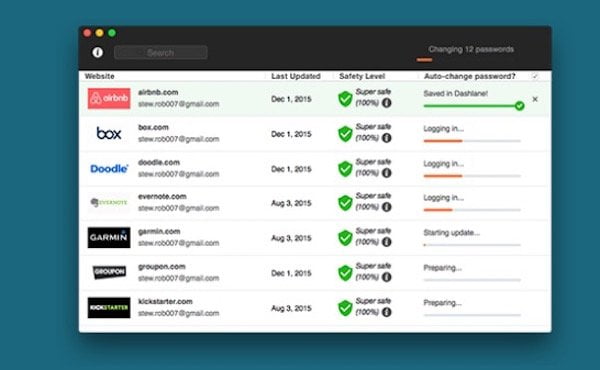 Download Dateline
4] Password Padlock
Password Padlock is a famous password manager and is specially designed for Windows 10. It boasts AES-256 encryption to secure the data and can be accessed using the single master password created by the user. Your master password hasn't even got stored on their server, which ensures that no one can get your information even if the server has been targeted.
The application allows you to create a backup of your data in One Drive and lets you sync multiple devices together, such as a tablet, computer, or Windows mobile, to store data of one another. The users can assign passwords to pre-defined categories or create new of their choice. The app is free as of now.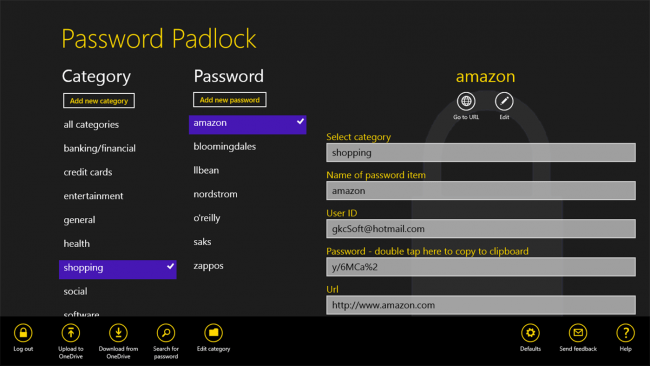 5] LastPass Password Manager
LastPass is a highly popular and award-winning password manager that allows users to access his/her secured data from any device. The application has free and premium versions. It requires you to remember only one password —the master password to access the LastPass account.
It auto-fills your credentials such as username and password in a single click. The data always remain safe in Encrypted vault, and apart from you, no one can access it, not even LastPass.
Download LastPass
6] Enpass Password Manager
Last but not least, here is yet another secure and free password managing app that does its job quite effectively. It is available for Windows 10, 8.1, 8, Mac, Linux.
With Enpass, get your passwords wherever, whenever needed, autofill your login details with a simple click, besides organizing all your passwords and credentials at one secure place. Now, you will never forget your password again. Secure your passwords and other life-essential credentials without worrying about supported platforms and any subscription costs. Not only this, the app enables you to create strong and unique passwords for every login easily. What else could one ask for?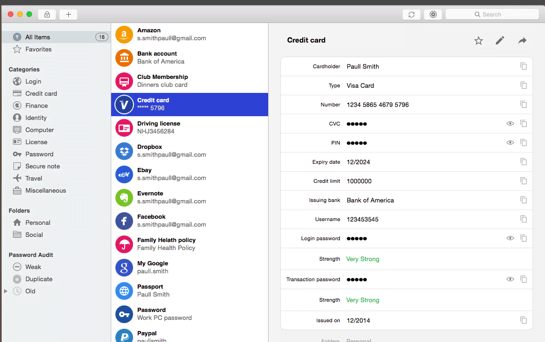 Download Enpass
Password managers remember your password so that you can concentrate on other essential tasks. Some of them also allow you to keep the information safe online in the cloud server. It's more reliable than writing a note and making a hard copy or saving the data on the computer.
These applications save time while logging in to a website or filling an online form. The password generator creates strong passwords for you, which cannot be traced by someone. The most important thing is data encryption, which protects your data from everyone. We recommended all our viewers to use such services, especially when they are free. But we also advise them to remember their master password. If you forget that one, then you won't be able to recover anything.