If you are having a high-resolution screen or an ultra-wide monitor at home and you aren't using any screen splitting application on Windows, then you are not using the screen to its full potential. With split-screen, users can have more than a single tab open at a time being displayed alongside the other applications without you needing to switch between them. In this post, I will guide you on the best software to split the screen on Windows 10.
Yes, switching between programs using ALT + TAB or by simply tapping on the application can be done, there are instances wherein keeping two or more windows displayed on the screen at the same time may help. While Windows comes with a few tools and options that could be used for splitting the screen on Windows 10, however, if you need additional functionality, then follow the list.
How to Split Screen Windows 10
While there are a ton of applications that you may find around the web for the same purpose, not all applications are as good as the ones listed on the post below.
Microsoft Powertoys
GridMove
WindowGrid
OnScreen Control for LG monitors
I would highly suggest you try out all the software, and then choose what works best for you.
1] Microsoft Powertoys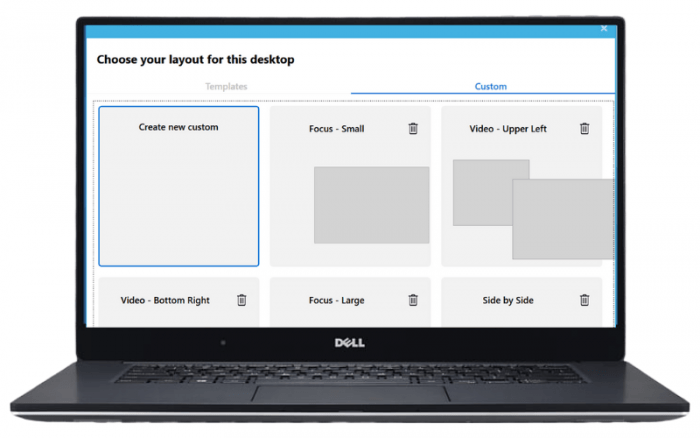 Microsoft Powertoys is an all-in-one tool that serves multiple purposes. FancyZones, which comes with Microsoft PowerToys, is a powerful window manager that lets users create layouts or windows on your desktop. While Windows usually allows users to divide the grid between a 1×2 or a 2×2 format,  FancyZones lets users create more complex layouts.
Once installed, users can press Windows+ ` key to open the Zone Editor next, while dragging and dropping a window, press and hold the Shift key or a mouse button to show up the zones. Now, Drop a window in a zone, and it will adapt to that layout on your screen. However, some users have reported sudden stutters and freezing issues with the application, so keep an eye on that.
Pros:
All in one tool with Keyboard Manager, Screen Splitter, and more
Custom Grid Layouts
Easy to operate
Download Microsoft Powertoys
2] GridMove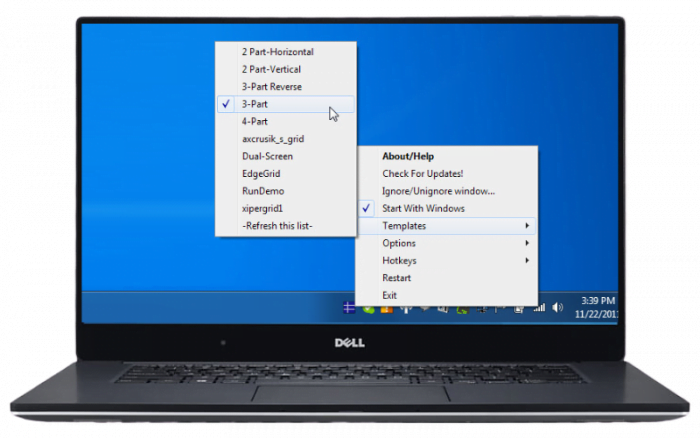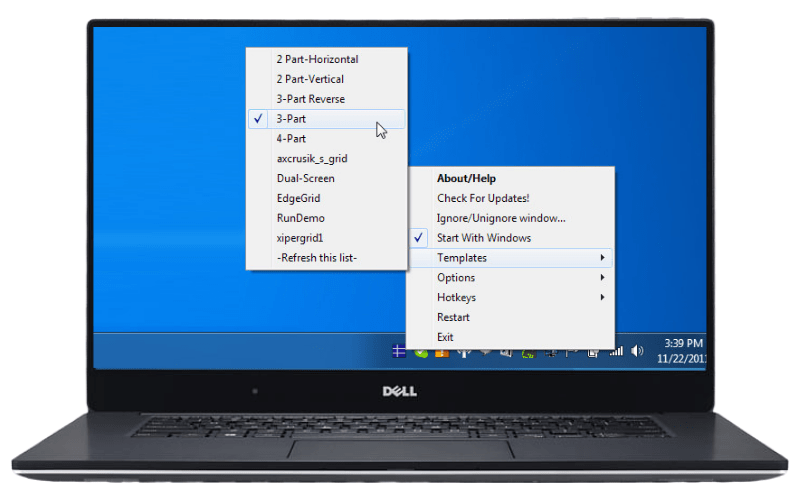 GridMove is a program for Windows which aims at making windows management more straightforward for the user. It works by defining a visual grid on the desktop, which can be used to snap windows quickly. While the program comes bundled with some predefined grid templates that can be easily swapped upon, there's also an option of creating custom grids as required by the user. The application makes moving windows, resizing them, displaying them on a mosaic simple. It is as easy as to just a simple drag and drop.
To activate it, Left-click the upper-left edge of the title of the window, and grid mode will be automatically enabled. Now, Hold down the left mouse button and move the window into one of the available grids. The window will automatically be resized to match the dimensions of the grid you drove it into. However, there are a few cons with the application as well. Some of them include the app crashes while changing resolutions; there's an awkward gap between windows while resizing them, and more.
Pros:
Several pre-made grid templates that can be easily swapped
Customizable Grids and Interface
Ability to set windows on top and maximize them vertically or horizontally
Download GridMove
3] WindowGrid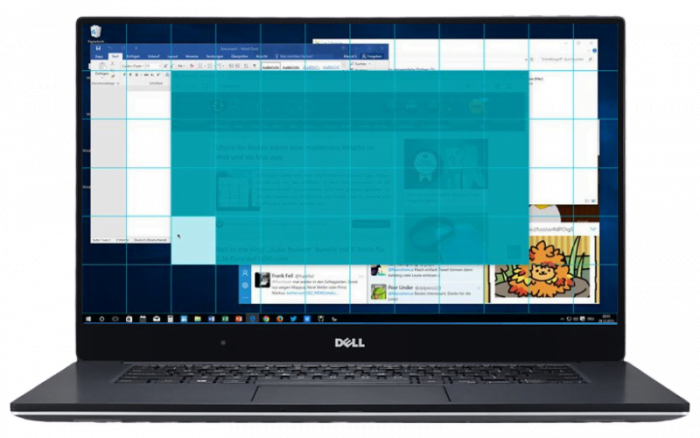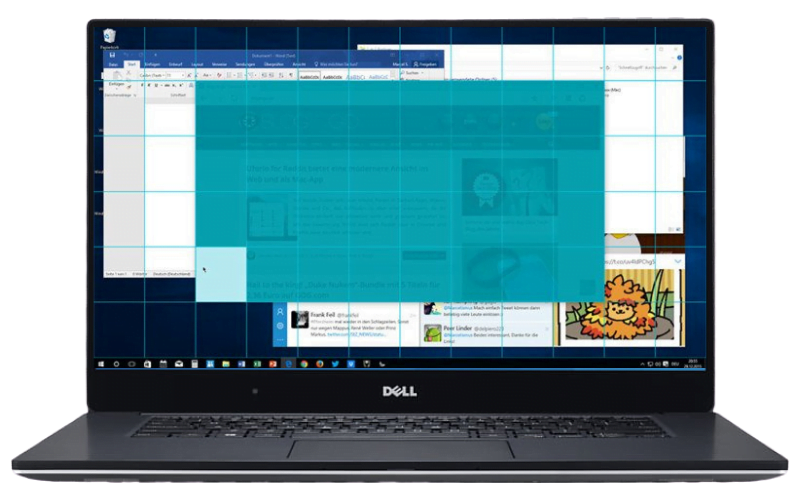 WindowGrid is a convenient window management application that allows the user to quickly and easily layout their windows on a dynamic grid. The application gives functionality to the typically ineffective right mouse button when moving a window. Performing this will enable the grid snap mode.
The entire operation requires just the mouse. Here is how it works: Start with a basic left-click mouse drag operation to move a window. Next, right-click while holding down the left mouse button to display the grid. Move the window to the desired location and release the right mouse button. The window snaps to the grid automatically. Use the cursor to resize the window while holding the left mouse button. Release the left mouse button.
Pros:
Portable and Installable
Works with AeroSnap
Grid overlay can be customized (dimensions, opacity, and color)
Download WindowGrid
4] OnScreen Control for LG Monitors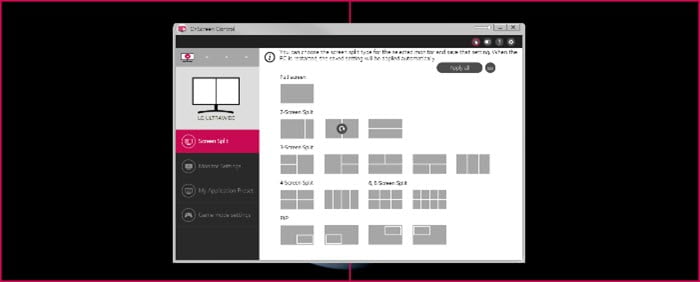 Designed specifically for LG's monitors, OnScreen Control from LG is a handy tool to split the screen into grids.
Once launched, users can choose from a variety of custom made grids. On selecting each one of them, users can find a red line appearing on the screen showing how the grids would be placed.
Pros:
Automatic resizing of windows
Quickly switch places with a simple drag and drop.
Auto re-arrange the sections.
Supports multiple monitor configuration
Preset based on the applicable type
Configure game mode settings
Download OnScreen Control for LG Monitors
I hope this post was useful and you were able to choose the best split screen applications in Windows 10. With that said, how many of you have an ultra-wide monitor at home? Do drop a comment down below.