Most of the people spend so much time on the internet to watch online videos and stream music. Windows 10 includes an in-built media player. It is capable enough to handle almost all kinds of music and video file formats, but people tend to use 3rd party tools for such things. Here we will provide you with information about some highly popular best video players for Windows that give better audio/video experience.
Best Video Players for Windows 10
VLC Media Player
5K Player
Real Player
GOM Player
KMPlayer
Media Player Classic

SMPlayer

AllPlayer
1) VLC Media Player

VLC is one of the most popular and versatile media players for Windows 10. It can handle almost any kind of audio/video file even if its not playing on any other player. VLC is free and can play devices, discs, and Internet streams. It allows users to record a video feed from the webcam and play that on the system.
It includes many useful features such as integrated audio and video effects, subtitles in multiple formats, allows users to capture screen while watching the video, etc.
It supports various modern codec for an audio/video like H.264, MKV, DivX and Web M.
It supports audio format such as MP3, WMA, AAC, ALAC, and FLAC.
It is also compatible with video formats like  MP4, WMV, AVI, VOB, and MKV.
Download VLC Media Player
2) 5KPlayer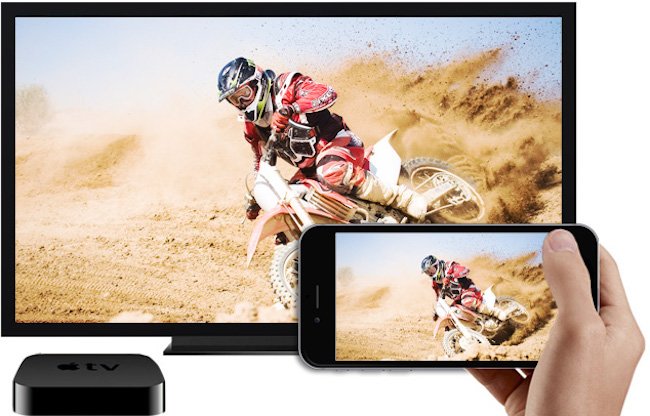 The 5K player is one of the most advanced video players for Windows 10 who can play 8K ultra HD videos in your operating system.
It supports video formats like MP4, MP3, M4V, AVI, ASF, WMV, FLV, WEBM, RMVB, etc.
You can play Full HD video in various formats such as MKV, AVC, HEVC, MOD, AVCHD, etc.
You can play multi-region coded DVDs or CSS encrypted DVDs on Windows 10
The 5KPlayer works as a DVD player with Windows 10 and also functions as a free video music downloader and lets the users download audio/video files from more than 300 websites.  You can wirelessly stream online music due to the Airplay from Windows 10, and it also functions as an online radio player.
Download 5KPlayer
3) Real Player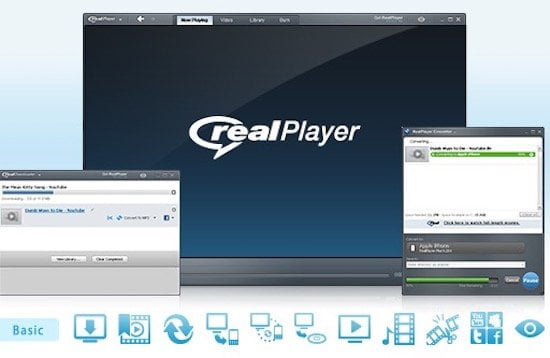 Its an old and trustworthy video player who has become more powerful with Windows 10 and provides convenience in video download from the websites. It supports multiple file formats such as MP3, MP4, .wma, WMV, .mov, .qt, .ra, .rm, RV and rmvb. However, It doesn't support as many sites as the 5K player does for online video streaming.
Download RealPlayer
4) GOM Player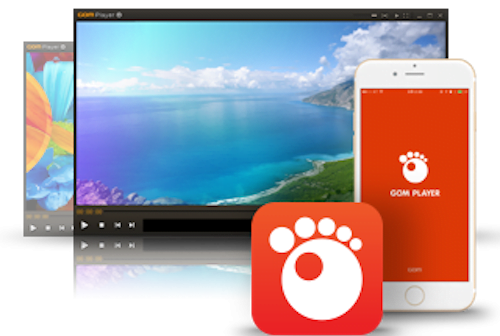 GOM Player is a powerful and multi-purpose video player for Windows 10 which is compatible with many audio/video formats. It boasts a highly intuitive user interface which can be customized. GOM player is highly recommended due to its less digital media consumption and efficient functionality. You can effortlessly play or records as it also supports various codecs such as,
Video – MP4, FLV, VOB, DIVX, MKV, etc.
Audio  – MP3, AAC, M4A, OGG, FLAC, etc.
The player also features like the ability to take a snapshot; video rotates, 3D audio effects, equalizer pre-sets, multi-language subtitles and many more.
Download GOM Player
5) KMPlayer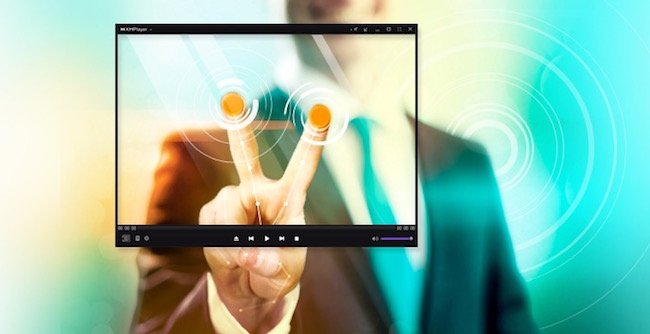 KM player is a clean, powerful and highly customizable video player for Windows 10. It integrates in-built codec with the system. It makes sure that users can play video files without installing any different codec. It supports various video file formats like AVI, FLV, MKV, WMV, etc. It supports multiple languages and can be used to play audio files in separate file formats too. It boasts a unique cloud feature KMP Connect, which allows users to share online videos with their friends.
Download KMPlayer
6) Media Player Classic – Home Cinema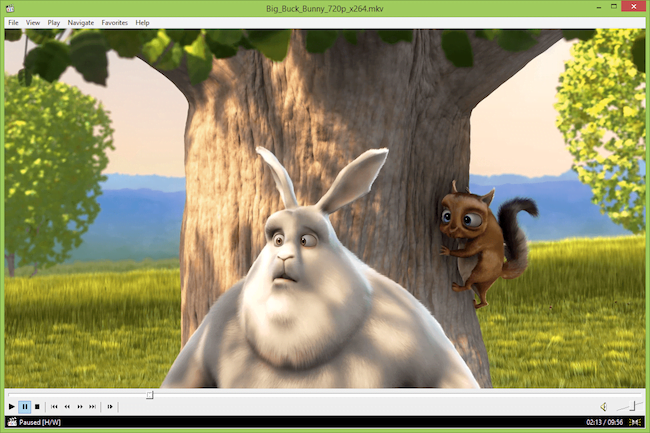 Its a widely known video player for Windows 10 which is not just lightweight but also includes powerful features to enhance your multi-media experience. It offers a wide variety of modern audio and video codecs, which lets the user play all kinds of music with ease in various digital file formats. It sports DTS audio and includes a fully developed DVD player software. Windows users can play CD/DVD/Blu-Ray discs using the player. They can also stream online music and videos.
The MPC HC can choose the correct subtitle file from the subtitle databases automatically to play the media. It also integrates audio switcher with customizable normalizer. Though, it doesn't support as many video formats as VLC and K player do.
Download Media Player Classic – Home Cinema
7)
SMPlayer
It is an intense and powerful media player for Windows 10 which enables effortless adjustment of the playback. The player is highly compatible with plenty of audio/video codecs and allows users to enjoy movies and music in almost every digital media file format. It will enable users to toggle between separate audio channels for multi-channel media files.
You can also switch viewing modes, aspect ratios, filter audio or video, adjust audio and playback speed, delay the subtitle or audio and do a lot more with this video player. The Open Subtitles databases help you to find the caption of current video directly from the player.
Download SMPlayer
8) AllPlayer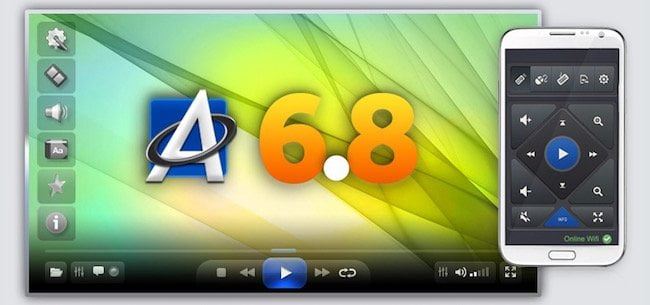 Its another active media player for Windows 10 which packs a variety of useful features to increase the comfort level of a user. It has a simple and easy to use interface which lets user function fast. Menu options like settings, playback control, etc. do not appear unless you move the cursor over there. The AllPlayer boasts the latest audio/video codecs to play songs and movies in modern file formats smoothly. It can download corresponding subtitle files for the running media automatically.
It supports audio formats like MP3, FLAC, AAC, etc.
It also supports video formats such as  MP4, WMV, AVI, etc.
With Windows 10 it works like a radio-player too. You can maintain your privacy and prevent access to certain media files from others using a password lock. The media info provides quick information about the album, rating, and genre.
Download AllPlayer
Conclusion
All these best free Windows 10 media players are easy to use. They include the latest audio/video codec and support a wide range of file formats. Many players include additional features to expand usage and improve quality. In short, these free Windows 10 video players can help you to record, play, or download a variety of music, video or movies in your PC and enjoy without any exertion.