One of the significant source of Virus, Malware, and the malicious program is the installation of untrustworthy, and sneaky software from the internet. These types of software can not only take over your computer but also keep a watch on what you do on your computer. They can also collect data from your key logs. In this post, we will share a trip which lets you block users from installing software from the internet in Windows 10.
How to block users from installing software from the internet in Window 10
In Windows 10 computer administrators can prevent other users from installing software from anywhere except the Microsoft  Store. This feature first showed up during the Windows 10 Insiders Preview program and is now available for all power users.
WIN32 Apps and Software aka popularly know as EXE based applications will not be able to install once the feature is enabled. That's is the second step Microsoft has taken along with its Windows Defender Security App to safeguard Windows 10 PCs. However, it is only applicable to those who want to use a computer and not install anything casually.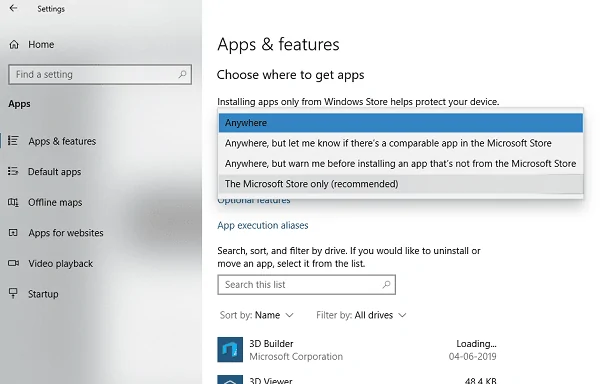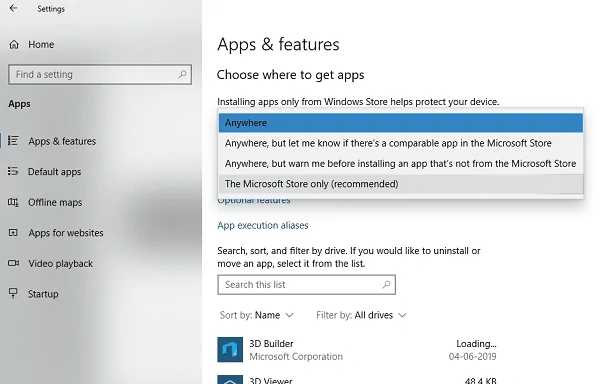 The option is available under Settings > Apps & Feature > Installing Apps  > Choose where apps can be installed from
Allow Apps from everywhere.
Anywhere, but let me know if there's a comparable app in Microsoft Store
Anywhere, but warn before installing an app thats, not from Microsoft Store.
Microsoft Store only.
Auto installation of software in the background will be blocked. If you have multiple users on your computer, they will have to ask for permission to get the installation done.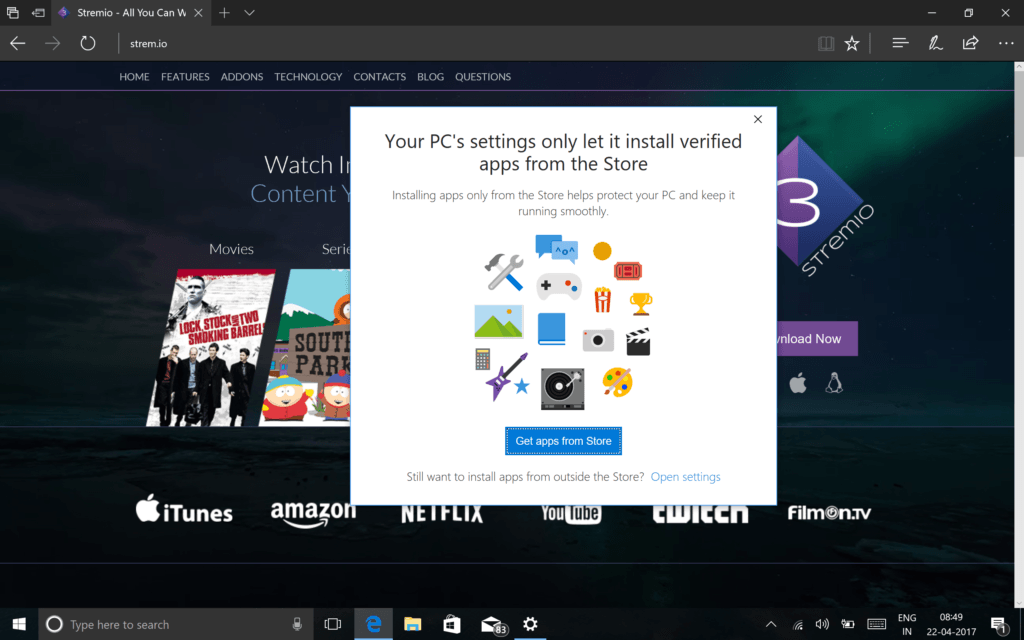 When anyone wants to install software which is not from the store, a popup window shows up telling that non-store apps cannot be installed. A link is available for administrators to change the settings to either warning or from everywhere.
Overall its a great feature from Windows for novice users. Otherwise, its a pain for admin users when they see tons of apps installed accidentally, and waste time to clean them up.
We hope the tutorial was easy to understand, helped you to block users from installing software from the internet in Window 10.