One of the most requested feature in Windows Phone 7 was to transfer files via Bluetooth which Microsoft for some reason did not implement. This resulted in a lot of hacks by developers who came up with their own hack to transfer file via Bluetooth on custom roms.
Though this feature is expected to roll in for Nokia Lumia Windows Phone, Windows Phone 8 OS has this feature and works exactly as any other Bluetooth transfer.  A video is included which demonstrates that it works, and it works across platform i.e. from Windows Phone to Android Devices. I have also listed down the drawbacks at the end.
Select what you want to send :
Use the Picture Tile or Music tile to get access to all your files.
Next select the multi select icon on the menu bar.
This will mark the files in blue.
Now tap on the files, one after the other, which you want to send.
Select Share from the Menu Bar and choose Bluetooth.
Setting up Bluetooth :
When you choose Bluetooth, it will check if its turned on. If not you will be taken to the Bluetooth Settings page. Toggle the button to turn it one and press back button to come back to the Send Files.
Now connect with the device from already paired list or connect. It will follow up the usual procedure of pass code etc.
Sending Files :
Once the process initiates, you will see a Notification on top of the screen which says "Sharing". It will also display the percentage of the file transfer process. Notice the new sharing symbol here.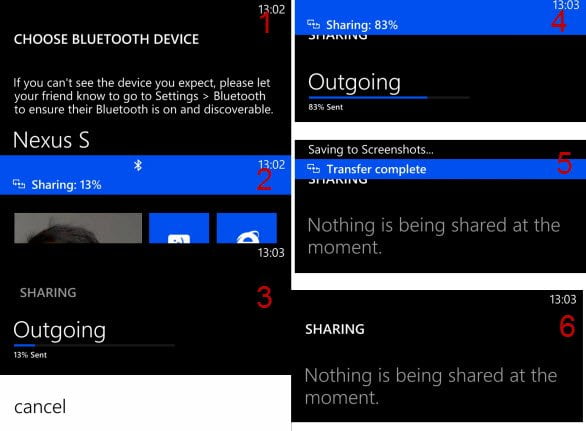 Since this is background process, you can switch to any other screen or app and still can see the process state. If you want to get more details, tap on the Sharing Notification and you will switch to another screen. This screen lists down all the file transfer process but gives you further details i.e. in case you want to see which file filed, its not possible to take a look at it.
Once done, transfer complete notification will show up, and sharing screen will be empty. Since Windows Phone 8 allows to select multiple file, it is much easier to send multiple files compared to what it was in Windows Phone 7.5.
Video Demo :
What happens when you receive a file ?
In case your receive files from any other device, you will get "Done and Saved. Tap to View" notification. Tapping on it will take you to the Saved Pictures folders (respective folders) so you can view the file. In case, its a single file, it will be launched for you.
How to resend files which failed transfer ?
What happens when a file transfer fails ? Sadly I have some bad news for you in this section. Though you can restart the file transfer the sharing section but it restarts from 0% which means the receiver will have duplicate files if some part of the file transfer was complete. Since file level notification is missing, you cannot figure out what failed in your end.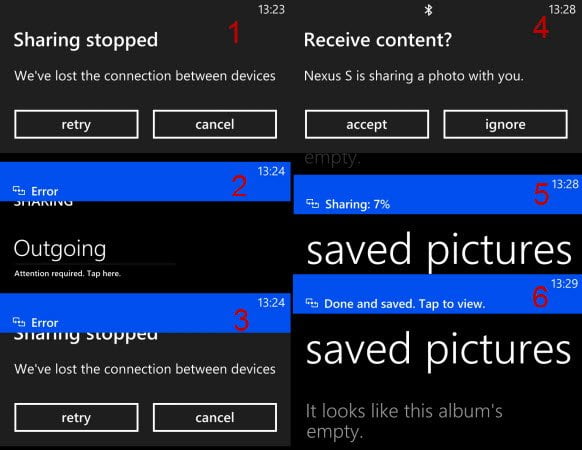 Share Section where all the file transfer details are listed needs enhancement. The user should know to file level details on what is coming in and what is going out.
In case of Failed File transfer from Windows Phone 8, the whole process is restarted which will result in duplicate file transfer on the receiving side. This seriously needs attention.
When sending multiple files, If I don't choose the destination i.e. Bluetooth or NFC and come back to the screen where I select those files, the selection is lost. This is a general problem with multiple file selection process.
Case in Doubt :
Windows Phone 8 failed to send documents across but only over to Android Phone but worked over PC. I am guessing is that the absences of a file type handler on my Nexus was causing this issue. I will investigate this further.
Summing up this post, the whole experience is lot better than not having it at all in the previous version of Windows Phone. Though there are some drawbacks, but I am assuming that they will be fixed once you get to see a proper notification system rolled in. Nokia Lumia Windows Phone 7.5 users might  be lucky to get file transfer if all the information is correct.