Changing the account name is something we don't often do. When you create an account in Windows 10, it will automatically use the first name to create a user folder. It is possible that name got misspelled, and you would like to change it. When you sign in to your Windows 10 PC using your Microsoft account your user name gets displayed in the lock screen, or if you use a local account then that name will be displayed. It looks terrible with a misspelled name. In this post, we will share how you can change an account name in Windows 10.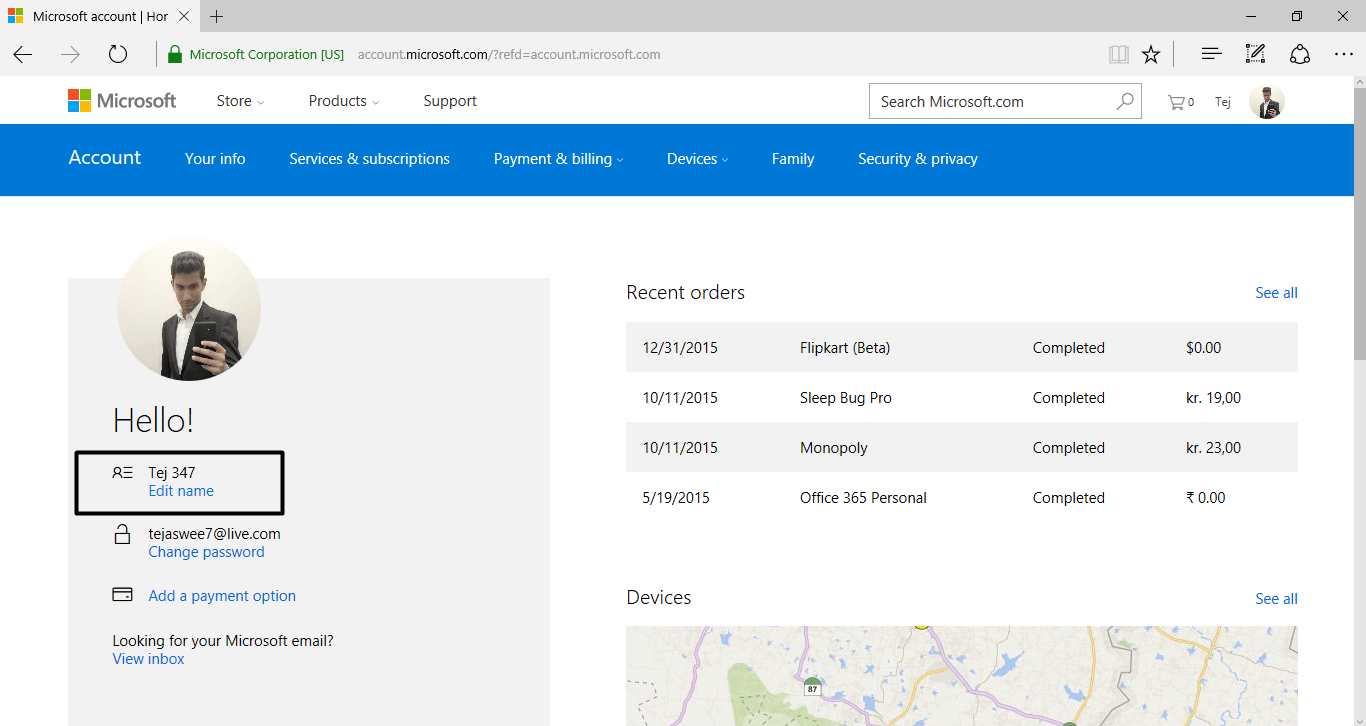 How to change account name/user name in Windows 10
Microsoft account user name is nothing but the name you have given while creating your Microsoft account. Sometimes, you don't want it to display the name you have given. Well, you can easily change your account user name on your Windows 10 PC, whether it's a local account or Microsoft account. This tutorial will be dealing with changing your account user name in Windows 10 PC.
Change the Microsoft account name
Change the Local user account name.
Change via Local Users and Groups
1] Microsoft Account
Go to Settings, Click on Accounts, and Select Your info
Under that, click on Manage my Microsoft Account
It will launch your web browser and will take you to your Outlook settings. Sign in to your Outlook Account
Click on Edit Name, change your First or Last name based on your preference
Click Save and Restart your Windows 10 PC
2] Local Account
Changing the user name of a local account can be done in various ways. You can do it either via Control Panel or via Local Users and Groups. Let's see how to change it using the Control Panel.

Open Control Panel on your Windows 10 PC, click on User Accounts and then select Manage Accounts
Under Manage Accounts, click on Change the Account Name
Now, enter the name you would like it to  show when you start your PC and then click on Change Name
3] Change it via Local Users and Groups
Open Run by Windows+R, enter lusrmgr.msc and hit OK to open Local Users and Groups
Open the Users folder, right-click a user and select Rename in the menu
Type a new name in the name box and done!
4] Changing user name with netplwiz
In the Run Prompt, type netplwiz, and hit the Enter key.
It will open the User Accounts window.
Select the username which you want to change, and then clock on the Properties button.
It will open another window where you can change the username.
When you change the username, the folder name will NOT change. The name used in a lot of places, and if it is renamed, then Windows will have to update at many places. There are workarounds to change the folder name, but they dont work all the time. So its not a good idea to change the folder name of the user on the computer.