How fast is your internet connection?  There are several ways to find out, mostly by using a utility or a built-in Windows function. To check your Internet connection on Windows 10, you can use the built-in Windows function or service like SpeedTest. The built-in Windows function is quick and easy to use, but you might find it a bit limited. The service has more options, but it is possible it won't work and the built-in Windows function.
Check the Speed of Internet Connection on Windows 10
Checking your internet connection speed is an essential step in knowing why you sometimes have to wait for a website to load or why that funny YouTube video won't load. There are several ways to do this, but the best way includes using your browser or the Speedcheck website on your PC.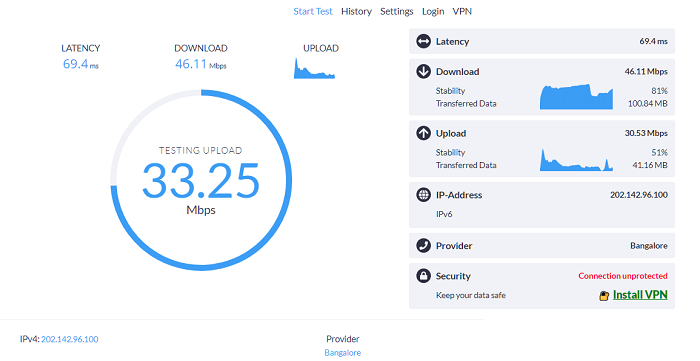 Open the Speedcheck.org website, and click on the Start Test button. It will then connect to the closest server and run the test for upload and download. It will also include ping data, which will you a fair idea of how fast the internet is on your end.
You can also create an account with them and keep track of your speed test history. It is crucial because you will measure the history of upload, download speed, and ping.
How to use command prompt to test internet speed in Windows
A free program—speedtest-cli—allows you to check the speed right from the computer and without opening any window. However, this is strictly for those who understand computers and are ready to install the software.
First, you'll have to install Python on Windows and then use this software on the Python prompt. It works, but then you cannot track any internet speed history using this software. On top, there can be inconsistency if the web service changes anything.
I hope the post was easy to follow, and you were able to find how to check the speed of your Internet connection on your computer.