Chess Games are always fun to play in. Be it on Android or any other device; it needs a lot of brainstorming to win the game. Have you ever tried to play it on PC? If not, we recommend you give it a try for an amazing experience. It gives you better controls and appealing visuals as compared to the smaller screens on Android devices. Chess Master 3D is one such game that you must try playing on your PC. Given the 3D kind of effect and the large board to play the game on PC, it feels good to play it on a bigger screen. Before you play the game on your systems, let's have a look at some key features of the game to get started!
Features of Chess Master 3D Game!
#1. Play With AI: That's the most interesting part of this game. You can play with AI and not those so-called old computer players that play with a random move. AI tries to read your moves and play the game accordingly. It becomes really difficult to beat the AI in the game. We have played it more than 20 times, and we were only able to win twice or thrice. So get ready to face some challenges if you play with AI in Chess Master 3D.
#2. Play with Friends: If you don't want to start with AI and don't want to get it tough right from the start, you can play it with your friend offline as well. This way could simplify the game, and you can learn various moves from your loved ones in the game.
#3. Hints for Movements: A sigh of relief! Especially when you're playing with AI, this option could turn out to be a gold mine for you. It shows you a few hints about the next step that AI is going to play, and it also hints the movements of your friend's moves when you play with him/her. It shows the same to your opponent as well. You can take the hints for a limited number of times. So, make sure that you save them till the end of the game and use it wisely when you need them the most.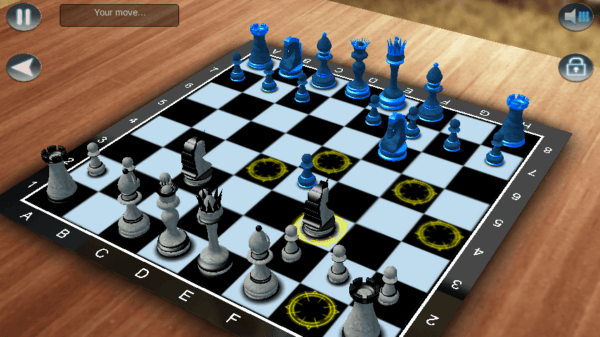 #4. Adjustable Cameras: Given the 3D gaming feature, it has 2D and 3D cameras in the game. You can select any of the camera views. Moreover, you could also select various angles to view the chessboard in different ways. It makes you feel comfortable, and you can play the game with ease once you have a full view of it.
#5. Start New Game Anytime: If you feel that you're going to lose the game, start a new game right away by stopping the existing game. It will let you know that what your wrong steps were in the previous game that led you to stop it in between. So, use this option only when you have no hopes to win, else, you can skip this if you want to make it challenging. It's up to you, after all!
Let's now see how you can download Chess Master 3D for PC!
Download Chess Master 3D on PC!
To download this game on your PC, you need to follow the below-given procedure.
Download and Install Bluestacks emulator on your PC.
Once installed, you need to sign-in using your Google account.
Next, launch the Google Play Store that appears on the screen and hit the search bar to search Chess Master 3D.
Now download and install Chess Master 3D on your PC using the Google Play.
Once done, start playing the game on the bigger screen right away!
That's how simple it is to download and install the Chess Master 3D game on your Windows system. Make sure that you have a minimum of 2 GB of RAM, and all the graphic drivers are updated to the latest version. Also, ensure that your system is running on the latest OS so that the Android emulator doesn't lag or slow down your system when you start playing the game. Other than Bluestacks, you can also download other emulators like Nox or MeMu. They work pretty well, just like Bluestacks.
The reason Bluestacks is preferred is it runs on the latest Android version, and it's faster than all the other emulators. So what keeps you waiting? Download Chess Master 3D on your PC and Mac systems today and enjoy playing this amazing chess game on bigger screens right away!