I am kind of guy who is pretty uncomfortable to sync music using Zune, just my choice, because I find its bit complicated and kind of restricted over there. What  I love is syncing songs from anywhere and specially from an online storage, and I guess I found myself one after last 24 hours of testing. The App is named as Cloud Music.
How does Cloud Music Work ?
In Short, you upload music to your Skydrive account and connect with this app and it will automatically stream music from there.
Features of Cloud Music :
Supports both live streaming and offline mode i.e. Download and listen anytime you want.
Displays Artist Pictures and Background changes as song changes.
You can create playlist instantly from the song lists.
Supports Pin to Start for Songs and Playlists.
Playlists can have their custom image with offline support configured only for it.
Recent Song History, Live Tile Update, Caches Images Locally.
Disables Lock Screen while downloading songs so it does not break the process.
Collections can be configure to set as per your requirement.
Choose to always download song before listening.
Integrates with Zune Music Hub.
Supports mp3 and aac playback formats.
Individual Artist Update.
Individual Album Update.
Added Reset Music Collection.
Music can be downloaded in background which can be tracked in the downloading or queue section.
Download works in background and even when you switch to different app.
Supports .wma format.
You can cache a defined amount of songs when using the download method of playing music.
You can add additional songs or albums to the now playing queue.
How to use Cloud Music
1. Uploading Music to Skydrive
This part is what you should start with. The songs in your Skydrive should be in a proper folder structure the app can read from.
Music (Folder) -> Artist Name (Folder (if you want an artist image add it to this folder)) -> Album Name (Folder (if you want an album image add it to this folder)) add songs to album folder also.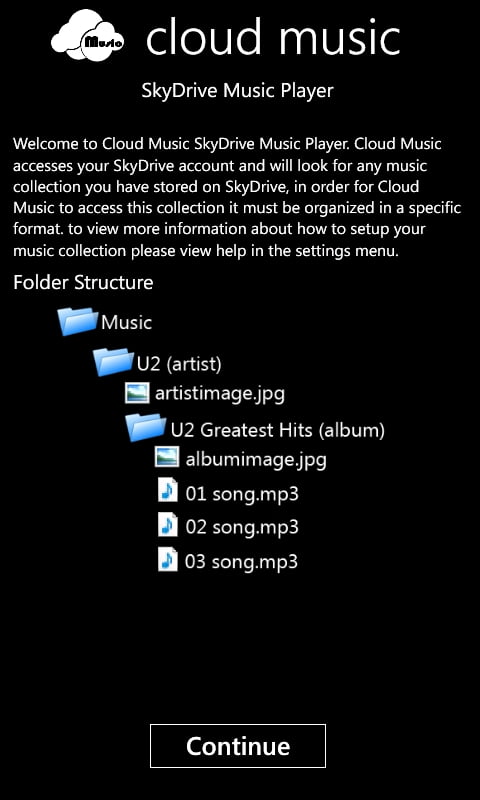 2. Give Permission to access Skydrive
When done, you will have to give permission to the app to access your Skydrive.
3.  Syncing music with the phone
This part will need your patience for the first time. Switch to the New Screen  and hit the sync button to detect all your songs.  Once done and if your folder structure is right, you should see all the songs with cover image. Play the whole album or any of the song and it will live stream.
Next to listen to offline mode, you have four options :
One is when playing a song, look for a download icon right next to cover image of the song, hit it and your song will start downloading but make sure not to exit the screen unless download completes.
The second option, is when creating a playlist, you get an option to turn on offline mode, which will instantly start downloading the music.
Third is choose to download always, which can be set in the app settings.
Fourth is download the complete album, in background, by making a long press over  any album.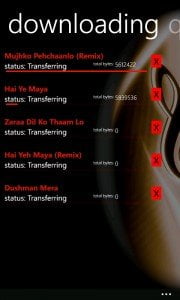 4. Playlist 
Simplest of all. Add new > Select Album > Select Songs ( hit the plus button ). Switch Albums to add different songs.Long press to edit, delete or unpin / pin any playlist.
Video  Review
Screenshots
[minigallery id="2708″ style="box border box_white"]
Download

Features Suggestions :
Overall :
A clear identification system when looking at the songs list to find which songs are available offline.
Possible option to play all songs which are offline with a flick.
Backup Playlist to Skydrive Music Folder
Playlist :
When a Song is added to the playlist, I should be able to figure it out when looking at the song list for any album
The global option to Use offline mode overrides the Playlist option to use it without offline mode. When I create a Playlist where User Offline Mode is turned off, it still downloads because in the global settings it is set so.
If I create a playlist and turn on the Use Offline Mode, it starts downloading instantly. This slows down the process.