If you had always find the solid color Windows Phone tiles boring specially when you can only use what apps or Windows Phone OS provides,  let us welcome MegaTile, a windows phone app which lets you create custom tiles with action and image of your choice. You can imagine this as Live Tiles having a background image or One picture divided into tiles.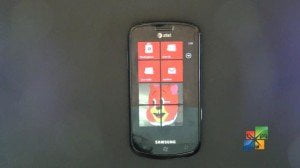 Mega Tile Features :
Create 2, 4, or 6 Live tiles of any image.
Assign Custom actions like Call, Call someone particular, Call a Contact, Type in SMS, take a photo, post a status update Social Network, launch a browser at a URL, search for a specific term
Image which is used can be cropped or stretched and if you dont want that add the theme colour.
You can select image from your Photos section which means you can take pics from Camera Roll or even Facebook Albums.
The tiles can even indicate Status Update.
Mega Tile App Experience :
The app experience is smooth and is without any issues. Even if it is a large image, it doesn't slowdown and does it job nicely. The tiles created quickly are sent to start menu without any lag.
This app reminds me of Sticky Tiles which helps us to create Live Tiles on Windows Phone with custom message but there was no image and action concept like you see here.
Like for every app there is scope of improvement here like :
Launch any existing app, this way I can skip using the boring App Tiles and use my own.
Similar to Network Dashboard, it can have tiles into tiles which lets me group custom actions like Sending SMS to 4 different people. This will reduce the clutter if I have too many.
Option to have one X one tile so I can use one single image for one tile.
Mega Tile Video Demo :
[styled_box title="Video" color="black"]

[/styled_box]
Mega Tile Screenshot :
[minigallery id="428″ style="box border box_white"]
Mega Tile Download :