Dell has built software that will connect your PC and phone seamlessly to make sure you aren't missing any conversation happening on your phone, and access them all from your PC.  Its called Dell Mobile Connect, which will connect with your phone, and offer the following features: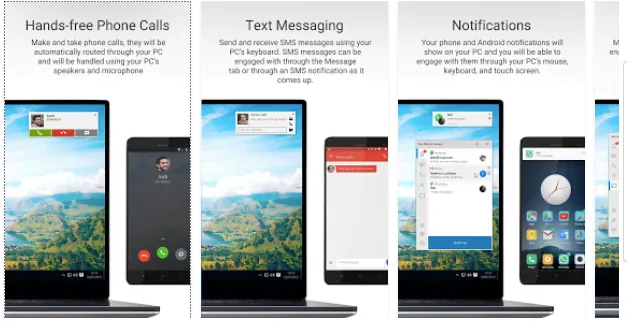 Features of Dell Mobile Connect
It allows Android and iOS users to make calls, send texts, get notifications, and interact with all of their favorite mobile apps right from their PC screen.
Transfer files and interact with your favorite mobile apps right from your PC screen with iOS devices (coming Spring 2020).
File transfer on iOS is limited to photos and videos.
Get notification about your phone calls, SMS, IMs, and other apps notifications right from your PC screen. You control which specific apps you would like to receive notifications from on your PC.
All of your important communication will be imported into your PC. Your full-size PC keyboard, screen, and speakers will provide you with more enjoyable communications via text and calls.
Directly access your smartphone apps on your PC through the advanced mirroring function.
Your connection is only accessible on the PC when you are present, and the communication remains secure through a point-to-point link, never going through the internet or WiFi routers.
Dell Mobile connect will work on new Dell consumer XPS, Inspiron, Vostro, and Alienware PC's starting in January 2018. iOS 10 and above. Android 5 and above.
Related: How to install Dell mobile connect on Any Windows 10 PC
If this reminds of Cortana and Continuum, you have the right memory. That said, it's not the first either. I remember the old times when all phones used to have software that could talk to their phone, even allow them to send messages, do a backup, and so on. Time flies!!
They are available from the Microsoft Store, Apple Store, and Google Play Store as well. Read more about it here