Owning a logo is very important for any company, organization, or even an individual brand because it plays no less important but more important role in brand building.
However, If you do not know any graphics software and no designer or friend can help you make the logo for free. It is a difficult problem to outsource and hire a designer to create a logo. Because it requires a large amount of expenditure, it may cost thousands to tens of thousands of yuan. This is definitely not a feasible approach for petty startups or bloggers with small budgets. Then this is when DesignEvo comes in handy.

What is DesignEvo?
DesignEvo is an online logo making tool. You can complete your logo design on a browser without installing any software and without a series of communication with the designers. Best of best, you do not have to bear expensive design costs.
DesignEvo provides a considerable stock of templates made by professional designers, as well as more than one hundred font styles. These functions make the logo making fun and very simple. This tool only takes a few minutes to finish the logo making process for those without design skills and professional knowledge.
Next, this post will illustrate how to use DesignEvo and complete your logo design from scratch.
Design your logo in six steps
It is straightforward to use DesignEvo to complete logo design. After you complete the account registration on the homepage and log in, please click on the Make a Free Logo on the screen.
Step 1. Choose the category and template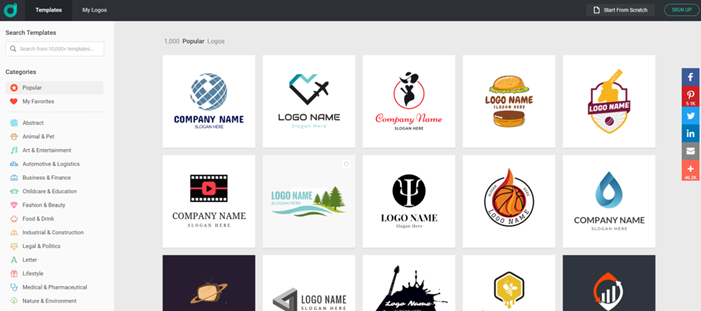 If you do not have any logo design ideas, don't worry. Because DesignEvo has more than 10,000 professional templates and 34 categories for you to choose from and apply, this can give you many good ideas.
Besides, if you have a very clear requirement, you can search through the search function at the top left, which can save more time for browsing and selection, but it will also skip some possibilities The design style you will like.
When you choose a logo style, you will see the icon below. You can enter the company name and slogan or skip first, and this part can be changed and adjusted at any time.
Step 2: Personalize the selected template
After applying the logo template, you can edit it, such as changing the size, adjusting the text, selecting the font and other icons. Besides 10,000 template designs, your unique logo can also be polished through the mashup of tens of thousands of icons.
Step 3. Adjust your logo
Although others can choose the same logo design template as yours, the logo can be changed by adding other icons, but this may not be the way you want, or there is no idea at all.
It doesn't matter. DesignEvo also allows you to adjust and modify the color, gradient, size, and flip. So, you don't have to worry about your logo is the same as others'. You need a little creativity!
Step 4. Preview the logo
After you finish adjusting the logo design according to your own preferences, you can preview the logo used on various objects, such as business cards, letters, websites, T-shirts, etc., before downloading.
This function is very practical, which allows you to have a general understanding of the visual images of the logo on different mockups, and then decide whether there is a need for fine-tuning and correction.
Step 5. Choose Logo package plan
After you have completed and confirmed the above steps, you can click Download on the upper right, and then you will see the package plan below.
You only need to perform the following steps when you choose the free package. You can get credit for DesignEvom by sharing it on your social media.
Free logo: downloading graphics files is not provided, but you can right-click to save the file graphics file, but it is not a high-definition image. If it is used for large image output, it will appear blurred. And it does not include the background image files. However, the logo file would enough for apps icons using.
Basic package: high-resolution and keyless PNG and JPG images will be provided, and you can edit and modify them and download them whenever.
Plus package: This will have more PDF and SVG files than the basic package. Really, it is not very useful except for special purposes. However, the right to obtain a registered trademark is a very worthwhile authorization.
Step 6. Download the logo file
The last step is to download the logo file you designed. The free package has a relatively small size and does not provide transparent PNG and JPG files. This is only available for paid packages.
DesignEvo is a web-based online tool. You would not require to install any program on your PC or mobile phone. But if you have a need or habit of using it, DesignEvo has also developed its software, currently only for Mac. And Mobile apps are available on Google Search play store or iOS App Store.
Wrapping up
DesignEvo is a very easy-to-operate online tool with an amicable interface. There is no fancy design that makes the operation process more complicated. It is really a great online tool for logo creating.
And a large number of templates are very suitable for people who have no inspiration, customization, and sufficient budget.
If you need and want to have your own logo, but don't know how to start, before you try to outsource to a professional designer, don't try to take a look at DesignEvo. Maybe it can help you create a logo that satisfies you. Save you a lot of money.