Over time, every Windows PC builds up junk that takes up space and wastes resources. We all forget to perform regular maintenance, so often, the problem comes from old files and programs. Windows 10 has a new, easy-to-use tool for freeing up disk space on your computer. It removes temporary files, system logs, previous Windows installations, and other files you probably don't need. In this post, I will guide you on how to disk cleanup in Windows 10.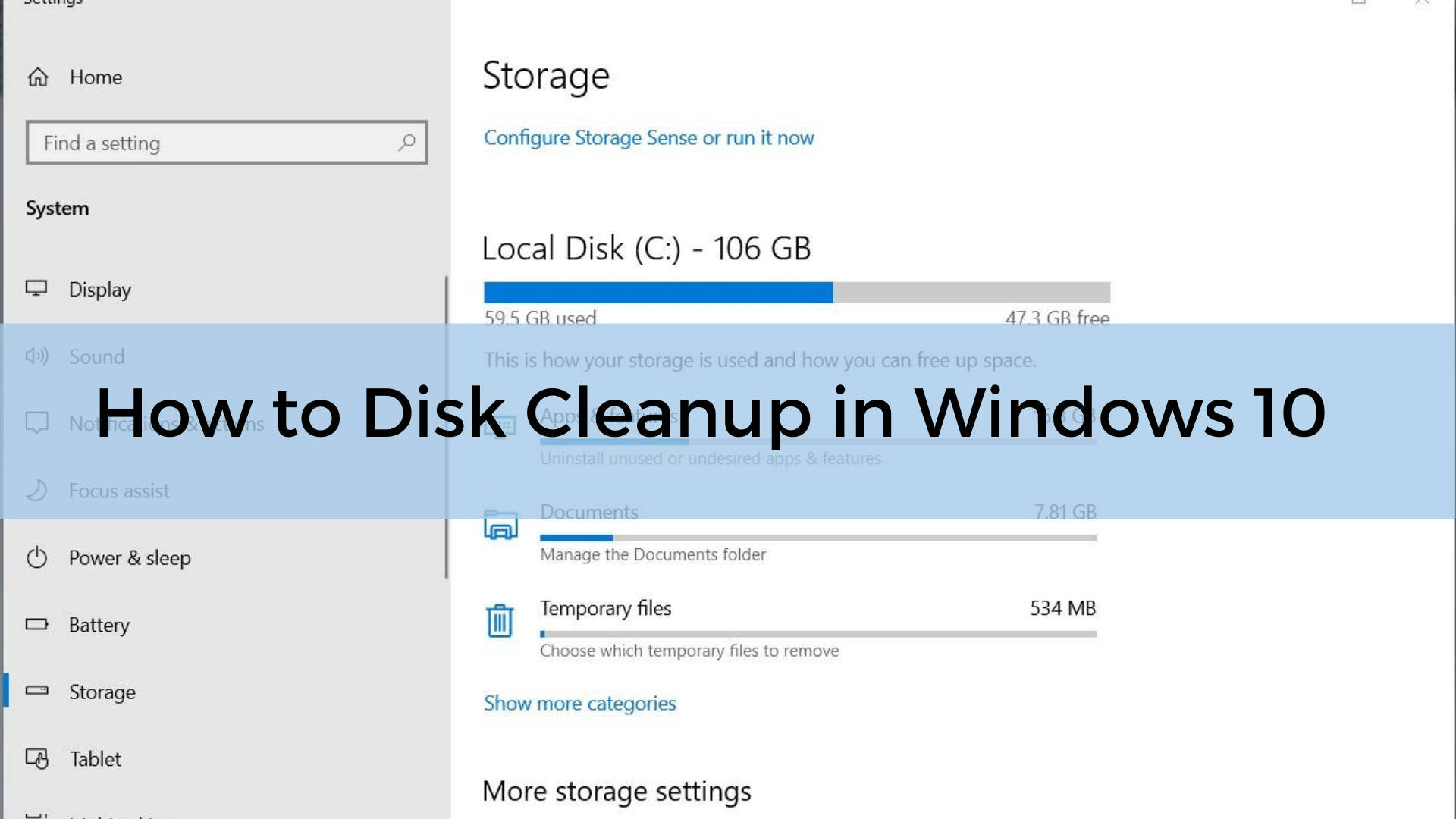 How to Disk Cleanup in Windows 10
It can be done in multiple ways, and they are readily available for all the users in Windows 10.
Storage Sense
Disk Cleanup from Windows
Remove Temporary Files
Free up space after Windows Upgrade
The last section where you remove files after Windows Upgrade should be done with caution. These files stay for 10-14 days in case you need to roll back to earlier version of Windows.
1] Using Storage Sense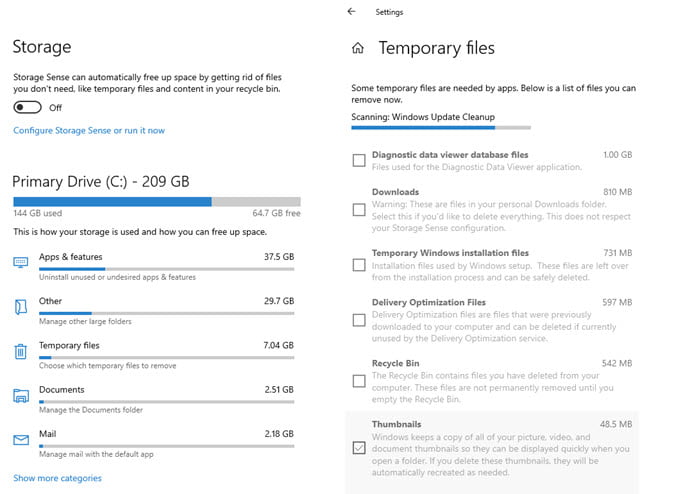 Windows can automatically free up space by removing the files you don't need, like temporary files and items in the Recycle Bin, when you're low on disk space or at intervals you specify. Here's how to set up and configure Storage Sense:
Open Settings in Windows 10 (Win + I)
Navigate and select System and head to the Storage Menu
To enable Storage Sense, toggle the switch under the Storage Sense heading and choose from the list of data you would like to clear from. To disable, oppositely toggle the switch off, and you're good to go.
Here select the option stating Temporary Files and wait for Windows to gather data and collect information. Once done, click on the Remove Files option to remove the unwanted data.
2] Disk Cleanup from Windows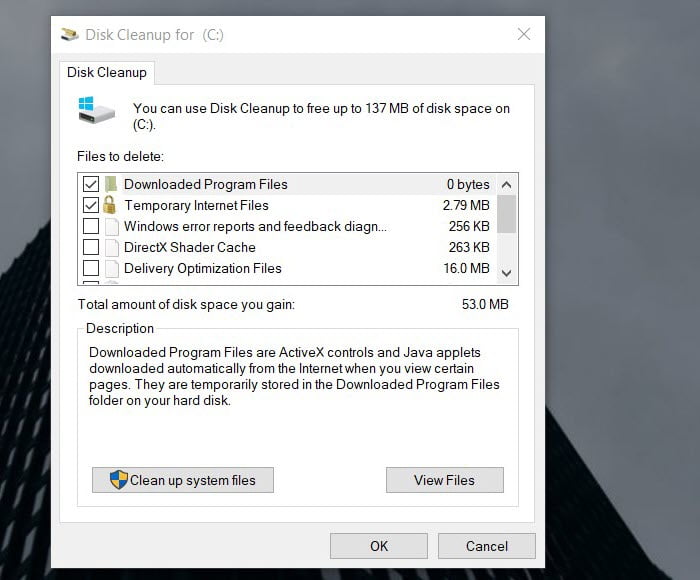 Windows offers a variety of tools for cleaning up the disk, and Disk Cleanup is one of them. The Disk Cleanup tool comes pre-loaded, provides some great functionality, and helps in cleaning up the junk. Here's how to use the Disk Cleanup utility to free up some junk space.
In the Start Search Box, type in Disk Cleanup and select the main listed result.
Here's choose the drive in which you would like to clean up space, from the list of all available drives.
Under Files to delete, select the file types to t. To get a description of the file type, select it.

In case you would like to free up more space, you can also delete system files by selecting

 Clean up system files.
Click OK and wait for Windows to clean it up.
Related Read: How to perform Automatic Maintenance in Windows 10
3] Remove Temporary Files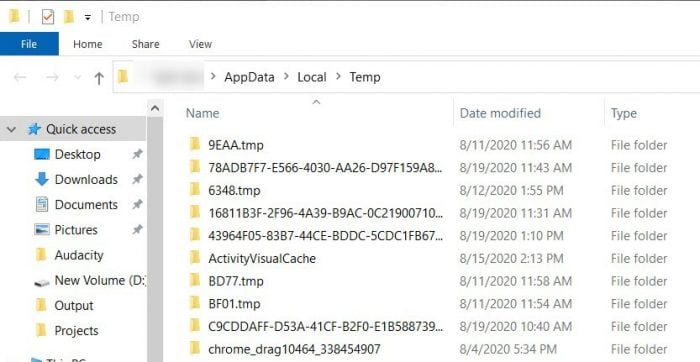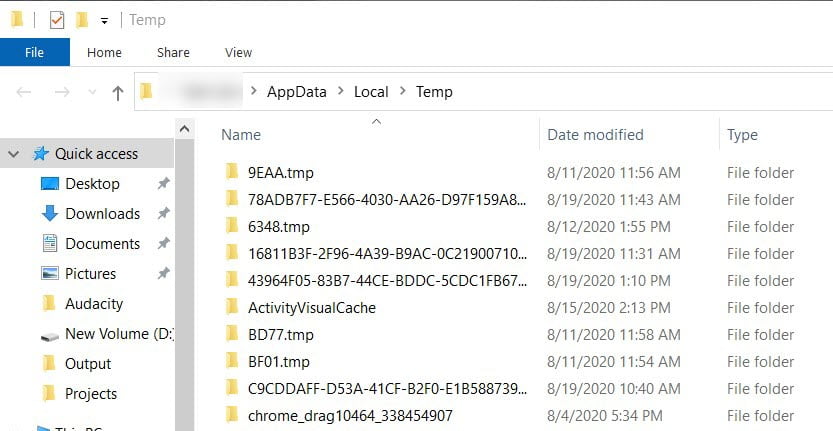 Temporary files in Windows do occupy some free space, which may result in slowed-down performance, storage issues, and more. One can remove the temporary files and clean up some disk space, here's how:
Pull-up the Run Box by searching it over in the Search Box or by alternatively pressing Win + R on the keyboard.
Here type in %temp% and press Enter.
Windows will now pull-up the temp storage folder, select all the files, and delete them.
This will free up a proportion of storage on your PC.
4] Free Up Storage Space after Windows 10 Upgrade:
Windows keeps getting heavy with every update; each update compiles up a lot of junk, temporary cache files which aren't required by a user after the update such as the upgrade assistant always backs-up your existing installation either in the same drive (C Drive) or to an external drive/partition if you choose to. In case you have upgraded your build of Windows recently, Check out our guide on how you can free storage space after a Windows 10 Upgrade or Feature Update.
Caches are temporary files that are stored on your computer for future use whenever needed; they get stored in a hidden folder named "cache". These cache files occupy a considerable amount of space within the System. Read the article to know about the ways to find and delete all the hidden caches in your Windows 10 system.
I hope this post was useful and you were able to clean up disk space in Windows 10. With that said, How often do you clean up the disk spaces? Do let us know b dropping a comment down below.