Gameloft has released the 4th version of the popular Dungeon Hunter series for Windows 8 and Windows Phone 8. The game was released for Android and iOS early this year and now users will be able to play on Windows Phone and Windows 8 as well. Venture forth into the most immersive, accomplished, and addictive chapter of the acclaimed action RPG saga with the new game.
Similar to the Android version, both the Windows Phone and Windows 8 versions are free and comes with in-app purchases.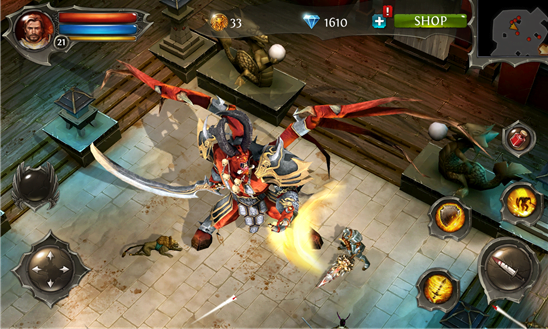 You can choose to play from 4 character classes with unique combat styles and there is option to upgrade your battle skills as well. You can customize your craft and charm your gear and also unveil the mysteries surrounding your warrior in the game.
From the official description of the game:
The Demons, a race thought to have been extinguished eons ago, have returned. You awaken from what seemed like a nightmare to find your kingdom, Valenthia, decimated. Unharmed from the battle, you are mysteriously gifted with tremendous new power and skills. You could be your people's only remaining hope…
The app allows you to purchase virtual items within the app and may contain third-party advertisements that may redirect you to a third-party site.
Features
Rediscover the thrill of dungeon crawling!
Slash hundreds of enemies, defeat massive bosses & loot countless items.
Progress through an epic storyline & stunning environments.
Choose from 4 Character Classes with unique combat styles.
Experience a true RPG: upgrade your skills, customize your gear and craft deadly weapons.
Enter the Co-op and PvP modes for intense multiplayer action!