Your computer is most often your workplace, and hence it needs to be protected from outsiders as it may contain all the crucial information which can make or break you. Personal computers are also the personal world for many people, and the best way to protect the sanctity of this world is to apply a password that will protect the same.
But sometimes it may so happen that you forget the long password that you have applied to your system. With Windows 10 and Windows 8, you need to now sign in with your Microsoft account every time you need to use your computer, and the password there is even more complicated. So what will you do in case you forget it altogether? Well, you can follow the below steps to log into your Windows 10 device without having to sign in with your Microsoft password.
Yes, actually there is a way that will help you to bypass your Windows 10 Microsoft account sign-in password without much hassle. Follow the instructions on how to do so.
Bypass Windows 10 Microsoft Account Sign-in Password
1] You need to download PCUnlocker using an accessible computer that can be borrowed from your friend. Once the file is downloaded, Unzip it, and there will be two files inside named: ReadMe.txt and PCunlocker.iso.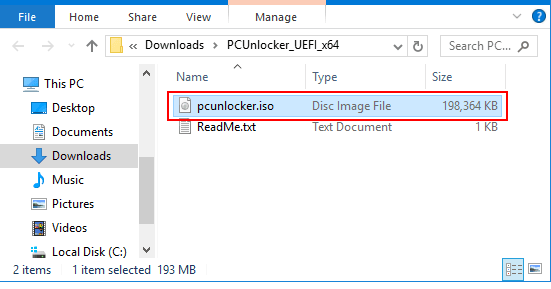 2] In the next step, you have to download and install a software called ISO2Disc, which will help you to create a bootable USB to run the PCUnlocker program. Once it is installed on your computer, open it and click on the Browse button to locate the PCUnlocker.iso file that you have extracted in the previous step.
Now, you have to select Burn to Flash Drive, make sure you have inserted USB drive on your computer. After selecting the USB drive, click Start Burn, which will start writing the ISO file and make the USB bootable.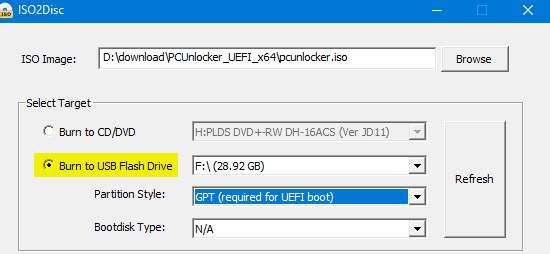 3] Once you have your PCUnlocker USB drive ready, put it on to a Windows 10 / 8 computer, which is locked and press the key which boots the PC. It may be different for different computers, and hence you might want to check your PC manual to know which one it is. Once you enter the boot menu, you will get various boot options, which will allow you to select the PCUnlocker USB drive as your boot option.
4] Once done, you will now get the PCUnlocker screen, which will provide you with several options that will show you all the available local accounts. So, you might choose the activation of the hidden administrator account, or you also might want to switch to any of the local users available.
Related: How to set Multiple Passwords for Windows 10 User Accounts.
5] To achieve any of the other options which we discussed in the above step, please find the instructions:
Activate Hidden Administrator Account
The hidden administrator option is most often not visible in the list of options, and to activate the same, you would have to click on to the Reset Password button that is present on the window of PCUnlocker.
Switch to Local User
When you sign in to Windows 10 / 8 with the help of your Microsoft account, it automatically gets linked to one of the local accounts, which will be visible on the PCUnlocker screen, and you can select one of the accounts and click on the Reset Password button.
Once done, you will see a Change Password button, which you can click on, and it will allow you to change your local account password and, at the same time, convert your Microsoft account into the local one.
6] Once you are done with the whole process, you can now remove the USB drive from your system and reboot the system. After rebooting, you will no longer need to log in to your Microsoft account, but you will be able to log in through your local account only.
You also don't have to reinstall the whole system when you forget your Microsoft account password. See, that's how simple it is to bypass Microsoft account sign-in password, and we are sure that by following the steps, you will be able to do it easily and quickly. If you have any doubts, do let us know in the comment section below, and we will try to solve it as soon as possible.