Microsoft Edge is the latest Browser that was introduced with Windows 10 and after the anniversary update, it has become more powerful. Edge is not lesser in terms of functionality with other popular browsers like Google Chrome and Firefox, but most of the people are not aware of the features that come along with this browser.
Here in this article we will throw some light on those facilities and give you some tips to improve your browsing experience with Microsoft Edge. All these Microsoft Edge tips are used by our team day and night while working and we are sure it will help in your browsing experience too.
Note: The Post has been updated as per Creators Update on Windows 10
1. Change what you see when opening the Edge browser for the first time
You can decide what should appear on the homepage when you open the Edge browser for the first time.
Click on three horizontal dots on right-hand side top of the window.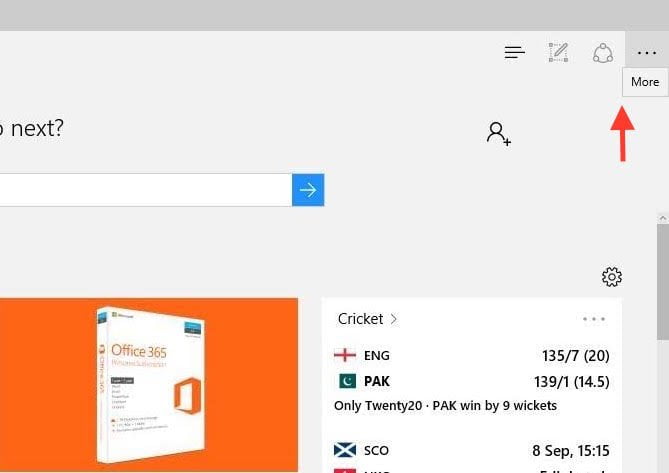 Select Settings from the list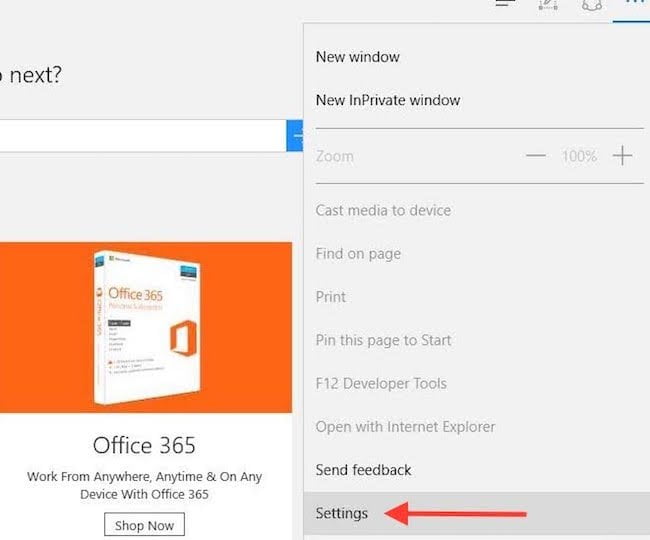 Click on Drop down menu under Open With
You can also choose what should appear when a new tab opens up
On the same Window (More > Settings) click on the drop down list located under Open new Tab with
Select the option like Top Site or Blank Page as per your interest.
2. Enable Home button
Let us tell you what is the use of the home button. When you surf the internet, you open many pages one by one especially while using the search engine. There should be a destination web page where you can come back. It could be your favorite page where you can return in case not sure where to go. In order to enable home page, you need to,
Scroll down and click on View Advance Settings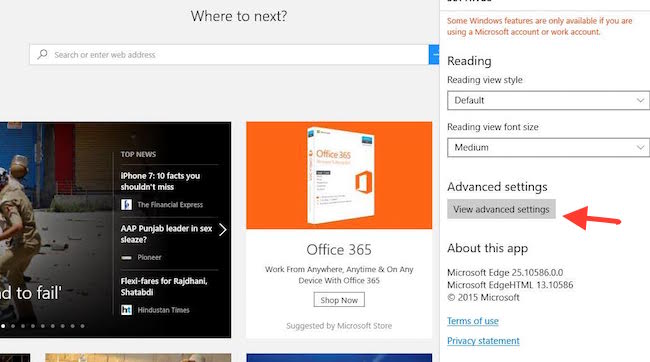 If Show the Home button is not on then toggle and switch it on.
Paste the URL you would like to see as your home page
3. Make it more suitable to eyes
This is a basic feature which helps old age people to look things properly on the web page. You have no need to use the mouse to enlarge the size of text showing up on the screen, you can simply,
Click on the three horizontal dots located on the right-hand top corner
Click on plus or minus signs next to zoom to increase or decrease the size.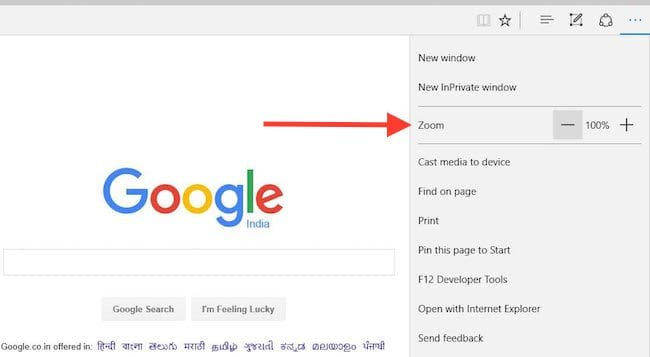 The facility helps you read effortlessly without having any strain on eyes. You can also enable Dark Theme which provides a better view in low light conditions, consumes less battery and help you to work for a longer time with less stress.
Click on three horizontal lines
Click on the drop down menu under Choose a Theme
There would be two options, Dark and Light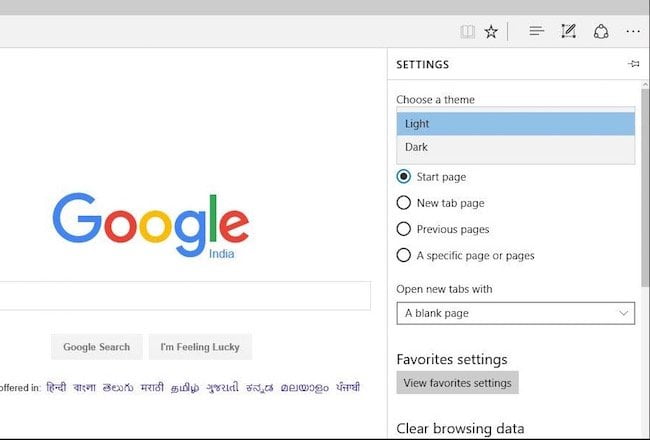 4. Change your Search Engine
The default search engine of Microsoft Edge is Bing, which is good enough and provides good search results, but it doesn't work fine in terms of partial keyword search for the first time. The more you use it, the more it becomes intelligent. If you want to use any other Search Engine like Google, which many people are habituated of, then you can change the search engine by following these steps.
Type the URL of your preferred search engine in the address bar at the top and open that page.
Click on three horizontal lines
Scroll Down and select View Advance Settings
Scroll down again and Click on Change under Search in the address bar with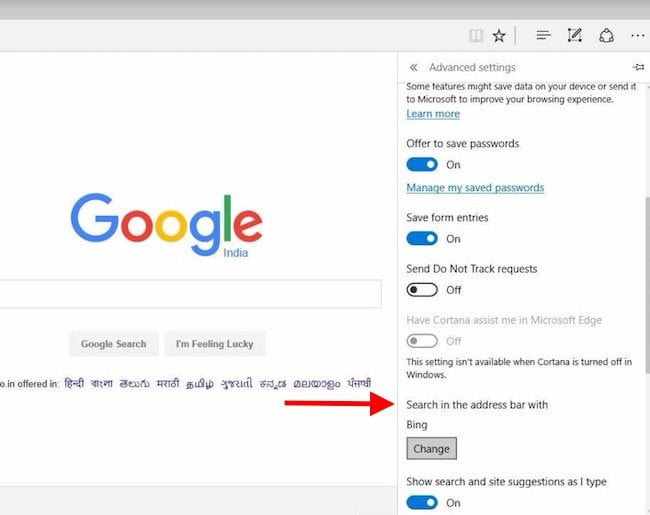 Now it will show you two options, Bing and the one that you want as 'Discovered', for example, Google
Select the one which you want to use as your default search engine.
Manage passwords and Autofill
Alike other popular browsers Edge also provides support to manage passwords and Autofill, which makes it even more preferable as it remembers your old entries and help you to fill web forms quickly. You can follow the simple steps and turn on this feature which is mostly comes enabled.
Go to three horizontal lines
Go to View Advance Settings
Under Privacy and Services, turn on Offer to Save Passwords and Save Form Entries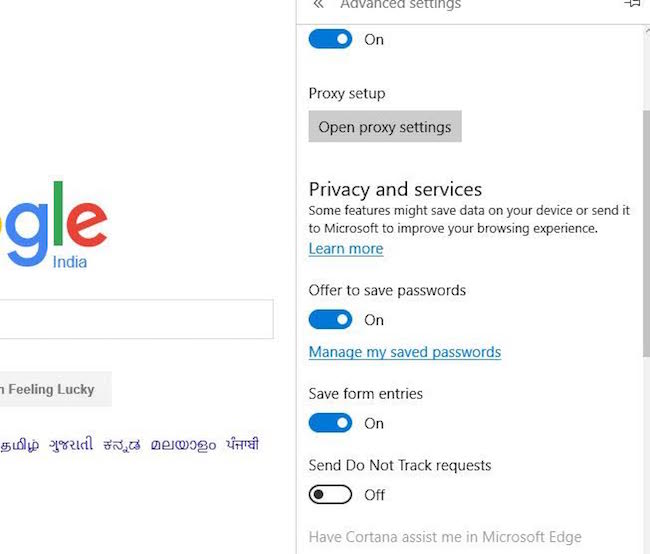 Microsoft Edge is a sustainable and powerful browser which has overcome all the difficulties that people used to face with Internet Explorer. You may take some time to get a hang of it, but those who have been using it for quite some time are satisfied with the performance.
However, we are sure that the Microsoft Edge tips that we showed above will surely help you to love Edge once again and increase your productivity and browsing experience.