Windows comes with solid support for Family & Kids Features, allowing you to manage them on the same PC or another PC. If you want to enable Family Member access on the same PC, you can do it within a few clicks. This post will guide you to add a Family member account on a Windows PC without creating a new account.
How to Add Family Member Account on Windows 11/10
There are two pre-requisites for this. First, their Microsoft account should be included in the Family Member (Online), and second, you should have your Microsoft linked account on that PC.
Go to Settings > Accounts > Family & Other People
You should see your family accounts with email IDs already listed here. You should also see a label which says "Cant Sign-in"
Now tap on any of the accounts, and click Allow.
Once done, log out of the PC, and you should see the accounts listed on the lock screen. All you will need to do is ask the person to sign in using their credentials.
How to Add a Non-Family Microsoft Linked Account?
Apart from enabling Family accounts, Windows lets you add non-family members' accounts like friends. It can be done using their phone number or a Microsoft account. While everything works the same way, the only difference is that they won't get added to your family account, but they still can access your PC.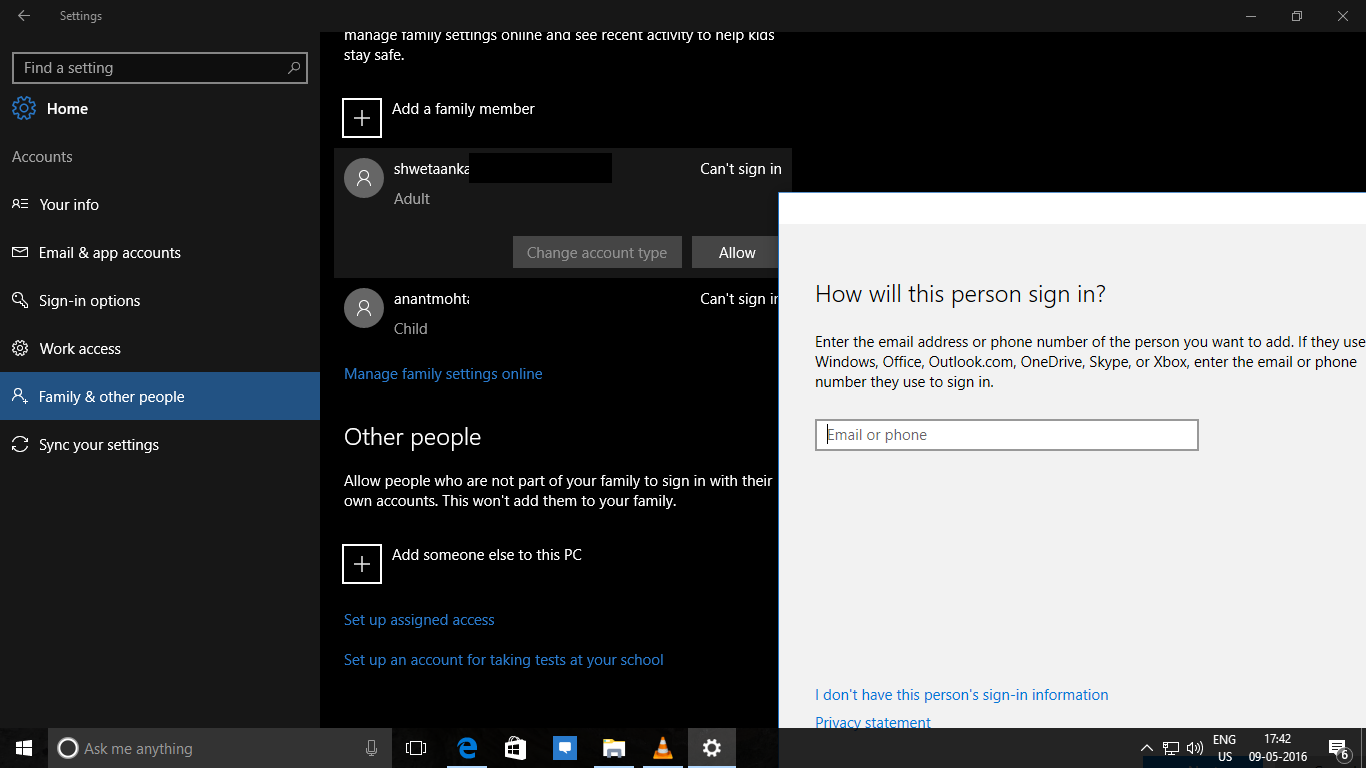 In the same setting, another feature allows you to set up an account to take tests from the same PC using a URL that belongs to School. I am guessing this will only work with schools that have Windows PC.
How to Manage Kids Account using Famil & Safety Feature?
Microsoft offers a Family & Safety feature that allows managing kids' activities on any Windows PC. Follow our Windows Family Guide to know more about it. If you have an Xbox, you can also manage it. It allows configuring time, safe browsing, a limit on app usage, and more.
Is Microsoft Family & Safety Feature Free?
Yes, Microsoft offers it without any cost, and all you need is to create a Microsoft account for your kid and then add it. You can configure the settings as per the kid's age and get a complete report on all activities.
How do I Remove a Kids Account from Microsoft Family
If you are sure you don't need the Kid's account to be managed, you can remove it. It can be done online via family.microsoft.com. Go to Manage my child's profile info and remove the account. All restrictions on the account will then be removed, and it will become a standard account.