Evernote, one of the most popular on-the-go note taking service out there, has released an updated version of their client for Windows Phone 7. The new update (v2.1) adds a bunch of new features to the app.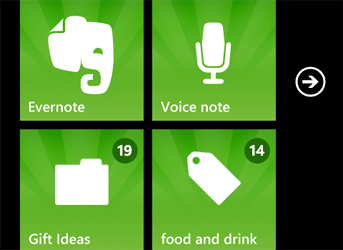 First and foremost, this new update gives Windows Phone users the ability to pin anything to their home screen, including specific notes or notebooks. Another new feature added by this new update is Template notes. This new feature will allow Evernote users, who frequently create the same type of note, to create a template. Users can create a simple (e.g text-only) or a complex template (e.g camera is launched when the user enters some pre-filled text).
Other than this, the new version of Evernote also includes major improvements to the text-editing capabilities of the app. Language support for a number of new languages like Japanese, Korean, Brazilian, Dutch and Chinese etc. have also been added. The new version also adds Background Sync capabilities, integration with the inbuilt search of WP7 and the ability to share a note with your friends on Facebook, Twitter and Windows Live.
The update is already live on the Windows Phone Marketplace for WP7 owners to try!