It finally happened. Instagram has left its beta tag, Facebook App is fast, and with all favorite features seen on other platforms, ad messenger app is now available for Desktop. Yes, Facebook & Microsoft has done it again as they officially roll out these apps which had been long-awaited on that platform, especially Instagram.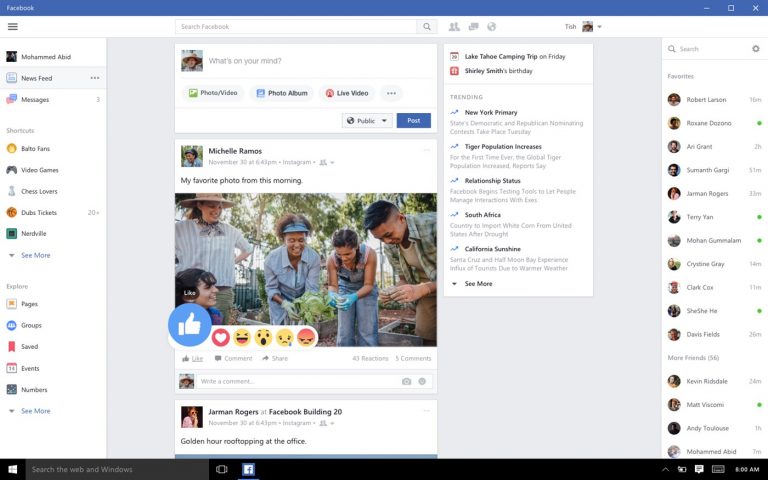 Facebook for Windows 10
It's fast and easy to access your favorite features.
The app starts and loads your News Feed much faster than previous Facebook desktop applications.
Desktop notifications with options to pin a new Facebook Live Tile which shows you the latest updates from your friends, family, and Pages you follow.
Easy to share photos to Facebook straight from your favorite apps or File Explorer.
Reactions, stickers in comments, and a right-hand column that shows birthday & event reminders, trending topics, and more.
Built an in-app browser to make it easier for people to read and share multiple articles from their News Feed.
Download Facebook for Windows 10
Messenger for Windows 10
Includes features like stickers, group conversations, and GIFs.
Native desktop notifications that make your experience richer and more complete.
You also can see when you have messages waiting for you with a Live Tile.
Download Messenger for Windows 10
Instagram for Windows 10
Brings the app's core features to the Windows Phone community
It now includes Instagram Direct, Explore, and video.
Supports Live Tiles, showing you updates right on your home screen.
Facebook and Messenger for Windows 10 will both be available later today in the Windows Desktop App Store, and Instagram for Windows 10 Mobile will be available later today in the Windows Phone Store.