Has your computer sound stopped working after you upgraded to Windows 11 or the latest release of Windows 10? Then read on. No audio after Windows 11/10 update is one of the common problems faced by many. But thankfully, fixing the issue is not as complicated as it might seem.
This issue usually occurs because of unsupported audio drivers, and by reinstalling it, you would be able to fix it. However, in this article, I will discuss a few troubleshooting methods that will help you get rid of the error.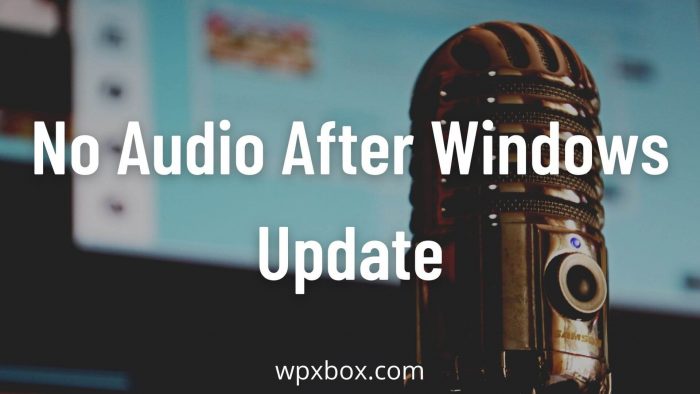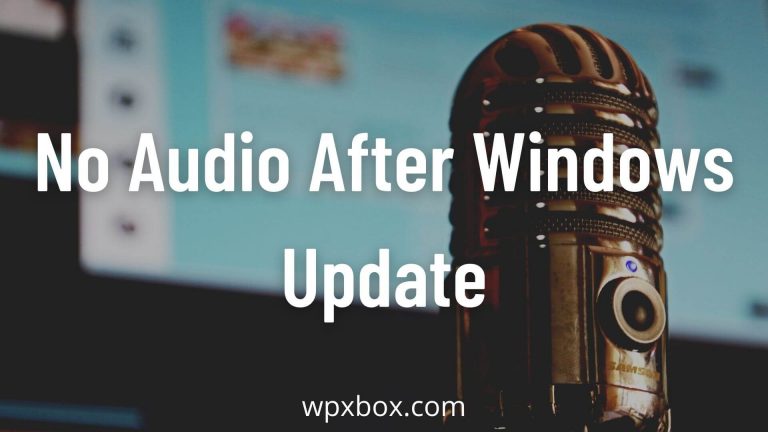 Fix: No Audio after Windows Update
There are a couple of ways to fix no audio after Windows update error. However, in this article, I will be talking about the following methods only:
Switch Audio Output Devices
Enable Audio Device
Check cables.
Update audio driver.
Rollback audio driver.
So now let's talk about all of the methods individually:
1] Switch Audio Output Device
At first, make sure you have selected the correct audio output device. If you have chosen something else, then there is a chance that the Audio is working correctly, but it is not coming out of the speakers. So follow the below steps to choose the suitable audio output device:
At first, click on the volume icon from the Taskbar.
Now, click on the arrow icon next to the volume slider.
Finally, choose a suitable output device and see if it has solved the issue for you.
2] Enable Audio Device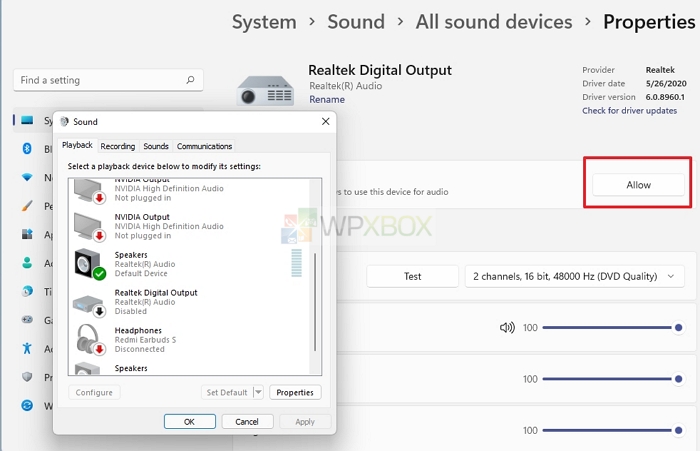 There is also a chance that your audio device is disabled. Hence, it is not working. To enable your audio device, follow the below steps:
Open Windows Settings using Win + I
Navigate to System Sound All Sound devices > select the audio device which is not working.
If the button next to Audio says Allow, then click on it. It will enable the Audio device to be used by other apps.
You can also use the control panel to reach the same place, but it will be through the classic menu, which you should avoid.
3] Check Cables
Before you go to any other troubleshooting methods, it would be a good idea to check your speaker cables and make sure they are in their place.
You need to check if your output device is plugged in or not.
Check if your speakers are connected to your computer.
Make sure your speakers are not on mute, which is a common mistake that many make.
Try connecting your speakers to a different USB port.
Make sure your speakers are working.
If everything is working fine, then move to the other fixes mentioned below.
4] Update Audio Driver
You can also try updating the audio driver. Because maybe, your computer no longer supports the existing audio drivers, and you need to install the latest one.
The right way to update the driver is not through the Device Manager but the OEM website. If you are using any special audio hardware, then you need to look up the companies website. The devices are usually listed, and drivers are available through an installer.
If you are using a generic driver, go to Windows Update > Advanced options > Optional Update and check if there is an update to the audio driver available.
5] Roll Back Audio Driver
There is also a chance that the latest version you have installed is unsupported by your PC. In this case, you can roll back the audio driver.
Go to Device Manager by right-clicking on the Start menu.
Expand Sound, video, and game controllers option.
Right-click on the audio driver and select properties.
Go to the Driver tab and select Roll Back Driver.
How Do I Reinstall My Audio Driver on My HP Laptop?
Go to Device Manager > Expand your Sound devices > Right-click on the audio output device and select uninstall the device. Once uninstalled, go to HP's website and download the audio driver for your laptop using the model number.
How Do You Check if My Audio Drivers Are up to Date?
Right-click on the Start menu and select Device Manager. Then expand the Sound, video, and game controllers option. Now right-click on the audio driver and select update driver. Now Windows will let you know if the driver is up to date or not. If not, then Windows will search and install a driver for you.
Does Windows Update Drivers Automatically?
Yes, Windows now automatically download and update drivers. They do it via Windows updates. So make sure you are running the latest version of Windows 10/11.
So that was all the fixes for no audio after Windows 11/10 update. Now try out the steps by yourself and see if they did fix the error or not. Also, for any other questions, do drop a comment below.