Printing documents is useless if your printer won't print in black when you try to print them. For paperwork, black is typically the color of choice. In this post, we will go through a few fixes you can try if your printer not printing black on Windows PC. It is applicable for Windows 11, Windows 10, and any other version of Windows.
Fix: Printer Not Printing Black on Windows PC
Follow these suggestions to fix the printer's problem of not printing black color on a Windows PC.
Run Printer Troubleshooter
Check the Printhead and Cartridges
Switch to the Manufacturer's Cartridges
Change paper settings to Glossy photo paper
Update Corrupted or Outdated printer driver
Some of these may need admin permission.
1] Run Printer Troubleshooter
Running the Printer Troubleshooter will allow you to resolve any errors preventing the printer from printing in black. When you launch it, it automatically searches for problems and fixes them.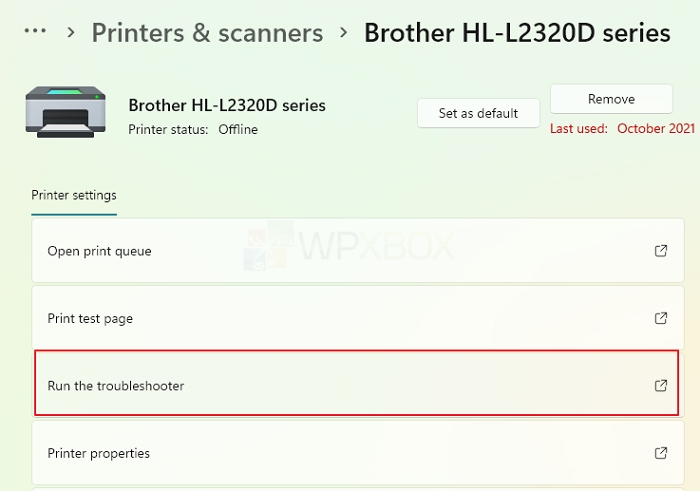 Open the Settings (Win + I) app.
Click System
Scroll down and click on Troubleshoot tab.
Next, click Additional troubleshooters.
Locate the Printer in the list and select Run the troubleshooter.
It will prompt you to select a printer, and then continue.
Once done, check whether the problem is resolved.
2] Check the Printhead and Cartridges
Ink Level: Check if the ink is sufficient in the black cartridge. You should be able to check via the software, or if the printer has a display unit, it should be available there.
Print Head: Check if the printhead is clean or not. It will not print anything in black if it's not clean and completely blocked.
3] Switch to the Manufacturer's Cartridges
Printer manufacturers like Panasonic, Samsung, and others advise using the cartridges in their printers. While most of the time, third-party cartridges work, at times, they don't. So either you can fix the cartridges or replace them with the original ones.
4] Change Paper Settings To Glossy Photo Paper
To get the printer to start printing again, try adjusting the printer driver settings to glossy photo paper. This is only applicable if your printer has two black ink cartridges, one of which is pigment-based and the other dye-based.
Usually the type of black ink your printer uses is usually determined by the type of paper you choose. Black dye works better with glossy paper than pigment does with matte paper. We are trying to activate or jump-start any black cartridges by moving from one type of paper to another.
5] Update Corrupted or Outdated printer driver 
You must have the appropriate device drivers for your PC and the attached hardware devices to work efficiently. Device drivers are an essential part of a computer system, yet we frequently ignore them, which could lead to several performance problems over time. Having the most recent drivers installed enables you to get the maximum performance out of your hardware.
The following methods can be used to update the printer driver:
Install Driver Updates Optional Updates
Windows offers to download and install drivers through Windows Update. However, they are optional, and the admin needs to install them manually.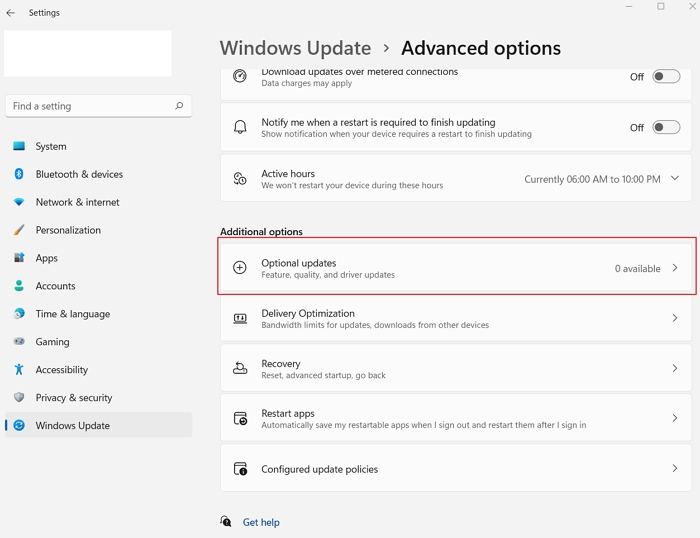 Press Win + I to open Settings.
Click Windows Update or Update & Security.
Select Advanced Options > Optional updates
Check if you have an update for your printer, and install it if available.
You can always disable automatic driver updates in Windows if you want to avoid them.
Using the Website of the Manufacturer
Manufacturers keep releasing drivers for specific models. To download the device drivers, go to the website of the company that made your computer. They are usually available under the Support or Download section. You will have to search based on the printer model.
Upgrading Drivers With a Third-party Program
A third-party program makes it simple and easy to update device drivers. They are handy for people who do not want to manually check for driver updates or download drivers from the manufacturer's website.
Conclusion
So, from this article, you can find solutions to your printer not printing black on your Windows PC. The Printer Troubleshooter option and straightforward troubleshooting techniques like checking the printheads and cartridges can provide the most reliable solutions to printer issues.
Why Is My Printer Printing Blank Black Pages?
If the print is all black, either the high voltage power source is faulty, or there is a malfunction in the toner cartridge. Examine the connections on the toner cartridge and the printer since they can occasionally become bent out of alignment.
How Can You Tell if a Printhead Is Clogged?
You most likely have a clogged printhead if your PC or printer's LCD screen indicates that your ink cartridges are full, but no ink is getting to the paper. It is also time to remove the extra ink if your documents are hazy or the images look faded.