Windows 11 and Windows 10 users experiencing difficulties such as sluggish response times could consult their Task Manager for assistance or see what tasks are presently executing on their PC. The disk utilization of your computer is one of the metrics that one may track using Task Manager. If you notice high disk usage (or 100% disk usage), then your machine's disc usage is maxed out, and the performance of your system will suffer. It would be best if you took action to remedy the situation. This post will guide you on how to fix high disk usage in Windows 11 and Windows 10
How to Fix Windows High Disk Usage (Windows 11/10)
There are numerous reasons why your CPU or disc utilization remains at 100%, but there are only a few culprits that may cause excessive usage. Here are some methods that one may utilize to find a solution.
Restart your Computer
Run Full System Scan
Disable SysMain and Windows Search Service
Disable Telemetry
Make sure you are using an admin account for these suggestions.
1] Restart your Computer
Whenever you face a problem with Windows, a simple restart is likely to work in most cases. The reason being, a restart requires the Operating System to reload completely, which in turn ends up fixing any minor bugs or glitches that may have caused the issue. Restarting the machine should reduce the disk usage and bring it back to normal unless there's something severely wrong with your system, such as malware.
2] Run Full System Scan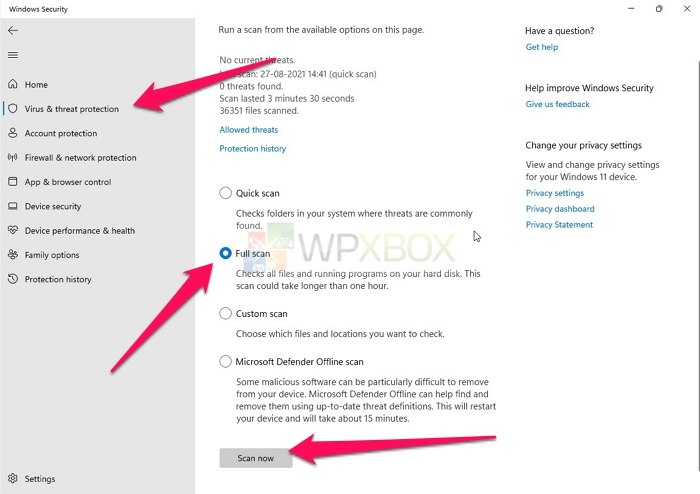 Your computer might be infected with malware or virus, which might be driving the increase in disk usage. A complete system scan will aid in the resolution of the problem. While you can use a third-party application like Quick Heal or Norton to make a full system scan, Windows also offers a built-in option. Here's how you can use Windows Security to run a full system scan and fix issues with Windows 11/10.
In the Start Search Box, key in Windows Security and choose the most relevant match to launch the Windows Security application.
Next, navigate to the Virus and Threat Protection section and choose Scan Options.
Now, choose Full Scan from the list of options and tap on Scan now.
With this, Windows will start scanning your computer for any malware or viruses. Note that this scan may take some time to complete. Once it's finished, it will notify you if Windows found any malware or viruses. You will also get to know the necessary action taken.
3] Disable SysMain and Windows Search Service
First introduced with Windows Vista, Superfetch, or modernly named Sysmain, is one of the most common services behind high disk usage in Windows. The goal of SysMain is to improve Windows's speed by loading commonly used programs into the RAM before you access them. Similarly, Windows Search Service makes it much faster to fetch results; however, it loads the disk.
Note that: SysMain and Windows Search Service are critical Windows services that should not be disabled unless required. Here's how you can disable SysMain and the Windows Search service to reduce the load from the disk on your Windows 11 and Windows 10 PC.
Start by opening the Services Manager by searching for the same in the Start Menu and choosing the best match.
Next, under the Services window, scroll down and locate SysMain.
Now, double-click on the service title to open up its Properties. Here, change the Startup type to Disabled under the General tab.
Finally, click on Apply and then choose OK.
Similarly, repeat the process for the Windows Search service and restart your computer to check if it makes any difference.
4] Disable Telemetry
Microsoft analyses telemetry data from Windows to detect security concerns or functional issues, evaluate and repair software problems, and enhance Windows's quality for future releases. Disabling the telemetry option may help you solve the problem. Here's how to do so.
Open the Services Manager by typing services in the Run prompt (Win + R) and press the Enter key.
Locate the Connected User Experiences and Telemetry Properties.
Next, double-click on the service or press the Enter key on your keyboard to bring up a list of options.
Here, choose Disabled from the Startup type dropdown present under the General section.
Choose Apply > OK and restart your computer.
That said, what's your computer running on, an SSD or an HDD?
How Do I Fix Disk 100% Usage in Windows?
One of the other popular reasons causing 100% disk usage may be the background applications. Users can head over to the Task Manager and stop unnecessary applications from running in the background.
How Do I Know Which of My Applications Has the Largest Disk Usage?
To find out which application is consuming most of the disk at the moment, head over to the Task Manager's Processes tab (Ctrl + Shift + Esc).
Please switch to the Disk tab and then sort it in either descending order. It will help you realize the reason behind the high disk usage in Windows 11.
What Other Options Do I Have to Fix High Disk Usage in Windows?
Well, if you are unable to find the root cause and fix the issue behind, we suggest factory resetting your Windows 11 computer. Please read this post to learn how to reset your Windows 11 computer back to its factory settings.