There are many Free SMS services in India like 160by2 , Way 2 SMS, Site 2 SMS, SMS 440 so on and if you do have a Windows Phone you are pretty lucky because now all these are available into one APP which lets you send Free SMS from Windows Phone using these services. This is another addition to our Must have Indian App.
This app got a brand new UI which not only is a non web interface but its completely metro which means when you want to send SMS it allows you to pick contact from your contact book and also lets you pin any of these SMS service as live tile so you are just tap away from sending your SMS.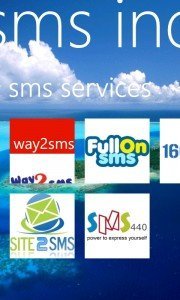 To use this app you need to have a registered account with 160By2 which is used in all of the services here. This makes sure that nobody else but you alone send the sms and also keeps spam away from notorious users exploiting the app.
The best part of the app is it has unified interface whatever service you choose for sending SMS which keeps of the confusion. All you need is select a service, login, add or choose contact number, type in your SMS and send it. It also comes with a About Page which gives clear information about the service if you are using that service for the first time.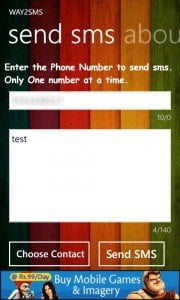 The only thing which annoys is the number of advertisement that is show of in the service which is like 3 to 4 but I guess since the app works, has a nice UI and sending SMS works, many will just bear it.
Screenshot
[minigallery id="2802″ style="box border box_white"]
Couple of Suggestions to Improve the App :
A premium version of the app comes in which is free of adverts which many users will like it. It can include multiple numbers as extra feature.
Allows me to retain SMS which I had sent so I can remember what I sent to whom.
Number of SMS sent and what is the left limit.
Support Templates so I can send quick SMS
Auto Login which I guess is coming in next version.
Download