Are you searching for some of the best software to bulk uninstall programs and Microsoft Store apps in Windows 11/10? If yes, then you are landed at the perfect place. This post will suggest some of the best tools to bulk uninstall programs. Check out the tools list and features to find the best tool per your need.
Uninstalling & Removing Traces of Programs
There are several ways to uninstall and remove traces of programs from your computer. Each method has its advantages and drawbacks, so ensure to read, and understand what works best for you.
Use the built-in uninstall feature: Windows offers this as part of the OS, invoking the installed software's uninstaller script. The only drawback is that if the uninstaller doesn't remove all the files, you cannot do anything about it.
Use a third-party uninstaller: Several third-party uninstaller programs can help remove programs, associated files, and registry entries. Some examples include HiBit Uninstaller and Absolute Uninstaller.
Manually remove the program: While this is almost impossible, you can delete the EXE and the associated file from the programs folder. The next step would be to figure out deleting any associated registry entries. While you can, we suggest never to do anything in the registry unless you are sure about it.
Use a system cleaner tool: You can use the built-in storage clean to remove all the remaining files, but since Windows is picky about what it should delete, it will not remove everything.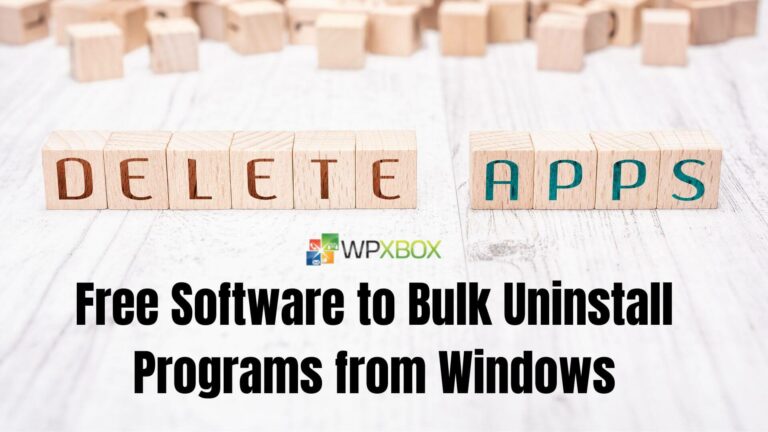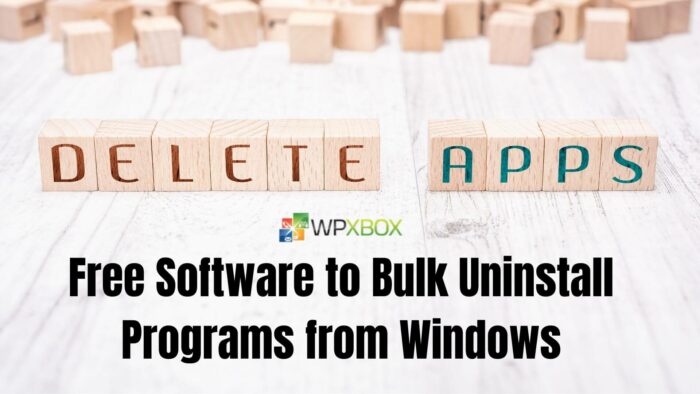 Free Software to Bulk Uninstall Programs and Microsoft Store Apps From Windows
Here is a list of 7 excellent tools that help uninstall programs from your Windows 11/10 PC. Each software in this list has its features, pros, and cons. Find out the best one which can fulfill your requirement.
Revo Uninstaller
Bulk Crap Uninstaller
Geek Uninstaller
IObit Uninstaller
HiBit Uninstaller
Uninstall Tool
Absolute Uninstaller
Let's discuss these seven bulk installer software in detail.
1] Revo Uninstaller
Revo Uninstaller is one of the best software to uninstall programs from your Windows PC. This tool makes sure to uninstall applications and programs properly, along with file folders and registry entries. This software has some needy features like junk cleaner, forced uninstall, and quick processing. Overall, this tool has an excellent user interface and is very easy to access.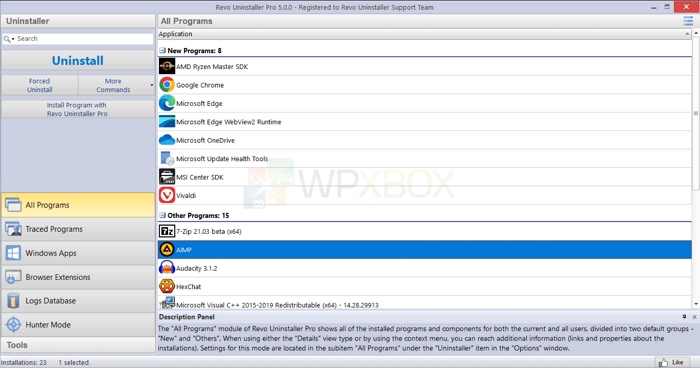 Key Features 
Junk cleaner, which removes unnecessary files
Secure file deletion and drive wiping
Hunter mode for identifying and uninstalling
Multiple uninstalls
Browser extensions remover tool
Pros 
Lightweight tune-up tools
Useful Hunter widget
Permanently removes deleted files
Removes leftover program bits
Cons
It can't queue up multiple applications or perform real-time software monitoring or multiple.
No inbuilt way to access the Restore Point
It doesn't remove browser toolbars or plugins
We recommend downloading this tool from its official website for safety purposes.
2] Bulk Crap Uninstaller 
If you are looking for a free and reliable bulk uninstall program tool, then Bulk Crap Uninstaller (BCU) is always a better option. BCU is an advanced automation uninstaller tool that can remove many applications with minimal user input. This tool requires no technical knowledge because of its simple interface and easy accessibility.
Key Features 
Find and remove leftovers after uninstallation
Manually uninstall any application
Verification of uninstaller certificates
Start-up manager
It can handle crashing and hanging uninstallers
It can run user-specified commands before and after uninstalling
Pros 
Completely free and open source
Works on every Windows version
Supports batch uninstalls
It comes with the portable version
Cons 
The application UI starts to feel slow and stutters when dealing with many applications.
Not built with an advanced uninstall algorithm
Always download this tool from its official website.
3] Geek Uninstaller 
Geek Uninstaller is another trusted bulk programs tool with several useful features like force uninstallation, real-time uninstallation monitoring, and much more. It can easily uninstall Windows store apps and supports native x64. Overall, this is a custom software uninstaller program specially built for Microsoft Windows.
Key Features 
This is lightweight and consumes fewer device resources
It's portable and can be used on a USB stick
Force uninstallation feature
Supports multiple languages
Monitors file changes
Pros 
User-friendly interface
Easily uninstall native Windows apps
Real-time installation and uninstallation tracking/monitoring
Simple and efficient tool
Cons 
It has minimal features
Only compatible with windows
No restore option after uninstalling
Download only from its official website for safety purposes.
4] IObit Uninstaller 
IObit Uninstaller is one of the vastly used and best software uninstallers for Windows. This advanced uninstaller tool can quickly scan and remove any application's junk, cache, and shortcuts after uninstallation. The advanced features and simple and user-friendly interface of this tool make it popular among users today.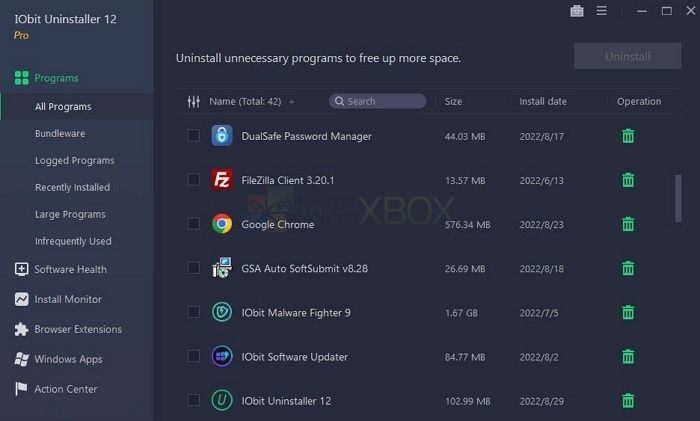 Key Features
Uninstall programs completely
Uninstall browser extension
Auto-clean residual left by other uninstallers
Installation Monitor and Software updater
Pros 
Options for managing start-up programs
Uninstalls browser toolbars and plugins
Compatible with 64bit windows
File shredder
Supports batch uninstalls
Cons 
No clean-up tools
Offer third-party tool installation during setup
The free version comes with limited features
We will always suggest you download this tool from its official website.
5] HiBit Uninstaller 
HiBit Uninstaller is another great bulk program uninstaller software with features such as cleaning up temporary files, repairing registry errors and managing startup programs. The interface of this tool is clean and easy to use. This free tool can clean junk files and remove registries, and the system restore manager feature makes this tool way better than any free bulk uninstaller tool.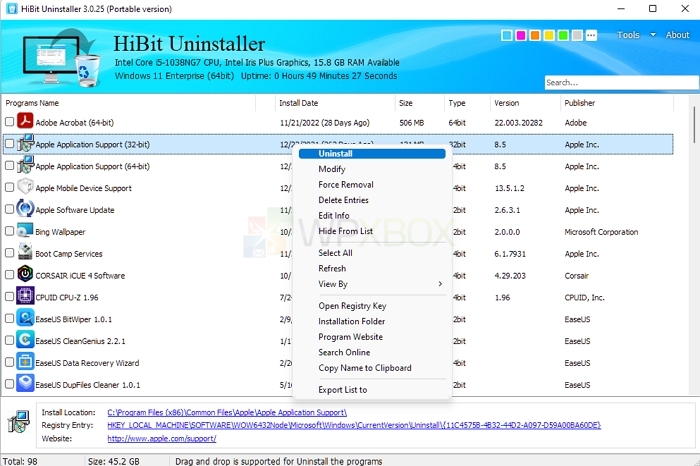 Key Features 
Uninstall Windows Store Apps
Program quick search function
Remove multiple programs at once
Fully uninstall programs
Forced uninstallation
Monitoring installation programs
Pros
Simple and easy-to-use interface
Easy installation
Forced uninstallation feature
Bulk program uninstallation
Monitoring and tracking installation programs
Remove junk files
Cons 
UI is not great
No custom sorting
Download this tool only from its official website for safety purposes.
6] UninstallTool
If you need a good bulk to uninstall programs software, then UninstallTool can be an ideal option for you. This software can efficiently remove or uninstall third-party software, system apps, and hidden applications in Windows. This tool is easy to use and has useful features like force uninstallation.
Pros 
It supports 38 different languages
Easy to use
Informative pop-up
It has a force removal feature
Comprehensive tracing feature 
Cons
UI is not great
The portable version costs more
No custom sorting
Key Features 
Startup Manager
Install and trace feature
Built-in search
Always download this tool from its official portal.
7] Absolute Uninstaller  
Absolute Uninstaller is another top-rated bulk uninstall program with a simple and user-friendly interface. This tool has basic features like uninstalling programs and quickly deleting shortcuts from Windows PC. It can also identify rarely used programs that you may have forgotten about.
Key Features
Inbuilt bulk uninstall programs tool
In-built organizer for large programs
It consists of a utility to delete Windows update
Delete program shortcuts
Pros
It supports 65 different languages
Supports both Microsoft Store and Standard programs.
Modify the name of the program in the installed program list
Change command line parameters of the installed programs
Cons 
The batch uninstall feature is inefficient
Limited functionality
No force uninstall mode
Offers third-party tool
We suggest you download and use this tool only from its official website.
Conclusion
Here we are at the end of this post, and if you are still following, you must have a better understanding of our seven best-listed software to bulk uninstall programs. Regarding the best one, it can be a personal choice and depends on your requirement. If you have any question, feels free to ask us in the comment section.