As a Windows user, if you are using a Laptop and concerned about its battery life, we are here to help you. Most of the time, when users buy a new laptop, its battery life starts to degrade from the first month. There can be several reasons behind that, such as poor battery quality, overcharging, etc. Several posts are available on the internet that can guide you about keeping the battery safe. But that's not our point of discussion today. Instead, we will help you generate a full Battery Report in Windows 11 and Windows 10.
Why Is Monitoring Battery Life Important?
Any laptop offers an excellent experience for battery in its first year. As you keep using it, the battery will start running out earlier than the first year. Battery Report offers a detailed insight that can help you find hidden problems. So if you are running a laptop, you might generate a battery report once in a while and go through it.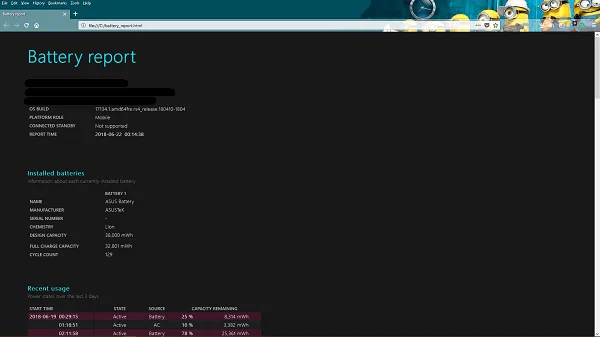 How To Generate a Full Battery Report in Windows 11/10
Let us consider a scenario in which a person bought a laptop worth around 50k. After one and a half months of usage, the person notices a drastic change in battery life. That person visits the distributor who sold that laptop to him. Here they come to know about the involvement of service centers and how sometime's the replacement of the battery doesn't occur.
On the other hand, the individuals may provide you a service, but you can go there with better proof with yourself and do that, go on reading. You only need a Windows OS installed on your laptop (prefer Windows 11/10 for better proof).
Let us now generate a full Battery Report in Windows which will help you to understand the current condition of your laptop's battery.
Steps to generate full Battery Report in Windows
Press Windows Key + X on your keyboard.
Select Command Prompt (Admin) or Windows Terminal (Admin). If not found, then select Windows PowerShell (Admin).
Type powercfg /batteryreport /output "C:\battery_report.html", and hit Enter key.
You will get an instant response as the Battery life report is saved to file path C:\battery_report.html.
Open File Explorer. Go to This PC and open Local Disk (C:).
There you will find a file named "battery_report." Open it, and the entire battery report is in front of you.
Check and read the complete report. You will find everything about your laptop's battery. It includes general details about your machine, installed batteries, recent usage, battery usage, usage history, etc. In short, it consists of a small detailed history with a detailed chart description.
You will also understand how the battery is performing. If you find a drastic change in values, Visit the service center as soon as possible. Show this report, and you will get a battery replacement (if your laptop is still in warranty).
If you want to try, you may work this process on other versions of Windows too. Try to keep your laptop battery healthy to avoid replacement in a short duration.
What Is Good Laptop Battery Health?
Make a habit not to deep drain your Laptops battery. It only puts strain on your battery, but you can do it once or twice a month, so all the cells are balanced and wholly charged.
Can I Leave the Laptop Plugged in Overnight?
Most modern laptops come with overcharge protection. So even if you keep them plugged in, they won't be charged. However, confirm this feature with your laptop OEM. If you don't have it, the best is to wait until it charges and plug it out.