I have been an Android lover right from the day I got my first ever Android phone back in 2010. Since then, no other OS has managed to gain my interest. I never really liked iOS because of all its restrictions. However, once Microsoft released the Windows Phone Mango update for WP7, the OS has been getting ravishing reviews all over the Internet. This got me intrigued, and I finally got myself a 1st gen WP7 phone – the Samsung Focus.
Since I have been a long time Android user, I use Google Contacts to sync my contacts across multiple Droid handsets. The first thing I did after booting the Focus and updating it to Mango was to sync the phone with my Google account. So, I did the usual steps, entered my Google ID credentials and made sure that I synced all my contacts. A few minutes later, I checked the Peoples app and WP7 beautifully displayed all my contacts with their pictures.
Next day, I started using the Focus as my primary phone and that's when I came across a major problem with WP7. Even though I had synced my Google contacts with the phone, WP7/Focus did not display all the numbers of a contact.
After going through all my contacts, I noticed that most of my contacts only had one number even though Google contacts showed that the particular contact has multiple numbers.
What's The Problem?
The problem here is that WP7 OS only supports one number per tag i.e. a contact can only have 1 number with the Mobile tag, Work tag etc. However, Google Contacts does not impose any such restrictions. I can have one single contact with multiple numbers under the Mobile tag without any issue.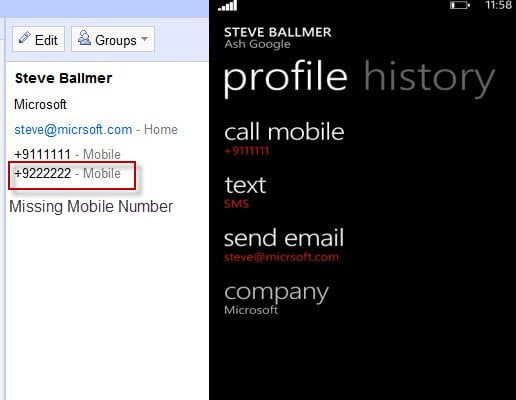 Solution
The only workaround to this problem is the tedious process of manually editing all your Google Contacts.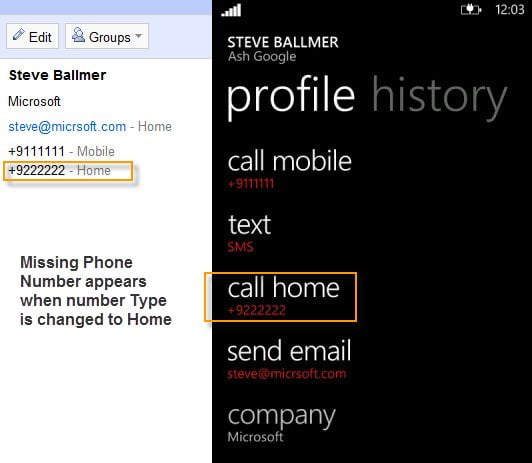 So, if you are a long time Android or Google Contacts user, with contacts having multiple numbers under the same tag, you better organize your contacts properly before thinking of buying a WP7 phone.