Microsoft's Windows allows the System Administrator to create multiple user profiles. Still, then if you do want to limit specific applications to the users or block the application, you can make them stay away from those applications. In this post, I will guide you on how to block or allow specific programs on Windows 11/10.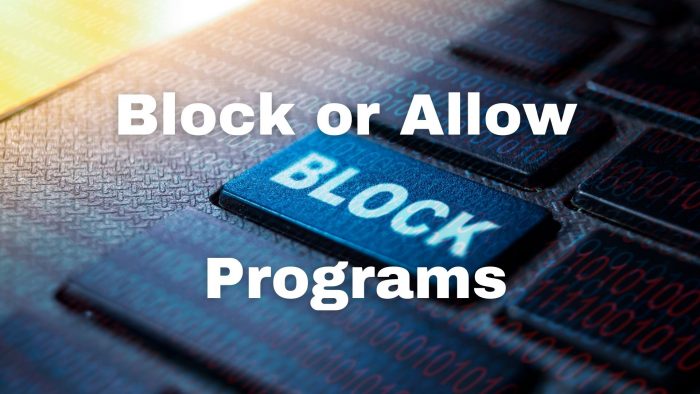 Block or Allow Certain Programs in Windows 11/10
The job of blocking access to specific programs on Windows 11/10 could be accomplished in several ways. Here's the list of methods that we will be following in the guide mentioned below:
Group Policy Editor
Windows Registry Editor
Windows 11/10 Home users can use the Group Policy Method, but they will have to install it. Learn how you can enable Local Group Policy Editor in your version.
1] Group Policy
For users running on Windows 11/10 Enterprise or Windows 11/10 Pro editions, the task of blocking access to specific programs could be a lot easier as they could use the Local Group Policy Editor to do so. The Group Policy Editor comes with a slight advantage over the following method of using the Windows Registry. They won't need to apply the same settings for different users; they could change it for all users in a click.
Open Registry Editor by typing gpedit.msc in the Run Prompt (Win + R) followed by pressing the Enter key.
You'll find two folders on the left of the screen, namely the Computer Configuration and User Configuration. Under the User Configuration, navigate and expand Administrative Templates.
Under Administrative Templates, navigate, expand and select System. Now, next to the navigation pane, you'll find a few folders and files listed.
From it, Open the policy. Don't run specified Windows applications by making a double click on it. In the menu that pops up, set the policy to Enabled and then click on the Show button under Options.
Now list all the programs you want the user not to access in the format such as 'itunes.exe','chrome.exe', and click on OK.
2] Windows Registry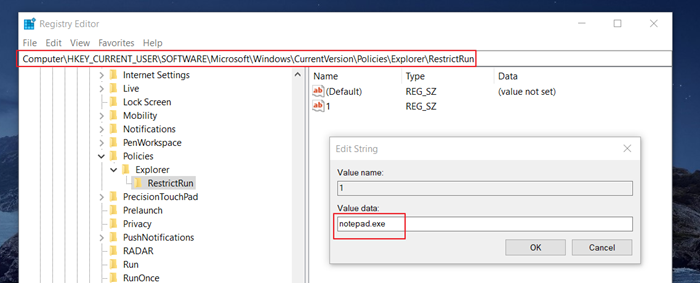 We could also use the Registry to block users' specific applications, but we recommend only trying this method if you know what you are getting into. Also, make sure to make a System Restore before you start making any changes in the Registry.
Open Registry Editor by typing Regedit in the Run Prompt (Win + R) followed by pressing the Enter key.
On the left of the screen, you'll find multiple folders. Navigate to
HKEY_CURRENT_USER\SOFTWARE\Microsoft\Windows\CurrentVersion\Policies\Explorer
Now we need to create a new DWORD under the Explorer. To do so, right-click on the space right next to the navigation pane. From the drop-down, select New DWORD (32-bit) Value and name it as RestrictRun.
Double click the newly created RestrictRun to open the properties for it. Now change the Value Data from 0 to 1 and click OK.
Now make a single right-click on the Explorer Key and move ahead by choosing New Key. Name it as RestrictRun and click OK.
Under the newly created RestrictRun key, right-click in the space and create a new string file, name it as "1″. Double-tap and open it and in the Value Data space, enter the name of the file you want to restrict, for example, 'Notepad.exe'.
Carry on Step 6 for as many applications you would like to block by naming the string files as 1, then 2, then 3, and so on.
Preventive Methods to Block Program Installation in the Future
You can use the SmartScreen feature and Microsoft Family settings to block other users from installing a program. That way, you can control which applications to install and which one should be allowed for everyone.
1] Enable SmartScreen via Windows Settings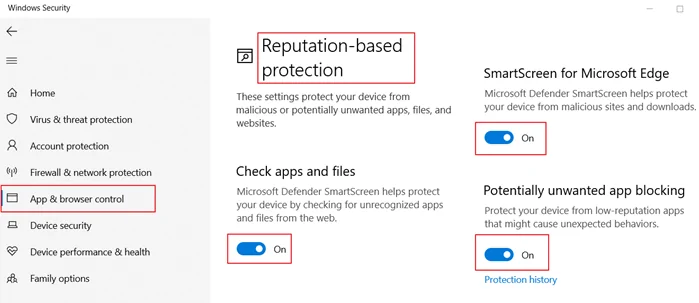 In the Seach Box, type in App and Browser Control and open the main listed result.
Under Reputation-based protection, navigate and select the menu for Reputation Based Protection Settings.
Ensure that the checkboxes for all the four menus (Check Apps and Files, Smartscreen for Microsoft Edge, Potentially Unwanted App Blocking, and Smartscreen for Microsoft Store) are turned on.
2] Enable SmartScreen via Group Policy Editor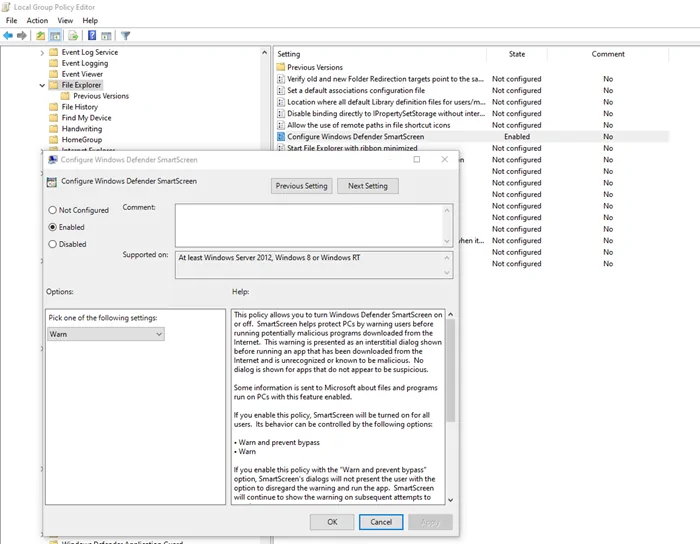 Launch the Local Group Policy Editor on Windows 11/10 and navigate to the following path
Computer Configuration > Administrative Templates > Windows Components > File Explorer
 Double click on Configure Windows Defender SmartScreen policy to open it
Ensure that it's Enabled, and under the Options Menu, select Warn and prevent bypass option is selected.
This method will help to block or allow programs in Windows.
3] Microsoft Family method
Head over to  family.microsoft.com and log in with your Parent's Microsoft account.
Under it, Find your Child's Name, say, for example, "Raj" and select Content Restrictions.
Under the Apps, Games, and Media Menu, Switch the toggle for Block inappropriate apps, games & media from Off to On.
When your Child requests for Installation of an Application, you can grant or deny the permission to keep it safe.
Readout detailed tutorial on how you can manage Family and Kids computer usage with Microsoft Family
1] Can I Block Games on My Child's PC Using This Method?
Yes, it is possible to block games or other related applications using the process mentioned above. Make sure to enter the correct .exe file name to get it working. However, it would be best to use the Microsoft Family feature to manage kids' accounts on the PC.
2] How Do I Block Applications to Access the Internet in Windows?
You can block access to the internet for an application by adding it to the Windows Firewall. You can set Windows Firewall to block software from accessing the Internet with a couple of clicks.
3] How Do I Block YouTube on Windows?
Start by heading over to the following path: C:\Windows\System32\drivers\etc\. Next, open the file named hosts with Notepad. For example, to block YouTube, add "127.0.0.1 www.youtube.com" to the end of the file without the quote marks.
I hope the post was helpful, and you were able to learn to Block or Restrict Certain Programs on Windows 11/10.