Windows lets you personalize your look to several different effects; This includes choosing a color mode and color accent in numerous areas, such as the Start Menu, Taskbar, and more. However, if you switch between different colors constantly, you'll notice the Recent Colors section appearing right above the color picker under the Accent colors section. Here's how you can clear recent colors history on a PC or Laptop running Windows. This works both on Windows 11 and Windows 10.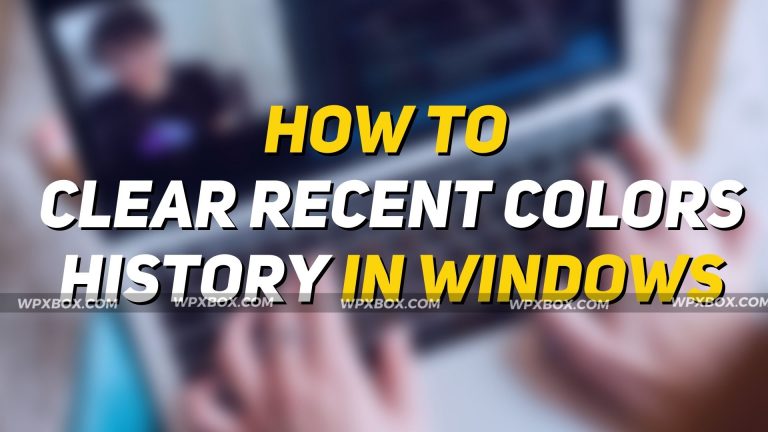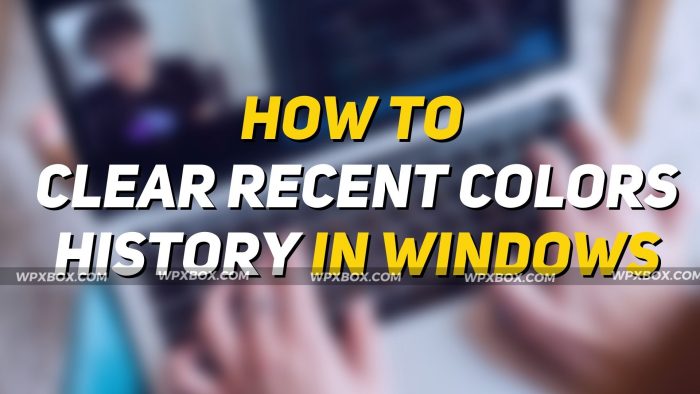 How to Clear Recent Colors History in Windows
This procedure necessitates the use of the Registry Editor to make modifications to the Registry. A word of caution: the Registry Editor is a powerful and sophisticated tool. Unwanted modifications might make your system unstable, if not useless. Before making any changes, we recommend that you create a backup of the Registry.
To open the Windows Registry Editor, fire up the search box by either clicking the 'Windows' Logo on the keyboard and search for Regedit or Registry Editor. Next, choose the best available match, and you'll have the Registry Editor up and functioning.
Now, navigate to the following path. Alternatively, you could copy and paste the below-mentioned path into the Registry Editor as a quick navigation hack. HKEY_CURRENT_USER\Software\Microsoft\Windows\CurrentVersion\Themes\History\Colors
On the right side of the window, you'll find a bunch of registry files. Here, you'll find files with names such as ColorHistory0, ColorHistory1, ColorHistory2, ColorHistory3, ColorHistory4, and more. These files numbered from 0 to 4 are the recently set colors. ColorHistory0 represents your currently set color and so on.
You need to select the files ColorHistory1, ColorHistory2, ColorHistory3, ColorHistory4 till the end number, right-click, and choose Delete. You could either delete each of these files individually or select them and delete all of them at once.
Finally, restart your computer for the changes to go into effect.
Make an Executable REG File to Remove Recent Colors History
While you can go around and make changes to the Registry via the Registry Editor, here's how you can use Notepad to produce an executable file that removes the recent color history from Windows; This might come in handy if you often clear the record.
Start by opening a new Notepad document.
Next, copy and paste the tweak's contents from below to the new document.

Windows Registry Editor Version 5.00

[HKEY_CURRENT_USER\Software\Microsoft\Windows\CurrentVersion\Themes\History\Colors]

"ColorHistory0"=-

"ColorHistory1"=-

"ColorHistory2"=-

"ColorHistory3"=-

"ColorHistory4"=-

"ColorHistory5"=-

Now, press CTRL + S on your keyboard or head over to the File tab and choose to Save as.
Now input the following name "ColorHistory.reg" with the quotes. Ensuring that the file extension has "*.reg" rather than *.reg.txt is crucial. Finally, choose the location where you'd like to save the file and click on Save.
Navigate to the newly saved file path and double click on the .reg file; This will instantly clear your recent color history.
You can also run it using Task Scheduler if you need to clean it every day automatically.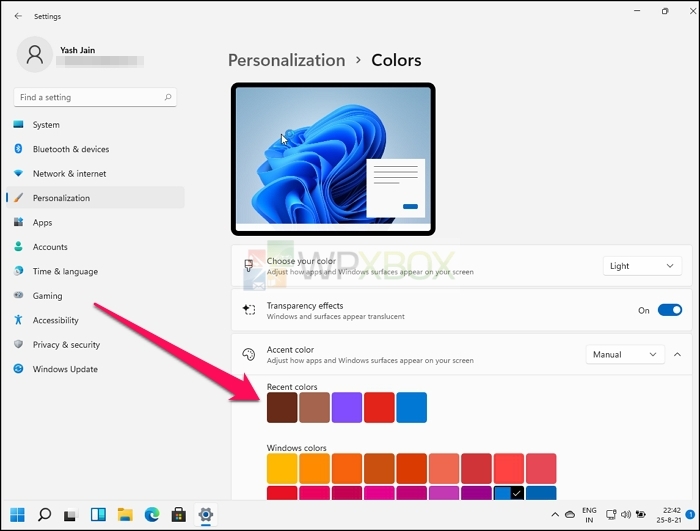 How to Fix Accent Color Option Not Available in Windows?
If the accent color option for Start, taskbar, and action center is not available or greyed out on Windows, here's what you can do: navigate to Settings > Personalization > Colors and select Custom as the option under Choose your color. Finally, check the Start, taskbar, and action center options under the Show accent color on the following surfaces section.
Can I Automatically Change Windows Accent Color?
Yes, Windows does offer its users the ease of automatically changing the Windows accent color. To automatically change the Windows Accent color, head over to Settings > Personalization > Colors and check the checkbox for Automatically pick an accent color from my background.
That said, how often do you switch accent colors in Windows? Do let us know by dropping a comment down below.