Although it may seem easy for many, changing a file's format can be difficult, at least for the people not familiar with the tools developed for those exact purposes. So in case you don't know, PDF files can be easily converted to other formats like MS Word, PowerPoint, Excel, JPG, Text, leaving the formatting intact. Converting PDF files to JPG can be extremely difficult if you do not have the necessary experience or tools.
That's why in this article, we will show how to convert PDF to JPG easily and, which will not take more than a couple of minutes of your time.
Why is it useful to convert a PDF file to JPG?
The PDF (Portable Document Format) is one of the most used formats on the internet. In fact, it is one of the favorite formats of many users and one of the most convenient for sharing information. But as good and practical as they are, PDFs are not perfect, and there are times when other file formats, such as JPG, are more acceptable.
JPG is practically a universal file format, which utilizes high compression to reduce its size and, at the same time, maintain sufficient quality compared to images in other heavier formats. If you are still not clear about the advantages of converting a PDF into JPG, here are some common examples:
– PDF documents can be opened in many programs and browsers, but the truth is, it is much easier to open JPG files, especially when you want to use them as an avatar, as a thumbnail, or on social networks.
– PDF images can be edited, but not all programs and applications support this format. The opposite is the case with JPGs. It is a standard format of images and photos that can actually be tough to find a program that cannot open them.
– It is becoming more common to create, edit and share videos on social networks, but if you want to include images in them, it is much easier to do it with JPG files than with PDF. Almost all video editing programs accept the former, but they don't always allow you to work with the latter.
This does not mean that JPGs are always better than PDFs. On the other side, other professional uses are related to design, graphics, printing, etc., where PDF files are more convenient and reliable.
How to Convert PDF to JPG With EasyPDF Tool
EasyPDF is one of the best tools for converting PDF files to other formats. It can convert PDFs to the most popular file formats like MS Word, Excel, Powerpoint, JPG, AutoCad, etc. On top of that, EasyPDF can be used to split, merge, compress, and create PDFs as well. If this is not enough for you, even scanned files can be converted using the top-of-the-line OCR engine. There are no ads, boring sign-up forms, or conversion limits. Everything is free and easy to use.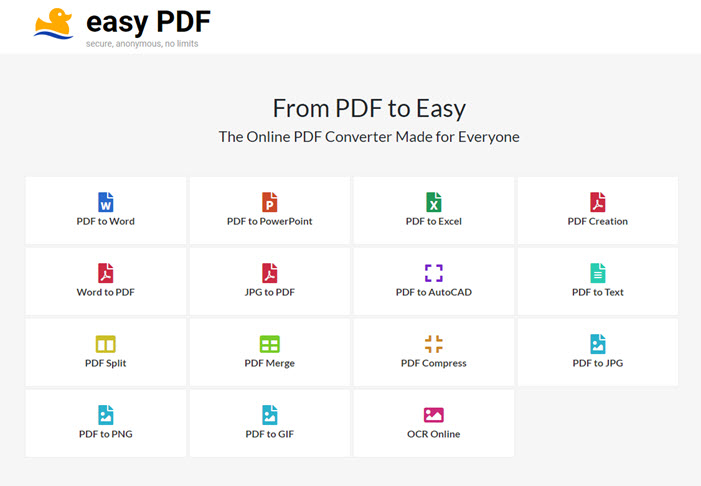 To convert PDF to JPG, follow these steps:
Visit PDF to JPG converter and upload the file you would like to convert. You can upload PDF directly from your computer, Google Drive or Dropbox.
The conversion process will start automatically.
Wait for the conversion to finish and download your JPG file.
That's it! Now you can use your newly created JPG file in any way you want. Didn't we say it was an easy and straightforward process?
The need to convert files from one format to another is widespread, especially for professionals who deal with many documents regularly. It was not easy to carry out these operations in the past, but today, with the help of productivity tools like EasyPDF, it should not be a waste of time and effort. We hope that now that you know how to convert a PDF file to JPG, you will save a little time every day and use your images where you need them the most.