Battery Power Plan is a key feature in Windows 10 which is incredibly useful for Laptop users. It allows them to setup a configuration that can not only deliver performance but also save battery in the long term.  In this post, I will show how you can create a new Power Plan in Windows 10. Power Plan can be a little complex if you deep dive into detailed settings. However, if you know what you are doing, you can get the best out of it.
How to create a new Power Plan in Windows 10
Windows offers "Balanced" Power Plan as the default plan for all Windows users. When creating a new power plan, you will have to choose a template that can be the default power plan or anything which you have created or enabled. Ultimate Performance is a hidden power plan in Windows which you need to enable.
Right Click on Start Menu
Select Power Options from the list. and then click on the Additional Power Settings link (Right side)
Click on Create a Power Plan available on the left panel.
Select a template, and then choose a name for the custom power plan
Click on Create
Once done, select time for the Turn off the display and Put the computer to sleep settings. You can further customize the Power Plan by clicking on Change advanced power settings. Here, you can micro configure how each element of Windows will act when it's on that power plan. That's where things get little complex.
You can configure battery settings for Harddisk, IE, Desktop background settings, USB settings, Graphics card, PCI and more. While they are straightforward to understand, make sure to set your choices wisely depending on your work.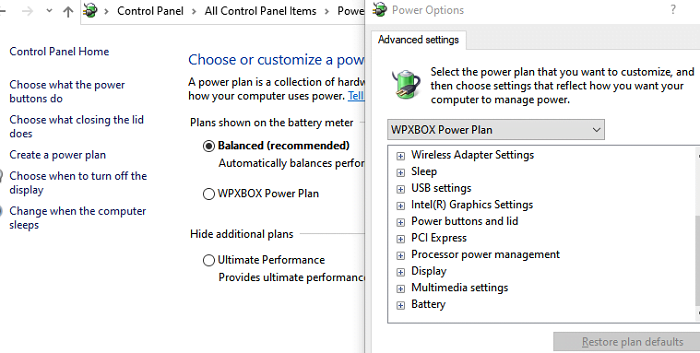 Related: How to quickly switch between Windows 10 Power Plan
How to change Screen and Sleep settings in the Current Power Plan?
You can determine when the screen will turn off or when the PC will go into the sleep mode by following the steps given below.
Launch Settings app from the Start menu or by just typing Settings and selecting the result
Click on Battery Settings located on the left side
Switch to Power and Sleep section.
Use the drop-down menu next to each option and change timings as per your requirement
Once finished, close the Settings app to save changes.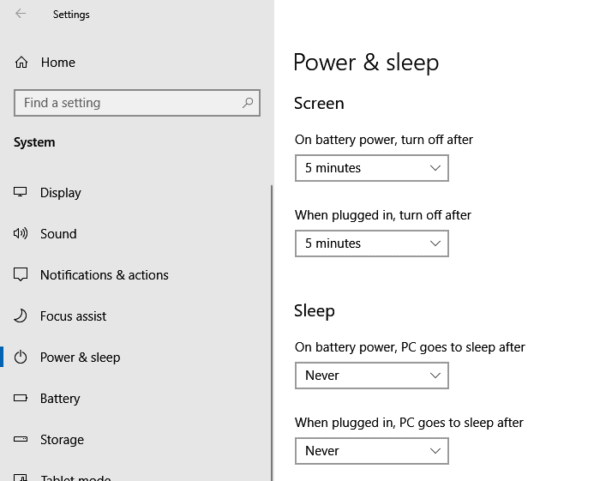 This is how you can create a new Power Plan in Windows 10, and configure Sleep and Screen settings. I would strongly recommend you to properly test the settings before you set out for an important job.