During Windows 10 setup, or even when creating an account, admins are prompted to use Microsoft account or link existing account to it. While using a Microsoft account has its advantages, many a time you need a local administrator account. Here is how you can create a local administrator account in Windows 10. Microsoft has it, just that it's not straight forward.
How to Create Local Administrator Account in Windows 10
Open Add user account screen
Choose to add Someone else to this PC
Add without email, phone number and Microsoft account
Create a local account and convert to an admin account
1] Type "Add User" in your Start Search bar. It will show the option "Add, Create users." Click it.
2] This will open the Family & others Settings. Windows 10 lets you add family to your PC using the email id, but let's skip that.
3] Right at the end of that page, you have the option Add Someone Else to this PC under Other Users.
4] Click and it will open another window and will still ask you for email id or a phone number.
5] In the same screen, you will have a link which says, "The person I want to add doesn't have an email address." Click it.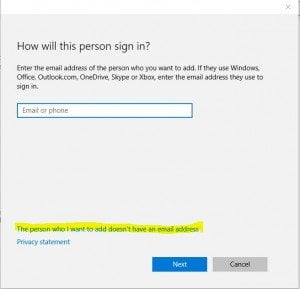 6] Next, it will yet again ask you for email id. Look below, and look for an option which says, "Add a user without Microsoft Account." Click on it.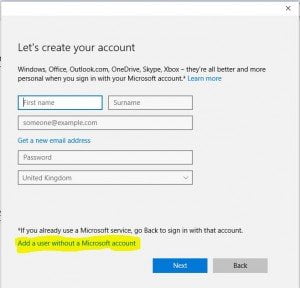 7] This is precisely where we wanted to reach. Next window is straightforward. Choose a name, password, and your local account is ready. The next step is to make it an admin account.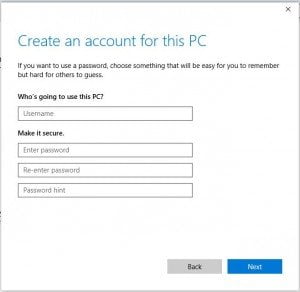 It will create a standard user who is not linked with any Microsoft account. In the next steps, we will change this standard account to the Administrator account.
Change Standard account to Admin account
Go back to Family & other Settings as above.
Select the account you want to change.
Click on change account type.
It will open a prompt where you change from Standard to Administrator.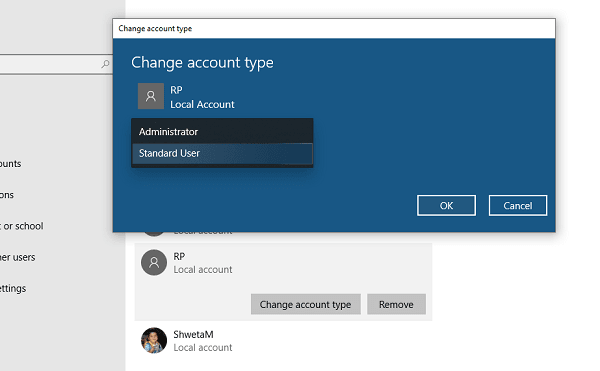 I would have loved if Microsoft had a straight forward option to create a local administrator account in Windows 10. However, its not there, and till then, this is your best option.