System Restore is one feature that has saved me a lot many times. It allows one to get back to previously saved computer's state which reverts system files, installed applications, registry, and few system settings. It comes in very handy when you have a messed up driver or something that has caused a problem in your Windows desktop. But if System Restore is Disabled for you, then in this guide we will learn how to Enable "Disabled" System Restore in Windows 10
The case of System Restore is Disabled in Windows 10
It is interesting to note, that System restore is enabled on per drive/partition basis as well. This many times brings back the old deleted files as well, but it's not full proof. After I upgraded to Windows 10, I was surprised that this option was entirely disabled for me. I was able to get to the exact point where I can enable it, but the option which allows me to turn on was grayed out. If you are in a similar situation, follow-up these steps to enable it.
Enable System Restore in Windows 10 via System Properties
Right click on the Start button, and select System.
On the left part of the "System" windows,  look for a link which says "System protection." Click to open it.
Switch to System Protection tab. It will have a list of all the drives and status of protection ( on/off)
Select C drive, and click configure button.
If in this windows, you can select the radio option "Turn on System protection," you are good to go. Set it up and create a restore point.
If you cannot, then follow-up to the next section.
Enabling the Disabled System Restore via Group Policy Editor
Type GPEDIT.MSC in your Start Search box. It will list the app Group Policy Editor
Now follow this path Computer Configuration -> Administrative Templates -> System -> System Restore.
Look for a setting which says "Turn Off System Restore." Its not configured by default.
Double click it and select "Disabled."
Click OK.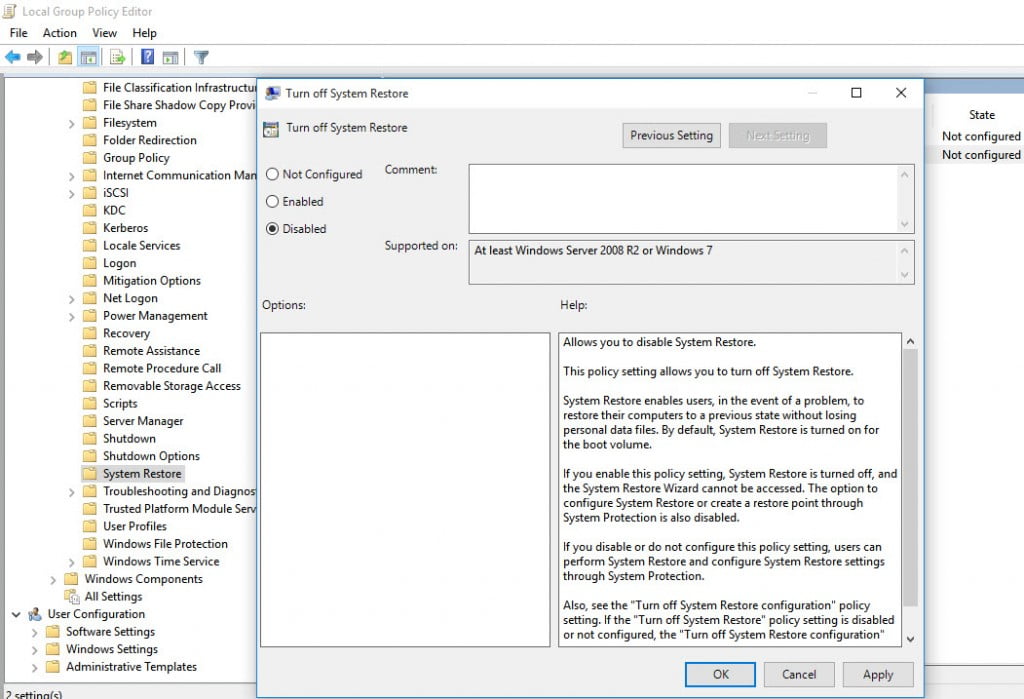 Now follow the steps to go to System Restore option, and you will be able to turn on the System protection for any of the drives. Make sure to keep enough space on the drive for which you enable System Restore.
Always make sure to keep System Restore enabled, especially for the drive on which Windows is installed.