Windows 10 holds the status of being one of Microsoft's most stable releases in the past years. However, a series of issues and buggy updates have slightly spoiled this reputation in recent years. If your Windows 10 machine is acting weirdly or not acting as it is expected, then this post will guide you on How to Factory Reset your Windows 10 machine.
The issue can be anything right from starting up or shutting down, excessive memory usage, the laptop's battery is draining quickly, or anything.
How to Factory Reset Windows 10
Windows 10 offers various methods to users for resetting their machine based on whether they would like their personal data to be erased or not, starting using a fresh copy of Windows and more.
1] Factory Reset Windows 10
It's a pretty simple process to perform a factory reset on your Windows 10 computer. However, we do recommend you take a complete backup of your important files before starting. Here's how to do so:
Open the Settings Panel in Windows 10 (Win + I). Navigate to Update and Security ->  Recovery. Here, under Recovery, you'll find a menu stating Reset your PC and a Get Started button.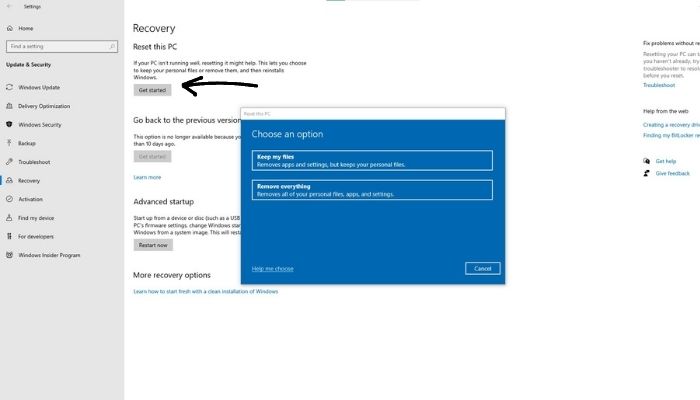 Upon choosing the Get Started Button, you'll be presented with two options:
Keep My Files: Choosing this option will re-install Windows but won't wipe out your data, which means any files stored in either of the volumes won't be deleted.
Remove Everything: If you chose to remove everything, Windows will provide you with two more options, Just remove my files or Remove files and clean the drive.
The first option will be faster in operation as it won't be making a clean format of your drive. However, the latter option will take longer as the drive is properly erased. This is the option you could choose if you're planning on giving the PC to someone else.
The next page will prompt a warning that you won't be able to roll back or recover your data in case you have chosen the option to erase it. If you have backed up your data and ready to go,  click the Next button to proceed.
Then finally, click on the Reset button, and now Windows will restart and reset the machine. The whole process will take several minutes, so Windows will reboot and prompt you to set it up once done.
Once updated, Windows will begin the fresh startup process, which requires users to login with their Microsoft account, accept terms and conditions, and more.
2] Using Fresh Start
Apart from reinstalling the complete copy of Windows, Microsoft also offers a Fresh Start tool that purges all the applications which don't come built-in with Windows 10. This includes all third-party software, like unwanted junkware, and software you actually want to keep, such as Microsoft Office and more. Here's how to do so:
Windows 10 2004 and above
Go to Settings  > Update & Security   > Recovery  > Reset this PC > Get Started.
Select Keep my files, choose cloud or local, change your settings, and set Restore preinstalled apps? To No.
Note: For version 2004 and after, the Fresh start functionality has been moved to Reset this PC.
PC running on Windows 10 less than version 2004

Open the Settings Panel in Windows 10 (Win + I)
Navigate to Update and Security -> Windows Security.
Here, under Protection areas, find and select Device Performance and Health.
Below Health Report and under Fresh Start, click on the option stating Additional Info.
This will bring you to the Fresh Start page whereupon clicking on Getting Started. You'll be prompted with a list of applications that will be removed.
Click on next, and Windows will now start the process. Do note that this process will take up a long time as it downloads and installs a completely new Windows copy.
With that said, How often do you clean up the junk on your PC? Do let us know by dropping a comment down below.