Microsoft uses different channels to distribute its Windows 10 license. These channels are based on different rules and requirements. And Microsoft has three types of licenses that include OEM, Retail, and Volume. Hence, you may wonder what type of license your PC is running on. And to help you figure this out, I will talk about how to find if your Windows 10 license type is OEM, Retail, or Volume.
You should also be aware of the fact that these different license channels have their own limitations. For instance, you won't be able to transfer Windows 10 license to another computer if your PC has an OEM license.
As a regular PC user, you can only get an OEM or retail license. But there is another license that exists too, called Volume.
Anyway, let me explain about each of these license types one by one:
Retail Windows 10 License:
A retail license is the most common way to get a Windows 10 license. You can get this license by purchasing a Full Package Product or FPP. Also, it is known as the Boxed copy of Windows from Microsoft online store, Microsoft products retailers, or third-party sellers.
A retail license comes with an advantage and offers you flexibility. As a result, these key isn't limited to one computer only. Instead, you are allowed to activate Windows when you move to a new Windows OS or new PC.
OEM Windows 10 License:
OEM is one of the most popular types of licenses. It stands for Original Equipment Manufacturers. This type of license comes with desktop or laptops which has pre-installed Windows.
For instance, when you buy a laptop or a desktop from popular computer manufactures like HP or Dell, it comes with a genuine OEM key pre-installed. As a result, you don't have to buy a retail copy of Windows 10 to start using your computer.
While this gives you free access to the full features of Windows 10 and future updates, it is not as flexible as the retail key as you won't be able to resell your product key or use the OEM key to activate Window on a different computer.
This is because OEM license keys are usually encrypted and embedded in the BIOS/UEFI firmware chip by OEM manufacturer companies. Also, the license only gets activated when you connect your computer to the internet.
Also, when you reset or reinstall Windows 10 again, the product key gets automatically detected by your PC using the BIOS/UEFI firmware chip.
Volume License:
Lastly, there is the Volume License. This license isn't made for regular users. Instead, this license type is mainly used by organizations, governments, large corporations, or an educational institute that buys licenses at a large volume. Hence, they get a special discounted price compared to regular users who buy one or two licenses.
If you have heard about the Windows Enterprise edition of Windows 10, you must know that it is equipped with the volume license key.
As a result, the Enterprise edition doesn't require you to enter a product key during the installation procedure. Instead, Microsoft gives you 90-days free run time before you need to change and activate the product key to a Volume license.
Also, you should know that KMS Client and Volume MAK product keys are not for resell. Also, with a VLK or Volume License key, you don't get many keys for different systems. Instead, there is a single license that one can use for multiple installations.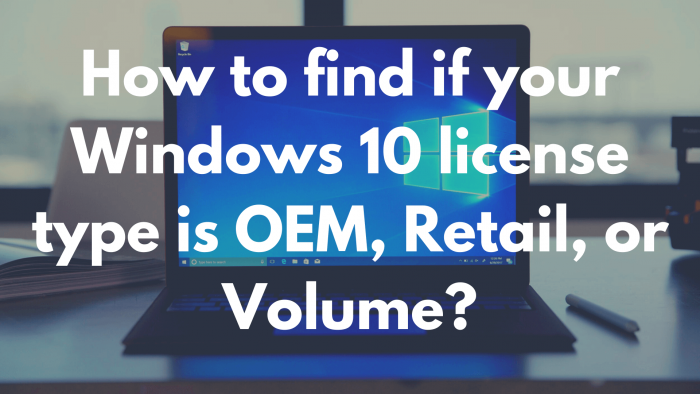 How to find if your Windows 10 license type is OEM, Retail, or Volume?
Finding out what type of Windows 10 license you have is straightforward. You can do so by executing a simple command in the command prompt. However, here are all the steps that you have to follow:
At first, click on the Windows 10 search bar, type down CMD, and launch it.
On the command prompt, type down the below command and press enter button.
Slmgr –dli
After running a command, you will see a popup by Windows Host mentioning your Windows 10 license type.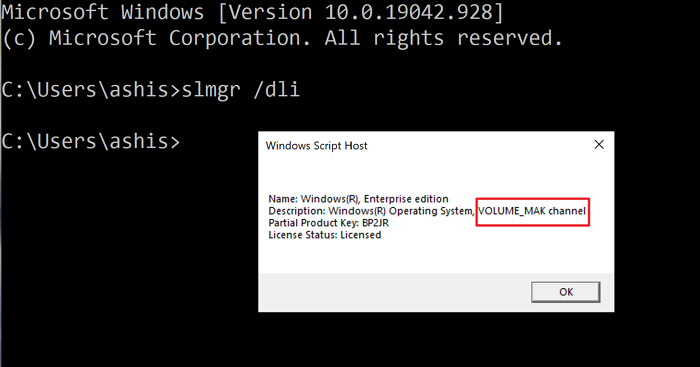 For instance, if you have an OEM license, you will see the OEM_DM channel. For retail, it will say Retail channel. Along with that, you will get to see the partial product key and license status.

So that was all the information regarding Windows 10 license types and how to find if your Windows 10 license type is OEM, Retail, or Volume. Now go ahead and try out the steps by yourself and see how it is working for you.